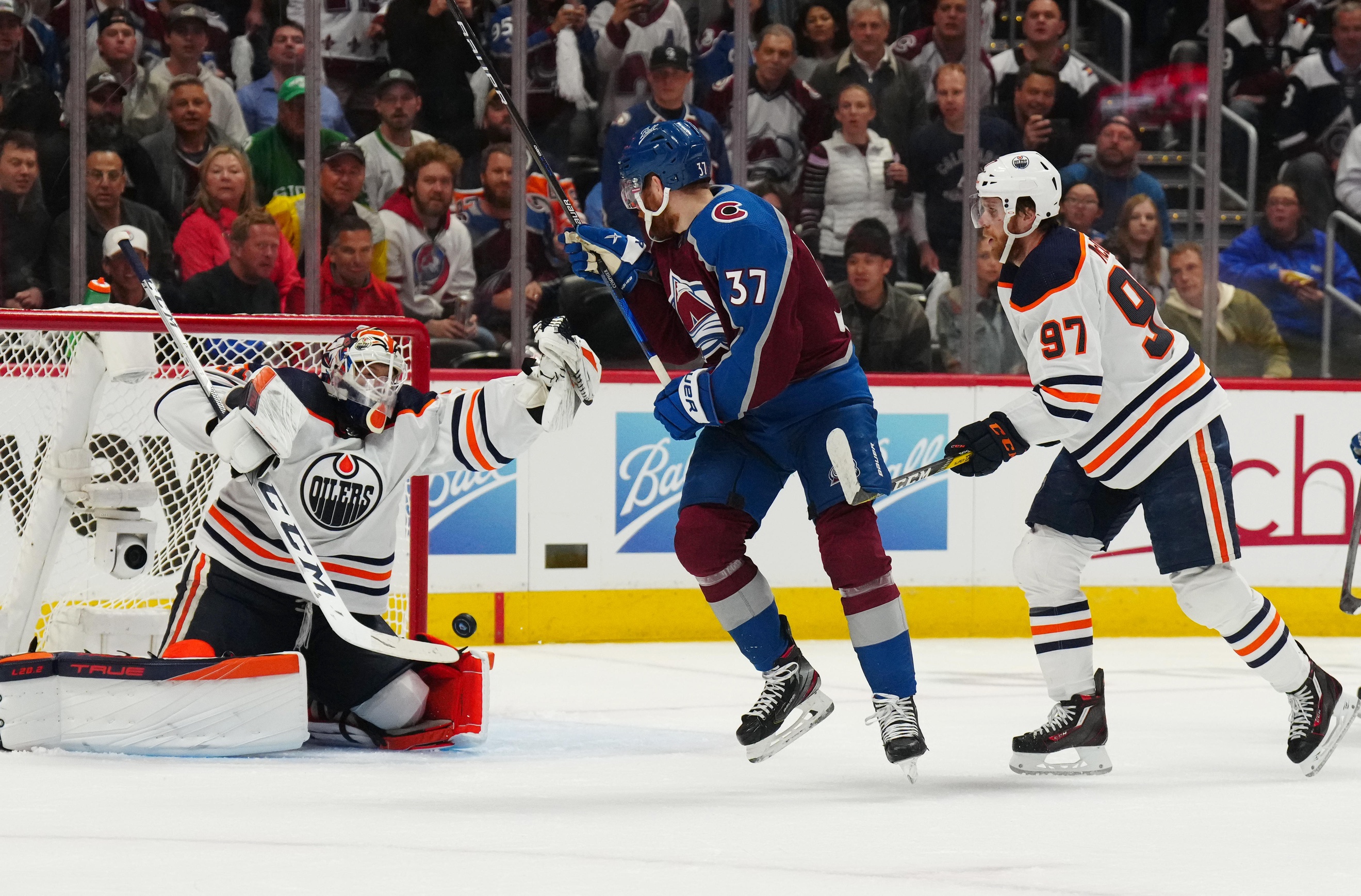 It was both exactly what everyone predicted but also a shocking turn of events.
Each of the four goalies surrendered goals, 25-of-36 skaters recorded at least a point and the superstars led the charge as the Avalanche came away with an 8-6 Game 1 victory over the Edmonton Oilers at Ball Arena to kick off a high-flying Western Conference final.
Edmonton scored first but Colorado answered with seven of the next nine tallies on Tuesday, leading by as much as four goals in the second period.
Third line center J.T. Compher scored two goals for the Avalanche, just as he did in the series-ending 3-2 victory over St. Louis on Friday. Nathan MacKinnon, Cale Makar, Nazem Kadri, Mikko Rantanen, Andrew Cogliano and Gabriel Landeskog also found the back of the net to put the Avs three wins away from the Stanley Cup Final.
While failing to come away with a victory, the Oilers were still able to put six past the Avs' tandem goalies, something they'll look to build off of in Game 2.
"We gave them a lot of options that we weren't giving up in these past two series," Makar said. "They have a lot of skilled players and we need to mark those guys."
Starting goalie Darcy Kuemper surrendered the first three goals on 16 shots before being replaced by Pavel Francouz. The sudden departure, which came during a commercial break, was because of an upper-body injury. Kuemper had indicated to Avs coach Jared Bednar and the team trainer that he needed to come out, giving backup Pavel Francouz ample opportunity to stretch before entering the contest.
Bednar said, "we'll see," when asking if Kuemper was going to miss some time.
Listen to "Avalanche defeat Edmonton in High-flying Game 1" on Spreaker.

Upon entering the contest, Francouz faced 12 shots in just over 12 minutes, stopping 11 of them to keep the Avs ahead by three goals heading into the third period.
"It's obviously easier if you have a pretty good lead. So I think that kind of helped us for sure," Francouz said. "I didn't feel cold for like five seconds. I was warm pretty quickly."
Makar bounced back after failing to produce much offense against the Blues. In six second-round games, the young defenseman had just three assists. Against the Oilers, Makar had a goal and three points through 40 minutes.
It was just what Colorado needed in a star-studded series. Makar and MacKinnon combined for two goals and five points, outdueling Edmonton's duo of Connor McDavid and Leon Draisaitl, who also had five points but just a single goal.
Cogliano's game-winning goal was his second of the postseason. He is the only Avs player with more than one game-winner in the playoffs.
__
Aarif Deen is our Colorado Avalanche beat reporter. He covers Avs games live from Ball Arena and attends practices, media availabilities and other events pertaining to the Avs on the daily beat. He is also a co-host of Hockey Mountain High: Your go-to Avalanche Podcast. Deen joined Mile High Sports upon completion of his bachelor's degree in journalism and master's in business administration from the University of Michigan – Dearborn. Before Mile High Sports, Deen worked for the Michigan Wolverines Athletics Department as the assistant sports information director.
Listen to "Avalanche defeat Edmonton in High-flying Game 1" on Spreaker.