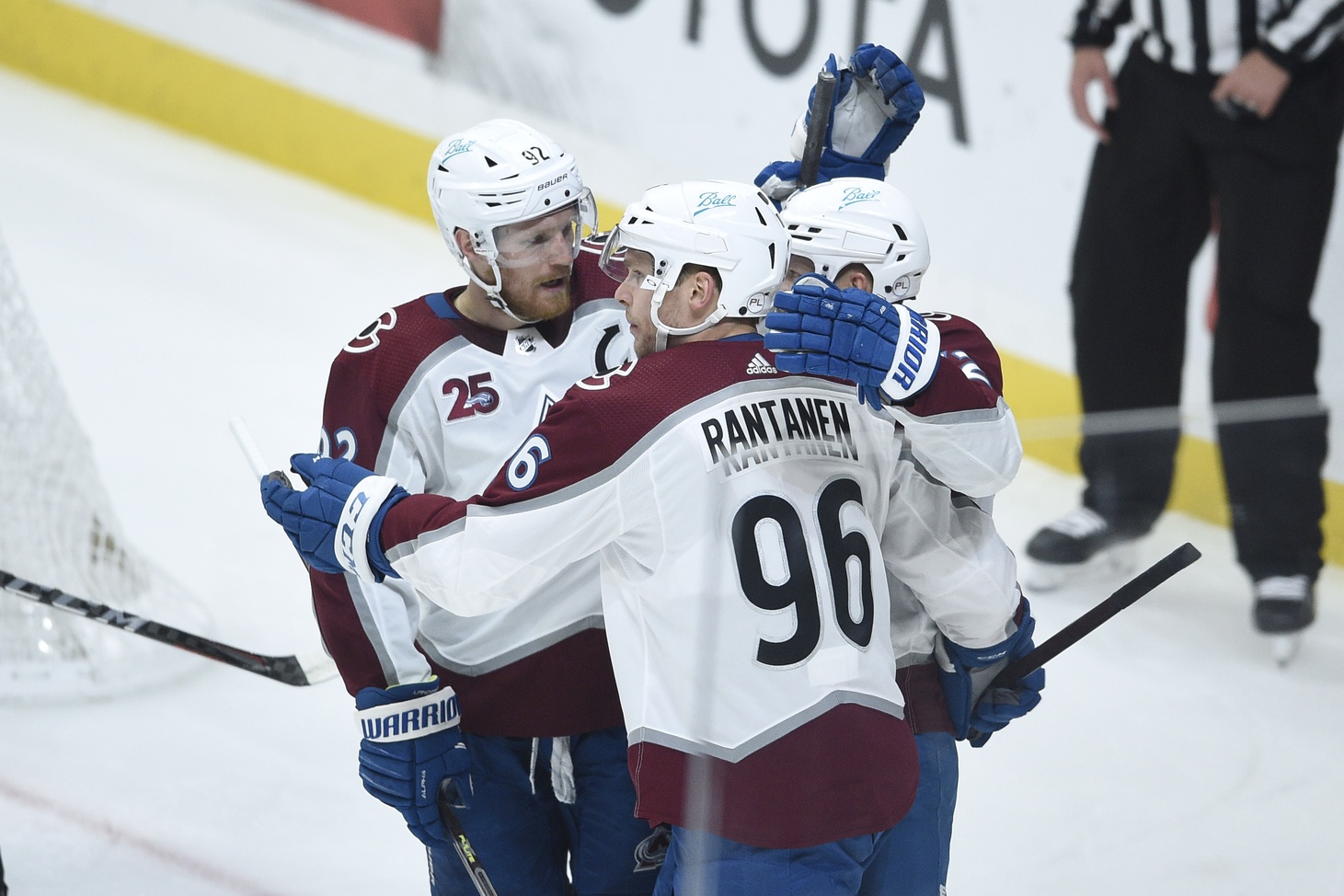 Without superstar center Nathan MacKinnon in the lineup on Friday, the Avalanche relied on their other young centermen to lead them to victory at Staples Center.
Tyson Jost, 23, scored for the second consecutive game and 20-year-old Alex Newhook recorded his first career NHL point as Colorado defeated the Los Angeles Kings 3-2.
MacKinnon missed the game (lower-body injury) and was replaced by Jost as the top-line center for the Avs (35-13-4), who remain four points back of Vegas for first in the West Division with a game in hand after the Golden Knights defeated St. Louis 4-3 on Friday. Colorado also leads Minnesota by one point with a game in hand for second place.
The Avalanche have just four games remaining in the regular season, three against L.A., including another game at Staples Center on Saturday. The last game, on Monday, will see the Avs travel to Vegas for a finale against the Golden Knights before the playoffs in a crucial battle for playoff positioning.
Winger Mikko Rantanen and defenseman Cale Makar also scored as the Avs came back from an early 1-0 deficit in a dominating effort — outshooting L.A. 37-17. Goaltender Philipp Grubauer made 15 saves for Colorado, improving to 28-9-1.
"I don't think anyone can fill in Nate's role," said Makar, who had the game-winning goal. "Collectively everyone has to step up. A lot of guys stepped up tonight."
Avs coach Jared Bednar said after the morning skate that the Avs had players that were banged up and they were trying to figure out who, if anyone, would not dress. Like many of the top teams around the league, Colorado is trying to balance the importance of fighting for first place and resting its better players in preparation for the playoffs.
"He's banged up a little bit," Bednar said of MacKinnon, adding no decision has been made if he will play Saturday. "It's nothing serious at this point. He was getting some work done this morning, trying to get ready to play but he's just hurting a little bit."
The Avs surrendered the first goal to Brendan Lemieux just 2:12 into the game. Makar was on the ice and continued to struggle at even strength. He entered the game a minus-9 in his past eight games.
After that goal and a questionable penalty called against him, Makar started to take over, skating brilliantly and leading the Avs to numerous scoring opportunities. Makar had seven shots, tied for most in the game with Rantanen, and played 23:03. He reached 40 points with an assist on Rantanen's goal and then climbed to 41.
Rantanen's tally was also his 30th of the season, reaching the feat in just 48 games.
"It means a lot. I'm happy to be there," Rantanen says of reaching the 30-goal mark. "First thing I'm thinking when I play hockey is the two points for the team but obviously I have a big role in the team, an offensive role. So it's nice to get on the board."
Makar was called for goalie interference after he was pushed into goalie Cal Peterson by a Kings defender while driving towards the net. Makar was frustrated with the call and was frustrated when speaking with the ref about it. The Avs killed off that lone penalty against and Makar rebounded in a big way.
"That was a little bit of an interesting one for me to accept," Makar said of his penalty. "I don't know if it lit a fire in me or what but just overall I wanted to get that one back. I probably should've created a better chance on that one."
Despite the Avs leading by multiple goals, Makar saw his minutes increase in the latter half of the game because of an injury to a teammate. Defenseman Patrik Nemeth left the game in the second period after sliding head-first into the boards. Nemeth played just 5:43.
"It could be just day to day," Bednar said of Nemeth's injury. "He went in kind of funny, hit his head, his neck got twisted up a bit. He doesn't have a concussion I can tell you that but he was sore. We'll see him in the morning, he'll get some treatment and we'll make a decision on him tomorrow."