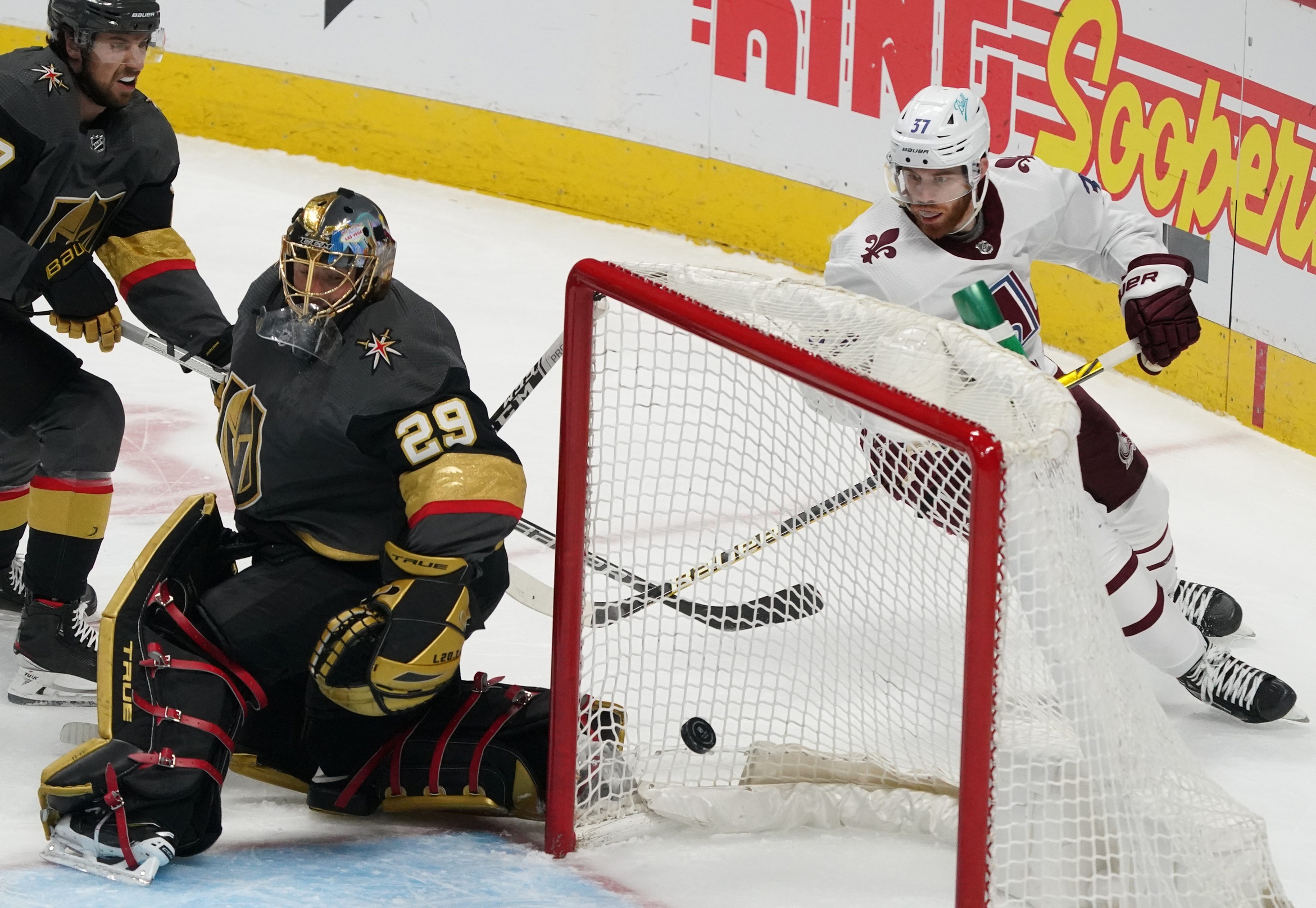 They've been heavily outshooting the opposition all month. But doing it against the Vegas Golden Knights, the only team ahead of them in the division, turns heads.
The Avalanche made a statement Thursday, using a four-goal second period to defeat the Golden Knights 5-1 at Ball Arena. Colorado outshot Vegas 32-18, tying the Golden Knights in points (45). Vegas remains in first with a game in hand ahead of their rematch Saturday.
Forwards Joonas Donskoi, Gabe Landeskog and J.T. Compher and defenseman Cale Makar each scored in a 10:37 stretch in the middle frame to open up a three-goal Avalanche lead after surrendering the games first goal 40 seconds in. Pierre-Edouard Bellemare added Colorado's fifth goal in the third.
Avs goalie Philipp Grubauer stopped all 17 shots he faced, including eight in the third period, after allowing a goal to Max Pacioretty on Vegas' first shot.
"We gave up a couple of grade-A scoring chances early and they scored on one," Avs coach Jared Bednar said. "And then the guys started to dig in. We didn't give up a lot after that. There was some good defensive play."
After the Avs tied the game, Compher skated down the wing and backhanded a shot past goaltender Marc-Andre Fleury from a tight angle to make it 2-1. Compher, who was reinserted into the lineup after being healthy scratched on Tuesday, played on the fourth line with Bellemare and Logan O'Connor and assisted on Bellemare's goal. The fourth line was a combined plus-9 with six shots.
Colorado built on that lead thanks to Makar's breakaway goal off a headman pass from O'Connor in the neutral zone.
The momentum was entirely on the Avalanche's side.
"I think there's definitely a lot to momentum," Makar said. "I think it's a lot different without having fans in the building. That plays a role in it. But we just started rolling."
The Avs were unable to score on two late power-play opportunities against Arizona on Tuesday. But that narrative was shifted against the Golden Knights. Donskoi's game-tying goal came with four seconds left on the Avs' second power play. The winger whacked at a bouncing puck and it stumbled past Fleury to make it 1-1.
The goal was especially important for the Avs after they failed to score on two breakaways in the first against a goalie that shut them out last time they played.
"It was big," Landeskog said of Donskoi's goal. "Toews hit a crossbar, Belly missed a breakaway and Nate (MacKinnon) also hit a post. It was good to see Donny get one on the power play and get the ice tilted that way early on in the second. Timely goals were key for us tonight."
Grubauer has been one of the NHL's hottest goalies in March. He won his league-leading 10th game this month (10-2) while allowing just 15 goals. Grubauer's 20 wins are just one shy of Tampa Bay's Andrei Vasilevskiy for first in the league.
Grubauer had appeared in eight straight games for the Avs before getting the night off Tuesday.
"He's been unbelievable all year," Compher said of Grubauer. "Every time he's been in net he's poised, he's calm, he's making saves. When you have a goalie that plays like that it just breeds confidence in the room and you're seeing that right now."
The Golden Knights thought they had a goal with 5:24 remaining in the game. After crashing the net, Nicolas Roy put it past Grubauer. But the goal was called back after Bednar successfully won his challenge for offsides.
Had the challenge been unsuccessful, the Golden Knights would've had a power play in addition to the goal.
"(Video coach) Brett Heimlich had that cued up already," Bednar said. "As soon as they crossed the line. It looked like it was going to be a good play but he kind of bobbled it on the line and it was probably a foot offside by the time it crossed. That was an easy one to find but Brett was on it right away as he is on all zone entries."
Point streaks. Mikko Rantanen assisted on Landeskog's goal, increasing his point streak to eight games (seven goals, 14 points). Speaking of Landeskog, his assist on Makar's goal gives him points in seven straight games (four goals, 13 points).
MacKinnon's streak came to an end at seven games.
Landeskog climbs the ranks. Landeskog recorded his 489th career point to pull past Alex Tanguay for eight most in franchise history. MacKinnon is seventh with 530.
Listen to "The Real Litmus Test" on Spreaker.