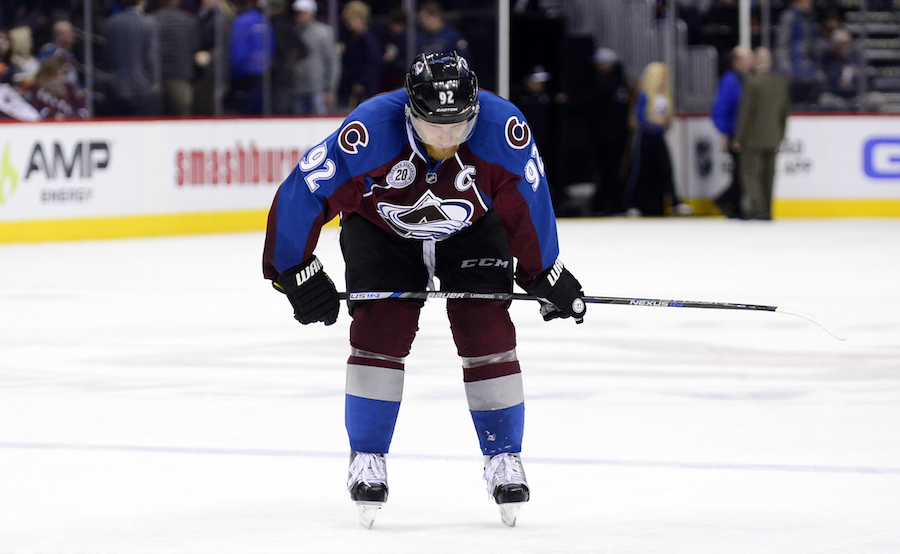 The Colorado Avalanche have certainly struggled of late, but the upcoming road trip, which begins Thursday in Ottawa, might be exactly what they need to get back on track.
Coming out of the All-Star break, the Avalanche had a great opportunity to gain some points in the standings with four consecutive home games. Unfortunately, they were unable to capitalize on the home ice and lost all four, going 0-3-1 and getting outscored 13-7. Looking at Colorado's road statistics, however, there is good reason to have faith that the Avs will return from their trip playing some better hockey. For the Avalanche, the trick will be in figuring out how to play better at home once their next home stretch arrives.
The strange schedule Colorado has faced this season has been streaky, putting them either at home or on the road for long stretches at a time. Having played 13 of their last 19 games at home, it is now time for them to balance it out with five of their next six on the road.
Home ice has been no kind of advantage this year. They are 18th in the league in goals per game while at home with 2.69 GPG and have a minus-8 goal differential. Avalanche fans should be troubled by those numbers and worried for the Avs' near future, that is, until the same statistical categories for road games are analyzed.
Not only do the Colorado Avalanche have a winning record while away from Pepsi Center at 15-12-0, but they have the ninth highest goals-per-game on the road in the NHL, scoring 2.63 per road game. This places them ahead of every team in the Central Division with the exception of the Dallas Stars. Additionally, the Avs have outscored their opponents while on the road allowing 2.56 goals per game. While the margin between goals for and goals against on the road is small, it is still positive in Colorado's favor.
There have been two key factors in the inflated road numbers for the Colorado Avalanche this season. One of them is the team's leading scorer, Matt Duchene. In 27 road games this season, Duchene has scored 16 goals, 10 assists and has a plus-3 plus/minus rating. Compare that to his 29 games played at home with only eight goals, nine assists and a minus-7 plus/minus. With almost two-thirds of his points coming on the road, it is without a doubt Duchene has felt more comfortable in his play during away games. In looking at the plus/minus ratings, it could be inferred that Duchene is playing more sound defense on the road as well.
The other key factor in the Avs road success is goaltender Semyon Varlamov. This is no surprise considering he typically has the biggest impact on the success of the team anyway, but the difference in home and away for Varly is vast. At home Varlamov has a 3.04 goals against average and a .901 save percentage. While away from home he has a stellar 1.94 goals against average and a .942 save percentage. The disparity in Varlamov's play while at home and on the road stands out as the biggest difference when looking at Colorado's home and away stats. It is no wonder head coach Patrick Roy frequently says that Varly needs to be the team's best player. When he is on, the team is rolling. When he is off, there is little hope and for some reason his play at home has been a little off this year.
Despite the recent struggles of the Colorado Avalanche, the stretch of five road games out of six could be just what the Avalanche needed to regain confidence and accumulate some more points. With the postseason quickly approaching, there is urgency to win now. A road trip just might provide the wake up call the Avs need to continue their playoff push.
The Avalanche will head out on three game trip against the Atlantic Division starting Thursday night in Ottawa at 5:30 p.m. MST. They then travel to Detroit and Buffalo, and will come home for one game against Montreal, also of the Atlantic Division. Colorado currently sits in the last Wild Card spot in the Western Conference at 58 points with 26 games to go.