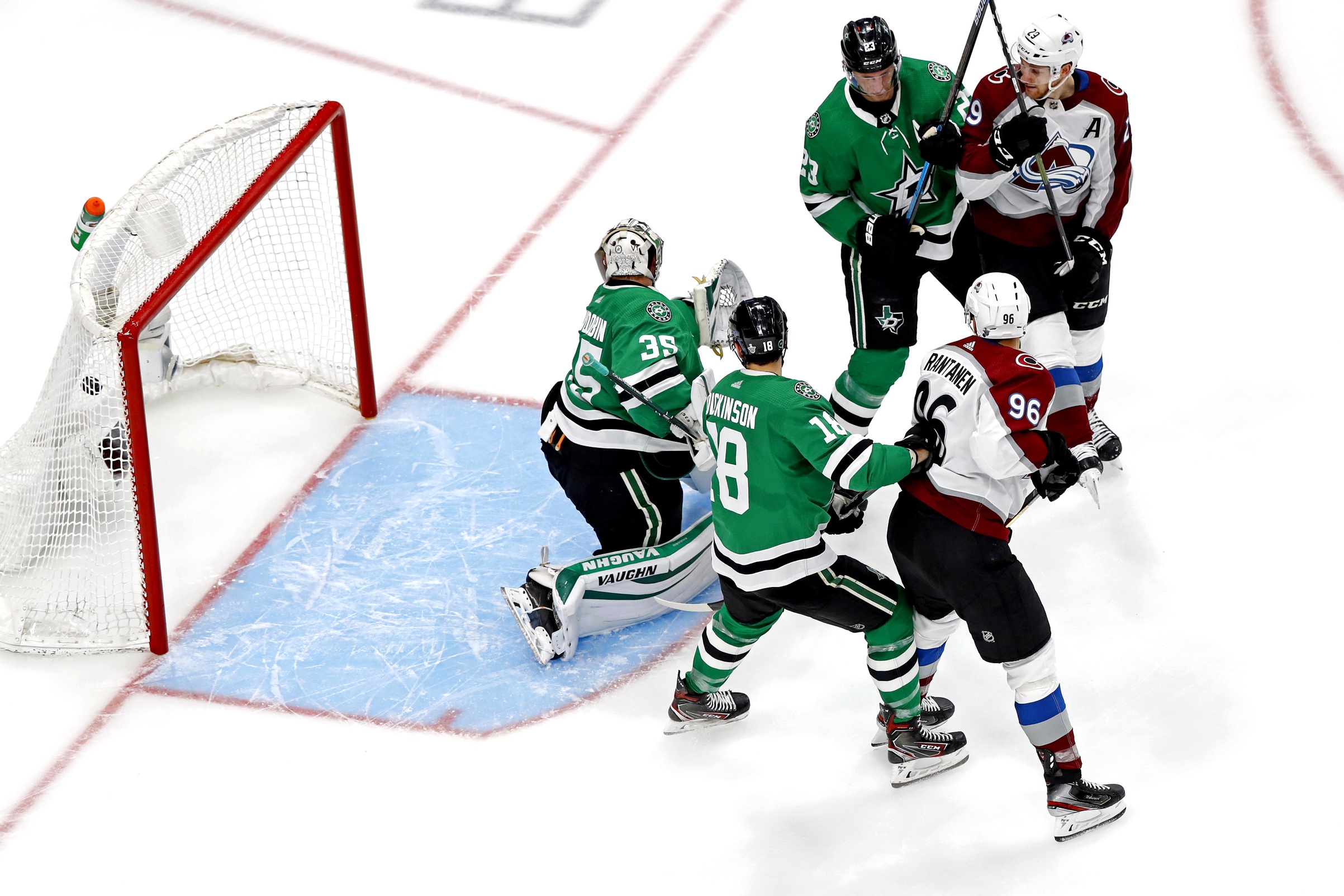 It wasn't easy nor was it pretty. But the Avalanche's late three-goal onslaught in response to three goals from the Dallas Stars in Game 3 Wednesday at Rogers Place in Edmonton was enough to pull Colorado back into this series.
All six goals were scored in the third period — where the Avs entered the frame leading 3-1.
The come-from-behind win for Colorado, which was completed with the game-winner from center Nazem Kadri, gave the Avs renewed life in the series. Rather than falling behind 3-0, Colorado now trails the Stars 2-1 in the Western Conference semi-final.
"It's a character win," Kadri said after scoring his league-leading fourth game-winning goal of the playoffs. "It would've been easy to get down on ourselves but we understand we can score goals and we're pretty comfortable playing in every situation. This is a game that could definitely give us some momentum and hopefully change the series."
Kadri's goal came 1:52 after winger Mikko Rantanen tied the game off a give-and-go play with linemate Nathan MacKinnon. That game-tying goal came just 1:15 after Dallas scored twice in less than two minutes to erase a deficit and take a lead of its own — setting up an exciting 4:52 of game-time that saw the lead switch hands three times.
It was the first time in Stanley Cup Playoff history that a team had relinquished a two-goal lead in the third period only to come back and win by two goals.
"It's just composure," Kadri said. "We have great leaders and just focused on the end result. We play to the last whistle. That's been pretty evident thus far in the playoffs. We never really think a game is over until it's actually over. Obviously we're not happy giving up that lead and we understand we got to lock it down and play better. But coming up with wins and knowing inside that locker room that we still got more to give."
Colorado trailed 1-0 after 20 minutes, setting up a second period where Dallas had scored the last six goals — one more than the Avalanche had to that point in the entire series.
But the six goals from the Avalanche in the final 40 minutes began with a shot from defenseman Nikita Zadorov a minute into the frame. Kadri won a clean faceoff back to the blueliner, who fired home his first of the playoffs. Zadorov added an assist on Colorado's go-ahead goal 3:41 later.
His evening was cut short after taking a hit from Dallas captain Jamie Benn. Zadorov left the game midway through the second period, finishing the night with 10:25 of ice-time. Just 37 second less than the 11:02 he played in a completed Game 2.
"We wanted our D to step up and play a better game," Avs coach Jared Bednar said. "(Zadorov) was a guy that we needed more out of. We had some conversations over the last few days, we moved him with (Sam) Girard. I thought he was outstanding. Huge impact in the game. There was no rest in his game. It was hard and impactful from a shift-to-shift basis."
Zadorov returned to the bench in the third period but did not play.
"He kept the energy up on the bench and the juice and kept our guys in it," Bednar added. "He was giving good advice and talking from the bench which our team needs. He made a huge impact and I'm hoping that he'll be able to go next game."
Without Zadorov, the Avalanche had to once again rely heavily on Girard and Cale Makar. The former played a team-high 24:51 and the latter played 21:48. Makar finished the game with three assists and a career-high six hits.
Colorado's injury troubles began earlier in the day after it was announced that Joonas Donskoi was deemed unfit to play and was replaced by Logan O'Connor. The first-year Avalanche forward missed a game due to injury in the first round against Arizona and once again joined forward Matt Calvert, defenseman Erik Johnson and goaltender Philipp Grubauer on the injured list.
Grubauer's backup Pavel Francouz started for the second consecutive game, making 33 saves. The opposing goaltender Anton Khudobin recorded 26 saves on 31 shots.
"I think he's been okay," Bednar said of Francouz's two starts. "I've seen him play better. He's had some tough saves to make and has made some big saves for us. There's a goal here and there that I'd like to see him have."
Notes:
Colorado outhit the Stars 72-56. … Every player on both teams recorded a hit except for Dallas' defenseman Taylor Fedun. … MacKinnon extended his playoff point streak to 11 games, setting a new Avalanche/Nordiques franchise record. … MacKinnon leads the NHL with 20 points in 11 games. Kadri, Rantanen and captain Gabe Landeskog all rank within the top-10 among the NHL's top playoff point-producers. … Colorado scored more goals in the last two periods of the series (six) than it did in the first seven periods (five).