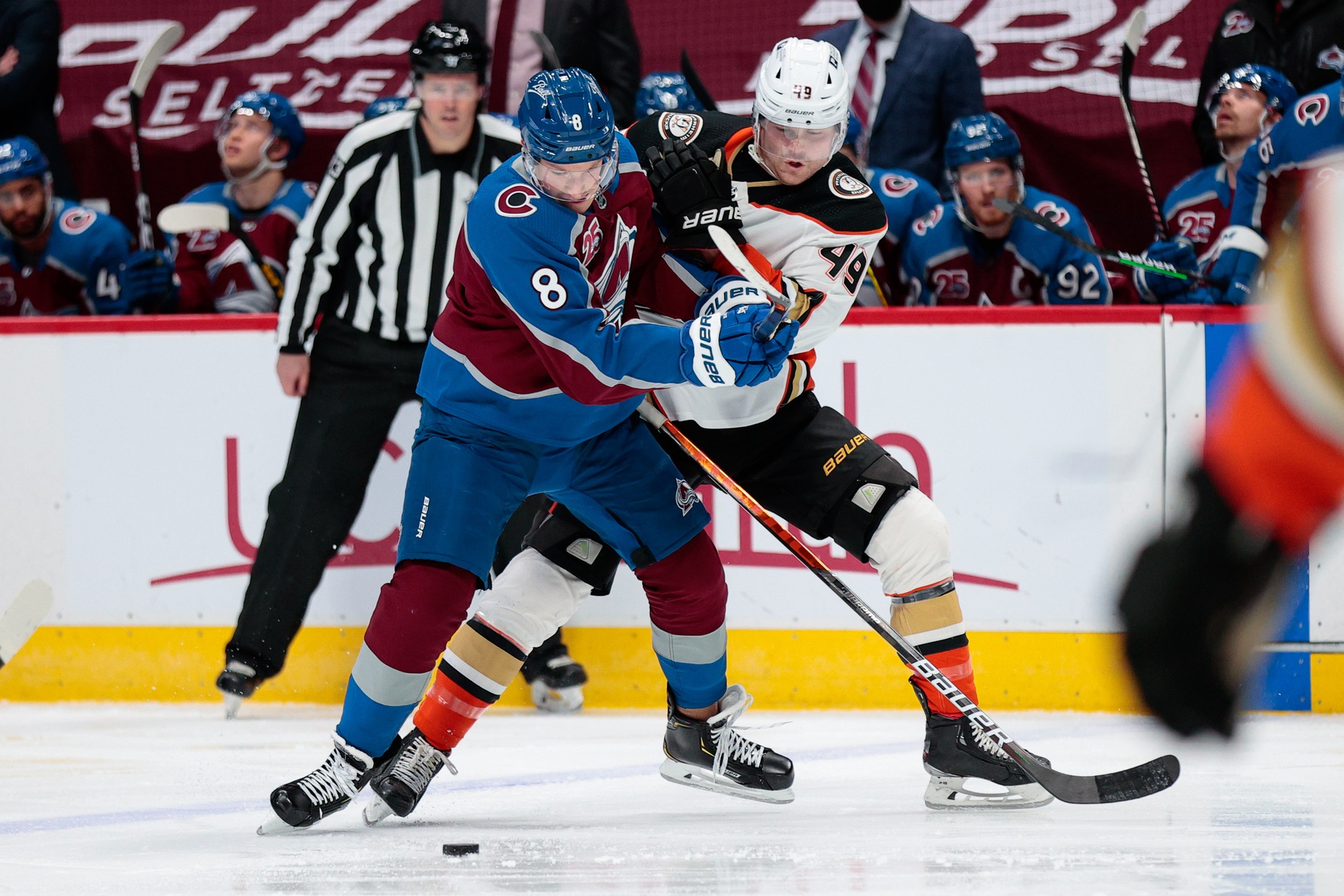 There's often one period of total domination from the Avalanche each game. This time around — in the last game before fans return to Ball Arena — it was the second period of a highly physical affair.
The Avalanche scored twice and outshot the Anaheim Ducks 21-2 in the middle frame Monday in a 5-2 victory of a game that included a fight and numerous post-whistle scrums. Colorado kept Anaheim from recording a shot for the final 12:17 of the period.
The Avs point streak increased to 11 games (9-0-2) as they prepare to welcome frontline healthcare workers on Wednesday against Arizona — the first game with fans in 385 days.
"Our guys are excited," Avs coach Jared Bednar said. "We're looking to hopefully get the building packed at some point. Hopefully that's a possibility so we're pretty excited about that."
Captain Gabe Landeskog tipped a point shot from Cale Makar past goalie Ryan Miller on Colorado's fourth power-play chance to give the Avs a 3-1 lead. The eventual game-winner was his team-leading fifth of the season, tying linemate Mikko Rantanen.
Colorado also had goals from forwards Tyson Jost, Valeri Nichushkin, J.T. Compher and Rantanen. Makar paced the team in points, recording three assists.
"We just stuck with it," Makar said of his teams performance. "We ended up just getting some bounces. I thought we were really tenacious."
In goal, Philipp Grubauer extended his personal unbeaten streak to 10 games (9-0-1), winning his 100th career game by making 13 saves as the Avalanche heavily outshot Anaheim 48-15. The Ducks had just eight shots after the first period.
Ducks captain Ryan Getzlaf was involved in most of the chippiness from Anaheim's side. The 16-year veteran was involved in tussles with Ryan Graves, Pierre-Edouard Bellemare and Landeskog. Getzlaf and Bellemare eventually dropped the gloves for a spirited bout right after Colorado's fifth goal.
Upon exiting the box, Getzlaf continued to jaw at Landeskog from the bench.
"We've seen these guys a lot recently. That's kind of how series are going," Bednar said. "You start playing a team over and over and you get to know one another. There's some bad blood I would say. I love the way our team responded."
The Avs struggled early on the power play. They entered the game with two goals on their previous 13 chances, most of which were filled with grade-A opportunities. On their first chance against Anaheim, the Avalanche were unable to solve Miller before Max Comtois exited the box and quickly set up teammate Danton Heinen for a goal to tie it at 1-1.
Colorado's inability to take advantage of the man-advantage and gain a two-goal lead kept Anaheim in the game for longer than the Avs had intended. Compher was also stopped on the breakaway, keeping the game tied heading into the first intermission.
"I didn't like our first power play," Bednar said. "We weren't in great support of one another. We bobbled some pucks that came back out in the neutral zone."
Rantanen agreed with his coach's sentiments but both were complimentary of Colorado's work on the man-advantage in the second period. The Avs also did not score on a lengthy 5-on-3 late in the game.
"Those two we had we were moving the puck quickly and getting a couple of chances," Rantanen said of the power play in the second. "We capitalized on one. But I didn't like the last 5-on-3. It wasn't good so there's still a lot of room for improvement."
March madness: Colorado improves to 11-2-3 in March, tying a club record for most wins in one month with an opportunity to break that record on Wednesday.
Rantanen marches forward: Rantanen's goal was his 12th in the month of March, one more than Washington's Alex Ovechkin for the most in the NHL. He is also the third player to reach 20 goals in 2021.
"He's a pretty good player like everyone knows," Rantanen said of Ovechkin. "Obviously it's nice to score some goals. It's not the main thing or why I go to games but I know I have to help the team on the offensive side so it's nice to capitalize on some chances."