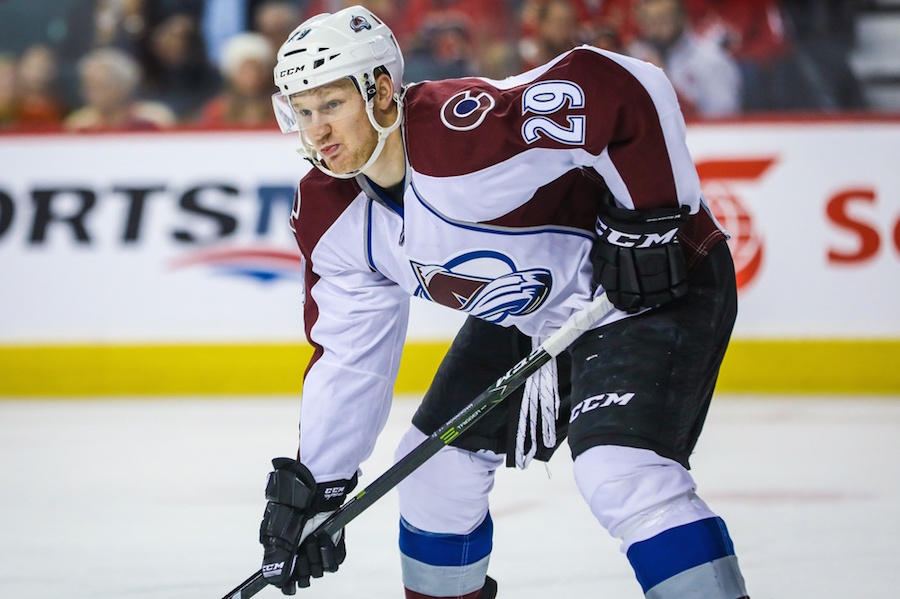 The Colorado Avalanche have four losing streaks of at least five games this season. They are in seventh place in the Central Division, 20 points behind the sixth-place Jets. The Avs sit in last place not only in the Western Conference but the NHL. Their goal differential is a staggering negative 63 (also the worst in the league by a wide margin). They've only won five home games. And on and on and on. There is a dark cloud hanging over the Pepsi Center, as it's clear that Colorado's steady decline to rock bottom is complete.
If you didn't see this coming you weren't paying attention. The Avs have been teetering on the brink of obscurity for a decade. This is a franchise that hasn't won a playoff series since the 2007-08 season and only made the playoffs three times over the same time span. They've never fully grasped the nuances of a salary cap NHL and their high draft picks haven't developed into superstars. Everyone can see it's full blown rebuilding time, and it's going to be a long undertaking without shortcuts or quick fixes.
Going from worst to first won't be as easy as another professional sports team in this town made it look. In 2010 the Denver Broncos finished the season 4-12; they fired head coach Josh McDaniels midseason and decided to completely restructure their front office. Things looked bleak, but it wouldn't stay that way for long. John Elway drafted Von Miller in 2011, signed Peyton Manning in 2012 and this team was off and running. Denver won the AFC West five years in a row, represented the AFC in the Super Bowl twice and won Super Bowl 50. That's a fairytale rebuilding story. But, it also highlights the difference between hockey and football.
Denver was able to add one of the greatest quarterbacks in league history and become an instant contender. Adding Sidney Crosby to the Avalanche's roster wouldn't have the same effect, nor would signing the best goalie in the league. They simply have too many holes – holes that will need to be filled through a draft and develop philosophy. But, building through the draft presents its own issues. Even if Joe Sakic drafted a generational talent, this team is still four years away from seriously competing.
Take John Tavares as an example. The Islanders selected their all-world center with the first pick in the 2009 draft. It then took the Tavares-led Islanders four seasons to make the playoffs and seven seasons to win a playoff series. This season, after finally getting past the first round of the playoffs, the Islanders are struggling to keep pace in the Wild Card race. One superstar doesn't guarantee success annually. It takes years to build a talented, competitive roster around them.
Here's the kicker (or the depressing part): Not a single member of Colorado's core is in the same stratosphere as Tavares. Which means the Avalanche simply don't have a core to build around.
The Avalanche are looking at burning the house down. Everyone that has more than five years of league experience needs to be flipped for draft picks and prospects. That includes Matt Duchene, Gabriel Landeskog, Semyon Varlamov, Tyson Barrie and Eric Johnson – nothing against those guys but they haven't proven to be a winning combination. And frankly, I doubt any of them want to be part of a major rebuild.
Sakic and company need to focus their attention on building a younger, bigger team around Nathan Mackinnon, Mikko Rantanen and Nikita Zadorov. A plan that'll need to include multiple top three draft picks (aka lots of losing) and focusing on the development of top prospects like Tyson Jost (a player still in college).
Colorado has a long, long road ahead of them, and admitting that is major gut check. This franchise isn't looking at a Broncos-style reboot; their roster problems are far too deep to fix by adding a player or two.
As the worst season in Avalanche history drags on, it's become clear that hitting the reset button is this franchise's only option. That starts with piecing together a new core. And, if that model has demonstrated anything, it's that in all likelihood the Avalanche won't be a serious playoff contender until it's time for this country to vote for our next president.