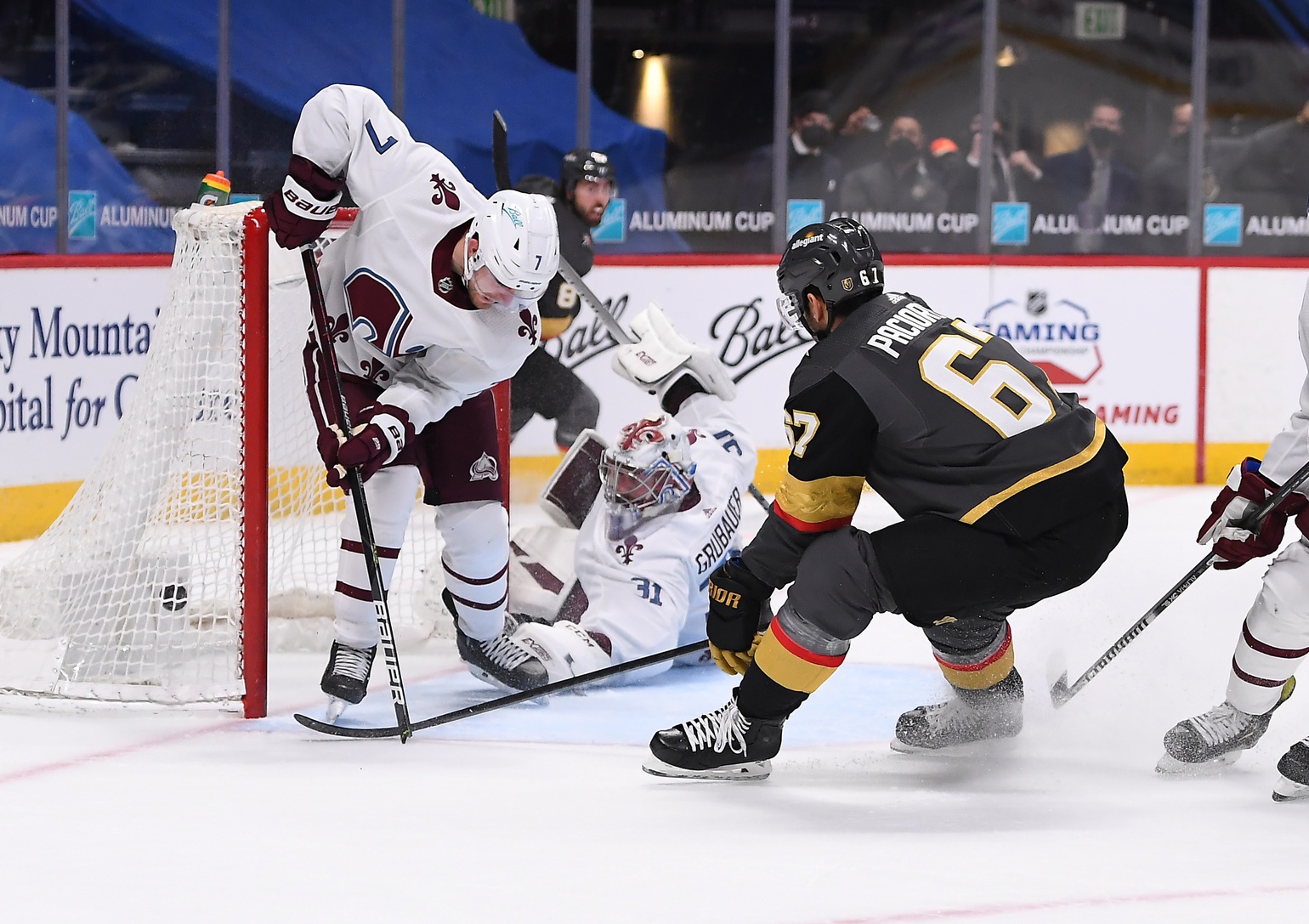 An opportunity to take sole possession of first place in the West Division slipped past the Avalanche on Saturday and coach Jared Bednar was unhappy with how it ended.
Vegas Golden Knights forward Max Pacioretty scored 1:56 into overtime for a 3-2 victory at Ball Arena. Colorado, however, extended its point streak to 10 games (8-0-2).
On the play before Vegas' game-winning tally, Avs superstar Nathan MacKinnon was tripped up in the offensive zone by a Knights player. There was no call on the play and Vegas had a 3-on-1 the other way but goaltender Philipp Grubauer made a big save.
"I didn't like the non-call on MacKinnon," Avs coach Jared Bednar said. "Especially when it puts them on a 3-on-1. Like if that puck is squirting back out to our point man and they feel like they didn't see it clear, fine. But to give them that opportunity to win the hockey game. Grubi makes a huge save on that and keeps us in and we mess up a little later but that could've been an opportunity for us to go on the 4-on-3 for sure."
Grubauer's eight-game winning streak came to an end. He made 31 saves.
On the overtime goal, Avs defenseman Devon Toews blocked the initial opportunity, which then hit the post and set the Knights up for a rebound. But before Pacioretty scored, Toews had an opportunity to clear the puck out of the crease but the blade of his stick snapped.
"It was sitting there and I was trying to play it with my stick," Toews said. "Next thing I know my blade is in the corner. I thought I had the leverage on it. I thought I had the play but unfortunately the stick let me down a little bit there."
The Knights outhit the Avs 18-8 and were stronger on the forecheck after the first period. Vegas goalie Marc-Andre Fleury stopped all 14 shots he faced after the first. The Avalanche were outshot 34-24.
"We had a little bit more to give," Toews said. "I don't think it was a bad game but it wasn't our game. We've set a standard for ourselves, how we play, and the level we compete at. I don't think we've been outshot in a while."
Colorado's 46 points is one behind Vegas, which also has a game in hand. The two teams will meet for one more regular-season two-game series next month at T-Mobile Arena.
The Avalanche led 1-0 and 2-1 thanks to goals from forward Joonas Donskoi and Toews.
Donskoi opened the scoring at 1:16. He entered the Vegas zone, toe-dragged the puck around defenseman Brayden McNabb and used Vegas' Dylan Coghlan and Colorado's Samuel Girard as screens to fire a shot over Fleury.
Donskoi's fourth goal in four games and 12th of the season, which trails only Mikko Rantanen (19), gave the Avs the first goal of the game for the 23rd time, which leads the NHL.
Toews put the Avs back ahead 1:03 after the Knights tied the game late in the first. He passed the puck to MacKinnon at the half-wall before getting it back on a well-executed give-and-go play to score his sixth of the year.
Vegas answered back early in the second and the game stood 2-2 until overtime.
Byram out: Defenseman Bowen Byram was scratched and replaced by Dan Renouf. Bednar said post-game that Byram was dealing with an upper-body injury after taking a hit from Vegas' Keegan Kolesar. Byram is day-to-day.