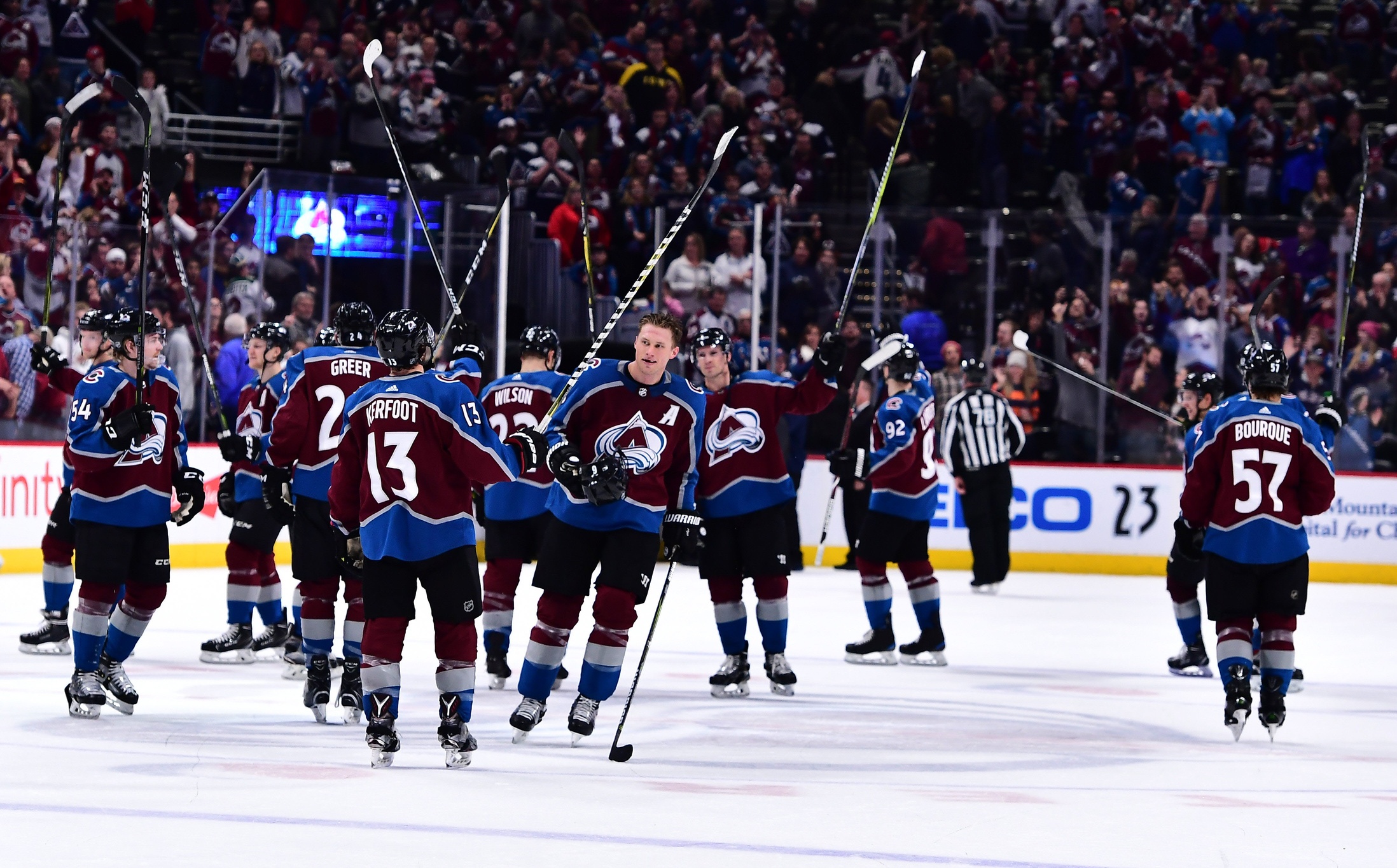 On a night where the Colorado Avalanche honored greatness in retiring Milan Hejduk's number-23 into the Pepsi Center rafters, the Avs themselves had greatness on display in their 7-2 routing of the Minnesota Wild.
A night where they honored one of the organization's best goal scorers was a great night for the Avalanche to bring the firepower, scoring six goals or more for the seventh time this year.
The pregame festivities drew a sell-out crowd and created a buzz around the arena that would be matched on the ice by both teams throughout the evening.
"That was fun, that was a playoff environment. We haven't had that in a long time," Nathan MacKinnon said following the contest. "Some games are bigger than others."
"I think it's a good thing that we stepped up on a big stage. For us, when we heard we had a sell-out crowd, we were really excited," MacKinnon continued. "We needed to step up and I think everyone did. It was a full-team effort and we had a great 60-minutes."
As is becoming routine, Nathan MacKinnon had a multi-point night with his goal and two assists marking the 16th time this season MacKinnon has scored more than one point in a game. His partner in crime, Mikko Rantanen also had a multi-point night with a goal and two assists of his own. However, as a welcomed change of pace, the majority of Colorado's goals came from someone other than the top line.
Carl Soderberg tallied two goals on the night, while Gabriel Bourque, Patrik Nemeth, and Tyson Jost added one each as well. Alex Kerfoot and Colin Wilson chipped in on the scoring with two assists each.
"We are night-and-day from where we were even last year, two years ago, three years ago with our young speed and skill," MacKinnon said on the depth-scoring. "Our veteran guys — Comeau, Nieto, and Sods — they've been awesome for us all season. They've been really good offensively, they are sneaky-really good offensively this year as well. It makes it easy for us."
The Avalanche power-play continues to be an important piece in Colorado's success scoring three times on four chances Saturday night. The Avs now have 35 power-play goals this season, putting them just four power-play goals behind the league-leading Pittsburgh Penguins.
"I knew we had a lot of potential to build a strong power play," forward Mikko Rantanen said. "We have a lot of great guys in each position. Right now, it's just clicking. The whole game — the five-on-five game too — it's bringing our momentum to the power play and we have a lot of confidence right now."
At 7:03 into the third period, Minnesota goaltender Devan Dubnyk started a small scrum in front of his net when Alex Kerfoot slid into the Wild netminder. Already down 5-2 at that point, Dubnyk's temper flared and the melee ended in two roughing penalties for Dubnyk and the Wild were on the penalty kill for the fourth and final time of the evening. The Avalanche would score 14 seconds into the ensuing power play and that would be the end of Dubnyk's night as he was replaced by Alex Stalock.
"[Dubnyk] is an emotional goalie, but he's a really good goalie and I think that's what makes him good," MacKinnon said. "It's always nice to get the goalie pulled."
It will be a full seven days before the Avalanche are in action again as they began their league-mandated bye week following the victory Saturday night. When they return, they will be in Dallas to face the Stars, then have another homestand consisting of three games against the Anaheim Ducks, San Jose Sharks, and New York Rangers.
Colorado heads into the bye week with a 22-16-3 record and have won five-straight games for the first time since December 12-19, 2015.