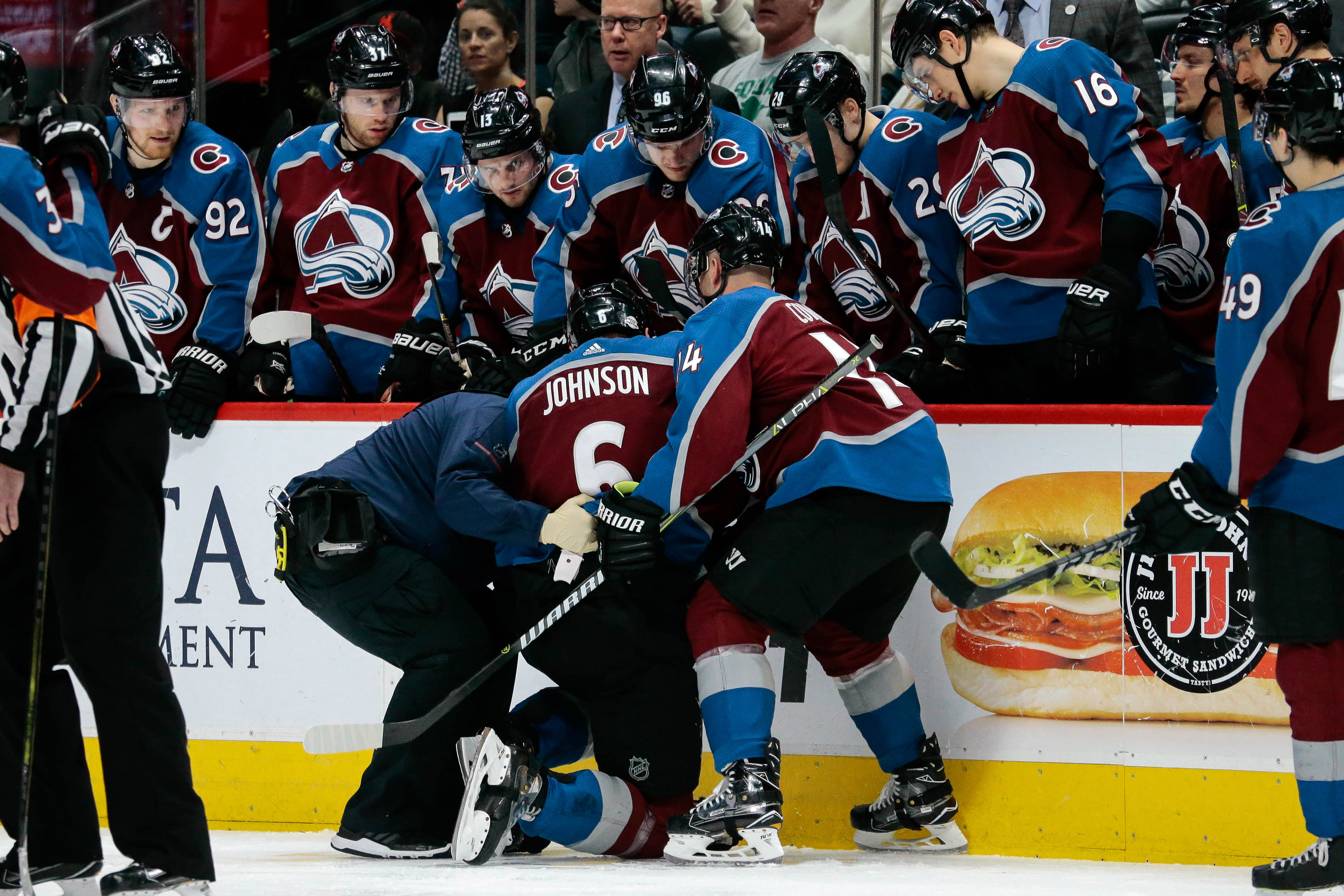 The Colorado Avalanche lost to the Edmonton Oilers by the score of 4-2 Sunday afternoon — Colorado's first loss at home since December 27. It was evident in everyone's postgame demeanor that this loss hurt more than most as the Avalanche gave up three third-period goals and let a late lead slip away.
The timing of the loss hurts as the Avs need points now more than ever, the manner in which they lost hurts — giving up a third-period lead, and losing both Erik Johnson and Anton Lindholm to injury in the process.
Colorado was up 2-1 going into the third period, but once Johnson headed to the locker room holding his arm in pain, the Avalanche lost their hold of the game.
Soon after, at 8:59 into the period, Edmonton's Connor McDavid scored his second goal of the day and tied the game at two. The Oilers held all of the momentum and then Ryan Strome buried the game-winner just over four minutes later. McDavid would then go on to finish his hat trick on an empty net and the Avalanche were left distraught having let important points slip away.
"We stopped skating, stopped putting them under pressure," coach Jared Bednar said. "Things we did in the second period that we have to do to put teams on their heels, we just didn't do it. We looked like we were comfortable with the one-goal lead, and that's what happens."
The injury to Johnson was peculiar; there was no obvious issue in Johnson's hit on Edmonton's Anton Slepyshev, but the Avs alternate captain and leader in defensive ice time fell to the ground kicking his legs in pain.
There was no postgame update on either injury, but coach Bednar agreed the loss hurt more than most saying, "For sure. We needed a response out of our group after the last game in Winnipeg, so the loss hurts."
"The couple injuries in the backend could hurt us more than this loss tonight," Bednar concluded.
The game was Nathan MacKinnon's first since leaving the January 30th game in Vancouver due to his upper-body injury. He ended the game with 22:20 of total ice time and managed four shots on goal.
"It's a 100%, it feels good," Nathan MacKinnon said on his injury.
His return was less than jubilant, however, as the loss stung the 22-year-old who had the potential game-tying goal on his stick — but hit the post with just over three minutes to go.
"We need wins, unfortunately, we didn't get a win tonight," MacKinnon said. "We lost 'EJ' and when you have four [defemnsmen] it's tough, tough on those guys. We didn't play well in the O-zone to help them out either. We just didn't have a great third period."
Semyon Varlamov's game made it look as though Tyson Jost's first-period goal and Alex Kerfoot's accidental, second-period goal — it ricocheted off his hip from Lindholm's shot — would be enough for Colorado to get the win. He faced 40 shots on goal and made some spectacular saves, but as MacKinnon alluded to, Colorado's defensive effort would not be enough to hold the victory.
Next, the Avalanche head back out on the road for a three-game trip to Canada, where they'll facing the Vancouver Canucks, Edmonton Oilers, and Calgary Flames respectively.