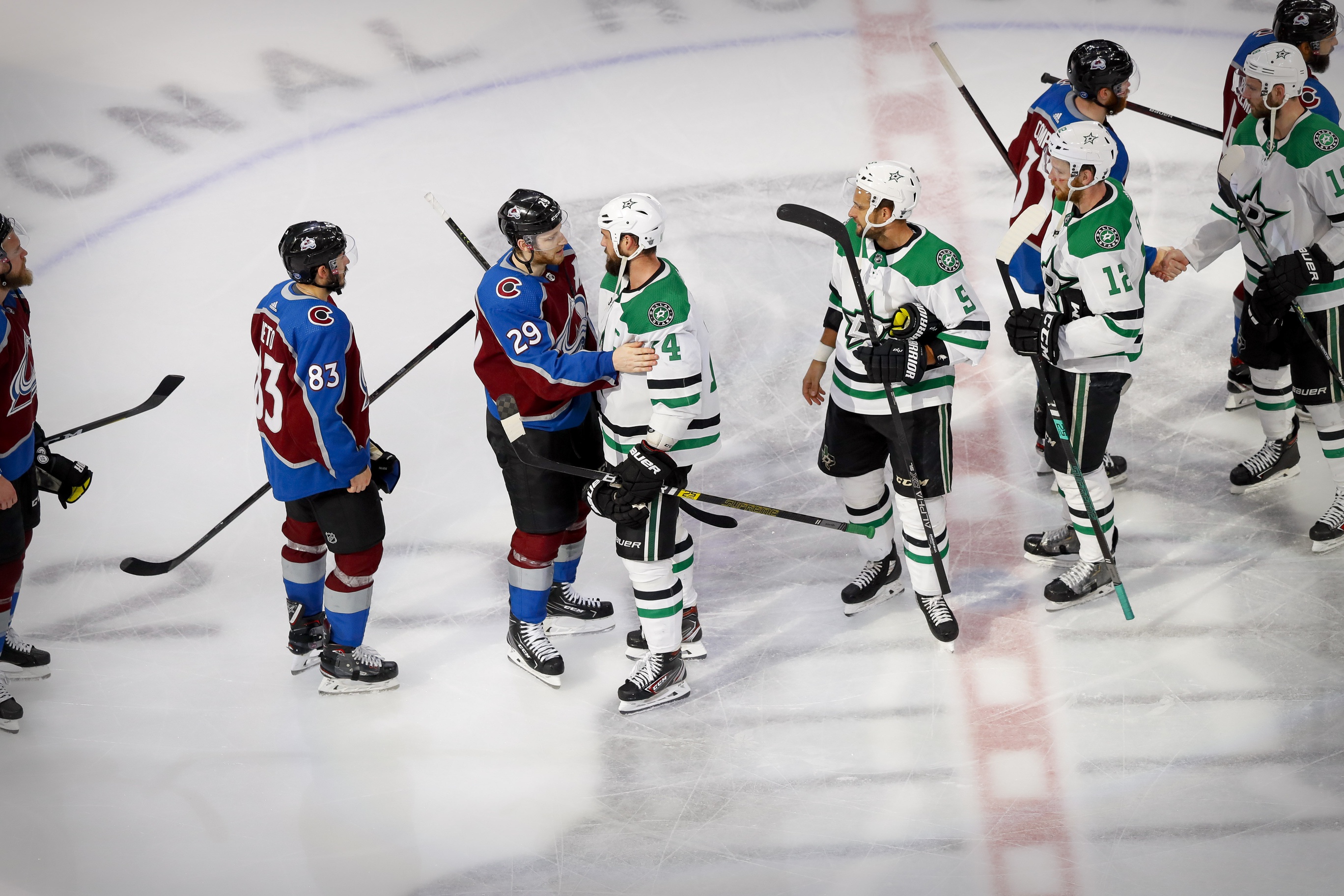 It's been 18 years since the Avalanche have made it past the second round in the playoffs. Colorado is one of just six teams without a conference final appearance in the salary cap era. But with the roster built by general manager Joe Sakic over the past three years, the 2021 version of the Avalanche are looking to break that streak.
The other five teams without a third-round appearance since the 2004-05 lockout include the 2004 Stanley Cup Champion Calgary Flames, 2003 western conference finalist Minnesota Wild, 2002 eastern conference finalist Toronto Maple Leafs, the Florida Panthers and the Columbus Blue Jackets. The New York Islanders were also on this list until they defeated the Philadelphia Flyers in the second round of the 2020 playoffs.
Like the Maple Leafs, the Avalanche's last third-round appearance was also in 2002. Ever since that Game 7 loss to Detroit, Colorado has won just five playoff series. Once a western conference powerhouse, the Avs played in six conference final series from 1996-2002.
Colorado has gotten close in recent years. For the second straight season, the Avalanche suffered a heartbreaking loss in Game 7 of the western conference quarterfinals. Colorado's loss to the eventual Stanley Cup finalist Dallas Stars in overtime of the seventh game was a disappointment for a team that had rallied back from a 3-1 deficit without its top two netminders. The Avalanche also led with under three minutes remaining in regulation but were unable to close out the game.
In 2019, the Avs trailed the high-powered San Jose Sharks 3-2 after five games. Colorado rallied in Game 6, forcing a seventh game after an overtime victory off of a goal from captain Gabe Landeskog. In the seventh game, the Avs fell short by a goal, losing 3-2 and suffering another Game 7 defeat.
Since the most recent loss to Dallas, Colorado has made two notable additions to an already powerful lineup. Sakic traded defenseman Nikita Zadorov to acquire two-time Stanley Cup Champion Brandon Saad. The 27-year-old gives the Avs a sixth weapon to use in the top-six forward group. Sakic then replaced Zadorov's spot in the lineup with the acquisition of Devon Toews, a 26-year-old top-four defenseman that has spent the first two years of his NHL career with the Islanders.
As long as goaltenders Philipp Grubauer and Pavel Francouz are healthy enough to lead the Avs in goal, the Avalanche, along with the continued growth of All-Star center Nathan MacKinnon and Calder Trophy winner Cale Makar, will be one of the NHL's best during the 2021 regular season. But the Avalanche's success will be measured by their ability to perform in the playoffs.
And for 2021 Avalanche, anything less than a western conference final appearance will be considered a major disappointment.