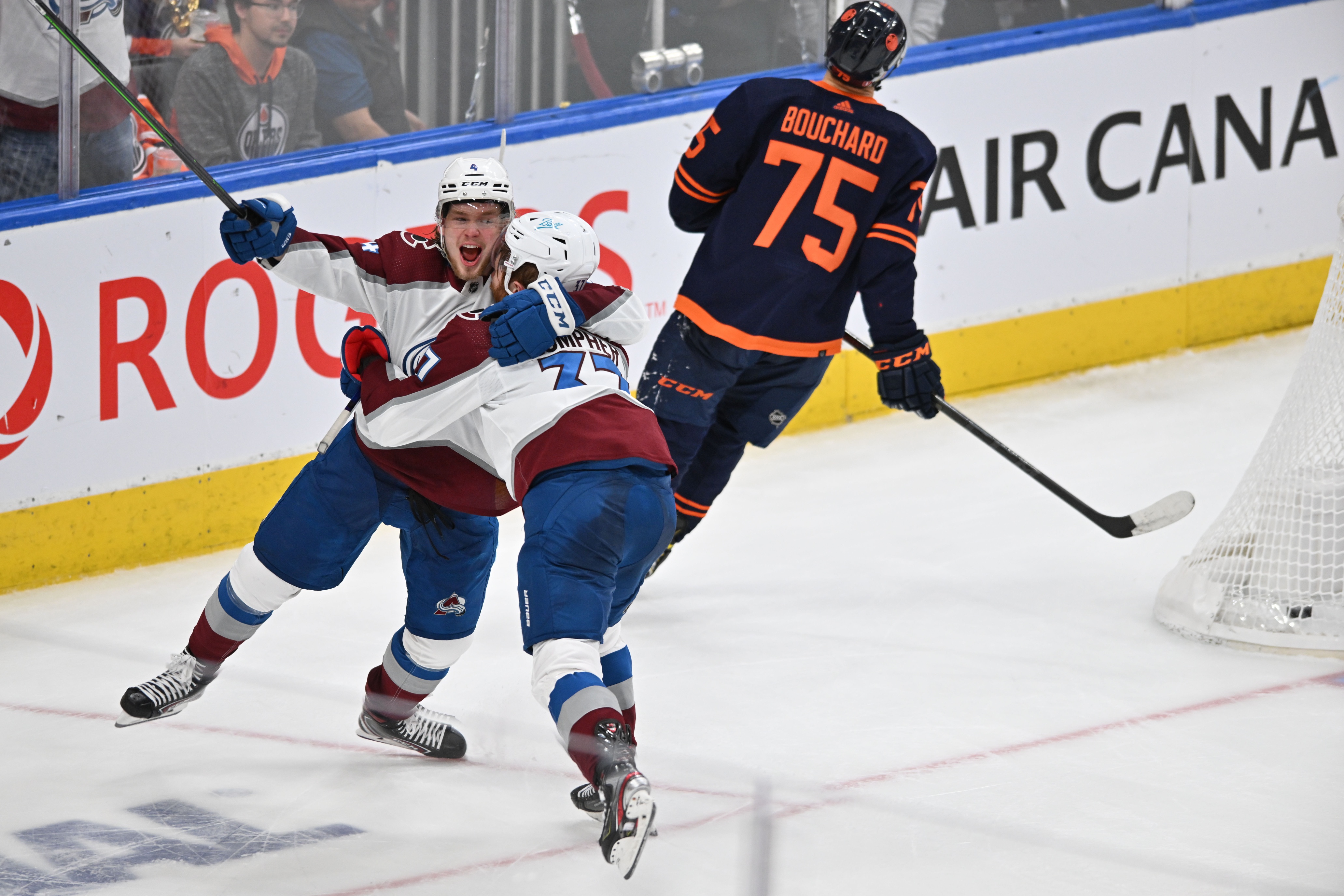 EDMONTON, Alberta — Nazem Kadri exited Game 3 following a vicious hit from Evander Kane in the Avalanche's 4-2 victory at Rogers Place.
Kadri was hit from the blindside by a trailing Kane just 1:06 into the contest and went hard into the boards. He remained on the ice for an extended period before skating off on his own accord. Avs coach Jared Bednar confirmed post-game that Kadri will miss the rest of the series.
"He'll be out for the series at least, if not longer," Bednar said. "The hit, it's the most dangerous play in hockey. He puts him in head-first from behind, eight feet from the boards. I'll leave it at that."
Kane was handed a five-minute major for boarding but was not ejected from the game.
"I don't like it," Avs captain Gabriel Landeskog said of the hit. "Those are the ones that kind of give you the chills down your spine, and you're taught from a young age that you don't do that, especially in that distance from the boards. It's a dangerous play. I don't know what else to say. I'm sure they'll take a look at it."
Listen to "Kadri Hurt as Avs Take 3-0 Series Lead" on Spreaker.

Without Kadri, who left with the Avs already trailing by a goal, Colorado came back thanks to two tallies from Valeri Nichushkin and an incredible game-winning goal from center J.T. Compher late in the third period to take a stranglehold 3-0 series lead over the Oilers in the Western Conference final.
Compher had taken a minor penalty for tripping and came out of the box just as the Oilers hit the post on one end and the puck made its way to center ice. Compher picked up the puck from teammate Andrew Cogliano and fired it through goalie Mike Smith's five-hole to put the Avs ahead once again. It was his sixth of the playoffs and second game-winner.
"I thought it was in his pads the way he was moving," Compher said of his goal. "It took me a second to get there. It was nice to see when I finally did see it in the net."
The Avalanche will likely need more of that from Compher in Kadri's absence. Compher has been on fire since Game 6 against the St. Louis Blues in the second round.
"His role will be filled by committee," Bednar said of Kadri's absence at least for Game 4 on Monday night. "That's how big of a player he is for us. It could be one guy one night and different guy the next. I'm comfortable with it. Obviously, it's a huge loss but it's out of our control. It is what it is."
Colorado improved to 6-0 on the road and has an opportunity to put the series away in Edmonton on Monday.
"We have five guys connected offensively and defensively and you don't gotta please anybody," Avs superstar Nathan MacKinnon said. "We're here to hopefully make it boring and gross and just play a good two-way game. There's no show to put on when we're on the road."
The Avs are up 3-0 in the series after an impressive win in Game 3 🏒@runwriteAarif has you covered with news and notes from the game 👇#GoAvsGo pic.twitter.com/zFXnr4csvi

— milehighsports (@MileHighSports) June 5, 2022
Connor McDavid scored the early goal for Edmonton just 36 seconds into the contest. But as he did in Game 2, Colorado goalie Pavel Francouz shut down the Oilers a majority of the evening. Francouz stopped 27 shots, only surrendering a goal to Ryan McLeod early in the third period on a play he'd likely want back. The victory was his fifth of the playoffs and lifts the Avs to just one victory away from the Stanley Cup Final.
"I thought Franky was outstanding. The one that you don't want to see go in, is the tying goal, from distance, off the rush," Bednar said. "But he more than made up for that at key times during the game to keep us playing with the lead.
"In the first period, they came real hard at us five-on-five and we were able to weather that storm and a large part of that is Frankie. He battles in there and got us the win."
Francouz was especially solid on the penalty kill, stopping McDavid with a sprawling save during the power-play opportunity right before Compher's goal.
"That's a big stop at a key point in the game," Landeskog said. "They're dangerous on the power play. I thought we've done a pretty good job containing them to the outside for the most part, and that play, in particular, it's a broken play from up top. Barrie breaks his stick and it kind of bounces off EJ and goes out to McDavid and lands right on his tape. Frankie's quick and got over there and made a great stop on it.
"That shows some strength to be able to reset after they tie it up in the fashion they did and be able to reset and get back to it. That was definitely a key stop."
Kane's hit on Kadri sucked the energy out of an Oilers bench that was soaring following McDavid's early tally. The Avs had seven shots on the ensuring lengthy power-play opportunity but were unable to beat Smith. They then failed to capitalize on three more full-length power plays, giving them zero goals on 11 minutes of time on the man advantage.
"I think we're getting lots of chances. Those guys, especially on the top unit, are so skilled, continuing to get good chances, lots of shots," Compher said. "I don't want to speak for them but we have so much trust in those guys to get the job done, doesn't matter the situation or if they're hot, cold. We trust those guys."
Smith was stellar for the Oilers in goal despite the loss. After two brutal showings in Denver, the 40-year-old netminder made 39 stops, including a desperation save on Nicushkin in the second period to keep him from completing the hat trick. Smith was strong during Colorado's 12-minute surge in the middle part of the second period to keep the Oilers within a goal heading into the third period.
__
Aarif Deen is our Colorado Avalanche beat reporter. He covers Avs games live from Ball Arena and attends practices, media availabilities and other events pertaining to the Avs on the daily beat. He is also a co-host of Hockey Mountain High: Your go-to Avalanche Podcast. Deen joined Mile High Sports upon completion of his bachelor's degree in journalism and master's in business administration from the University of Michigan – Dearborn. Before Mile High Sports, Deen worked for the Michigan Wolverines Athletics Department as the assistant sports information director.
Listen to "Kadri Hurt as Avs Take 3-0 Series Lead" on Spreaker.