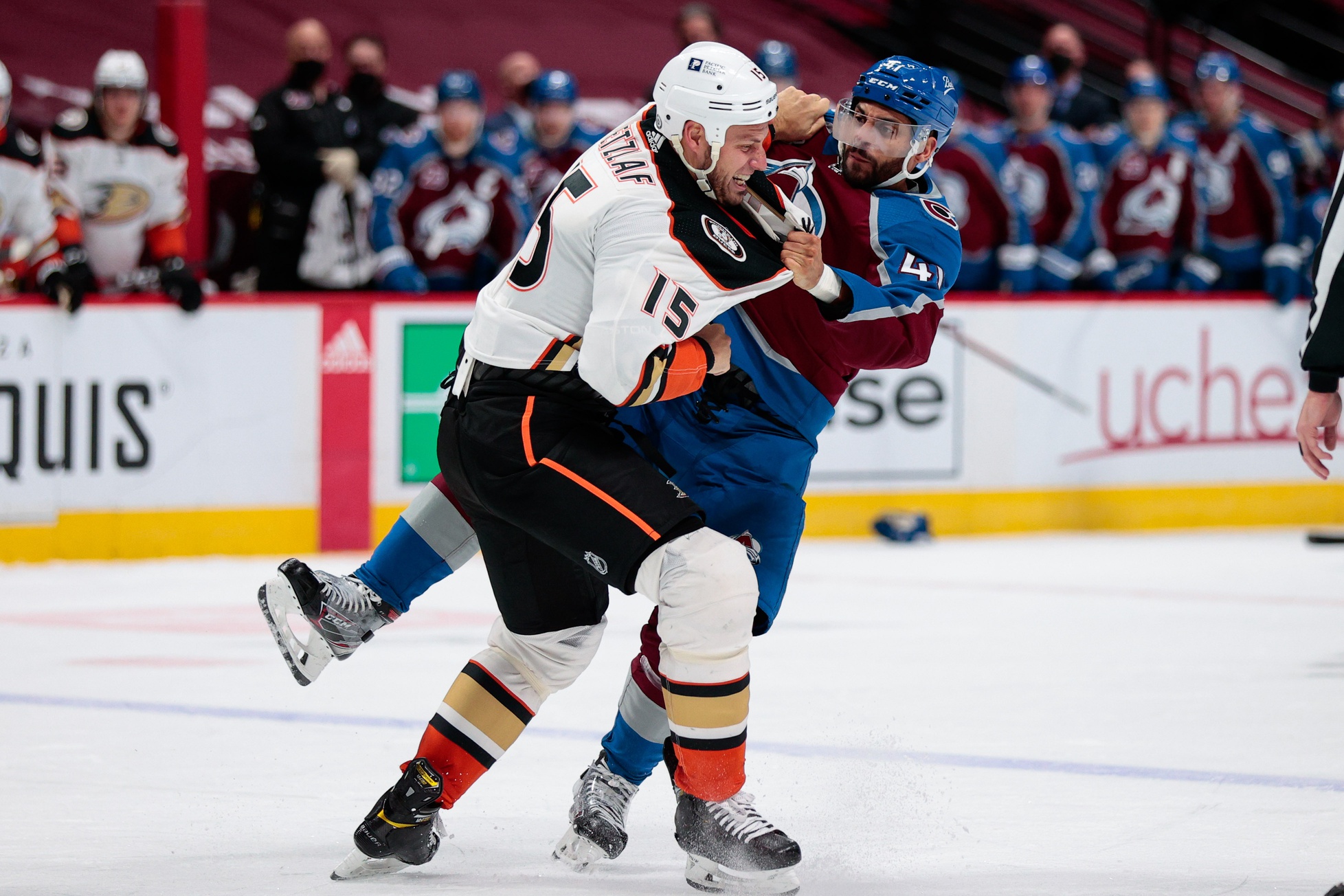 We're inching ever so close to the start of free agency at 10 am MT on Wednesday. And despite all the moves we're seeing around the league on Monday, this is still the calm before the storm — one that will alter the look of several teams.
One of those teams is the Avalanche. General manager Joe Sakic has his work cut out for him and it starts with captain Gabe Landeskog. But beyond the 10-year veteran, Sakic still has to figure out his goaltending as well as finding a replacement for, or re-signing, Brandon Saad and filling in the depth pieces that are expected to move on.
Forward Matt Calvert announced his retirement a day after Joonas Donskoi was selected by the Seattle Kraken in the expansion draft. The Avs also traded defenseman Ryan Graves before that and are expected to let Pierre-Edouard Bellemare walk in free agency. Center Carl Soderberg has already moved on, signing a contract in Europe. And the other two trade deadline acquisitions — defenseman Patrik Nemeth and goalie Devan Dubnyk — are also expected to sign elsewhere.
It's a lot. No doubt.
But there are plenty of options on the market that Sakic and his staff could explore to fill out the remainder of the roster. Trying to piece together the roster starts with Landeskog. For this particular exercise, we're going to assume that Landeskog is re-signed.
It's absolutely not a guarantee he returns. In fact, I'd put the odds at 50-50 at best. But without Landeskog, Sakic's offseason plans change immensely. With Landeskog, there's still a lot of work to be done. And we're going to look at some of the options to fill in the gaps.
Listen to "Darcy Kuemper Is the Man" on Spreaker.
Top-six forward
If Landeskog stays, he will likely continue to play with star center Nathan MacKinnon and one of the best right-wingers in the game Mikko Rantanen. The second line will still have Andre Burakovsky and Nazem Kadri, but a left-winger is missing.
Jaden Schwartz: The 29-year-old did not have the best season in 2021 with St. Louis. He scored just eight goals and recorded 21 points in 40 games. But Schwartz might just need a fresh start to reinvigorate his career.
The Kraken are interested in his services. They got close to signing him during the expansion draft negotiating window last week but opted for defenseman Vince Dunn instead. Schwartz would be wise to explore the market before choosing Seattle.
Both Frank Seravalli of Daily Faceoff and Andy Strickland, a reporter out of St. Louis, have said that the Avalanche are interested in Schwartz. Given his poor production in 2021, the veteran could likely be had for a bargain price. He would be the most ideal pickup for the Avs to round out their top-six.
Tomas Tatar: The veteran is coming off perhaps one of the more fascinating seasons in the league. He recorded 10 goals and 30 points in 50 games playing on Montreal's top line in the regular season but struggled to crack the lineup in the playoffs.
He's clearly looking for a fresh start and if Sakic is looking to spend money elsewhere, Tatar could be had a much lower number than Schwartz or even Saad. The risk wouldn't be that high given the cap number and term Tatar would get. And if he fails to produce, Colorado could promote young forward Alex Newhook into that second-line left-wing spot.
Rickard Rakell: I'm cheating a little bit here because Rackell is not a free agent. But like the acquisition of Saad last year, Rackell could be a one-year rental, as he is just a year away from free agency with a conservative $3.789 million cap number.
Rackell scored nine goals and had 28 points in 52 games on a bad (really bad) Anaheim Ducks team. He's three years removed from his last 30+ goal season, a feat he's accomplished twice. But he also had five consecutive years of at least 40 points before the COVID shortened 2021 season.
He's not the worse option to shore up that second line.
Pius Suter: This is an intriguing option and another one of those 2nd/3rd line fringe forwards. I'm a little surprised the Chicago Blackhawks chose to not qualify the 25-year-old rookie.
Suter had a decent showing in his first NHL season. He had 14 goals and 27 points in 55 games, nearly a half-point per game on a team that was going nowhere fast. His ice time and production increased as the season went on.
He's definitely not a polished forward by any means, but he's worth looking at if you're Sakic. Let's not forget that Burakovsky was coming off two consecutive 25-point seasons before he was traded to Colorado.
Honorable mentions: Mikael Granlund, Alex Killorn, Mike Hoffman
Bottom six forwards
Assuming Tyson Jost and Valeri Nichushkin are staples on the third line, and Mikhail Maltsev and Logan O'Connor have spots locked up on the fourth line, the Avs have two spots up for grabs on the bottom two lines. Newhook could likely fill one of them but that still leaves one.
Before you ask, no, I haven't forgotten about J.T. Compher. But something tells me he'll be traded before the season starts. Carrying a $3.5 million forward that lost his third-line center spot to a much cheaper option in Jost doesn't seem ideal for a team tight on cap dollars. Although I will say, it's going to be hard to trade him given the number of actual dollars he's owed ($4.5 million next season and $3.5 million the year after).
But anyway. For argument's sake, we're going to look at forwards that could fill out the bottom six without Compher in the picture,
Jordan Martinook: This would definitely be more of a fourth-line option rather than a top-nine forward. But you know that veteran leader that kills penalties and has a wonderful and energetic personality? Like, say, everything the Avs are going to miss in Bellemare?
That's the type of player you're going to get in Martinook. The 29-year-old had 13 points in 44 games with the Carolina Hurricanes last season and was among the top-four forwards in penalty-killing ice-time per game. And in case you were wondering, Carolina had the third-best penalty kill in the NHL in 2021.
Tyler Bozak: What's with all the former Blues?
Bozak won the Stanley Cup with St. Louis in 2019 and is coming off a contract that paid him $5 million annually. He'd have to take a pay cut to play for the Avs. Like, a massive pay cut. But Bozak is familiar with the Denver area. He lives in Colorado in the summers and played at DU. He often skates at Magness Arena in the summers, too. Surely an offer to join the Avs would be welcomed by him, right?
He plays center and wing. He kills penalties, he's a leader. He has all the intangibles you want in a bottom-six forward. Bozak is coming off a season where he had 19 points in 35 games combined between the regular season and playoffs. So he can even pitch in offensively.
Ryan Getzlaf and Corey Perry: I wasn't going to go there but it was hard not to. What about another Anaheim Ducks reunion in Denver? The first one, which was somehow 18 years ago, did not go well. For those that don't remember, the Avs reunited All-Stars Paul Kariya and Teemu Selanne in 2003-04 but were ousted in the second round. Both players struggled mightily.
This would be different. Selanne and Kariya were top-six perennial All-Stars at the time of their signing. Getzlaf and Perry are far from that. They're both on the back end of their storied careers. Perry is coming off two consecutive Stanley Cup Final appearances (and losses to Tampa Bay). And Getzlaf is finally ready to move on from Anaheim.
If Sakic wants to go big on name recognition, then signing both Getzlaf and Perry to cheap deals would be a heck of a way to round out the bottom six. And it would be a lot of fun.
Honorable mentions: Zach Parise, Mathieu Perreault, Casey Cizikas
Listen to "Darcy Kuemper Is the Man" on Spreaker.
Depth defenseman
The Avs are in the market for a depth defenseman. Preferably one that could slot into the top-four in case Erik Johnson suffers another injury. Which at this point is more than likely.
Graves was a solid third-pair defenseman that could play on the second pair when needed. But despite his size, he wasn't as physical as what the Avs need at this point. There aren't that many defensemen available in free agency with size and grit. But there are still a number of intriguing names.
Zach Bogosian: I'd say Bogosian is the most ideal option given the role he'd play and the number he'd command on the market. Bogosian reinvigorated his career with Tampa Bay after leaving Buffalo (which seems to be a pattern). He signed with Toronto last offseason for just $1 million and could be had for around that number again.
Bogosian would slot in nicely on the bottom pair with Johnson, Conor Timmins or young Bowen Byram.
Ryan Suter: He's still worth mentioning even though it's looking less likely that he'd sign with Colorado. Suter is looking to land a four-year deal after being bought out by the Minnesota Wild. He's 36 years old and still plays heavy minutes, which is something that Avs could benefit from. But anything more than two years would be a mistake.
The Dallas Stars may be the team to make that mistake. But let's move on.
Marcus Pettersson: I don't think Pettersson is a bad defenseman. But at $4.025 million for four more years, you can very much understand why the Pittsburgh Penguins are trying to move on from him.
If you're Sakic, you look heavily at this option, but only if the Penguins are willing to retain at least $1.75 million. Pettersson is a solid bottom four option for four years if he could be had at the $2 million dollar range. He's not the first choice but certainly one worth looking at if the money makes sense.
Honorable mentions: Josh Manson, Alex Goligoski, Nick Jensen
Goaltending
It's crazy to think that a team with such high hopes for winning the Stanley Cup still has no idea who their starting goaltender is. Pavel Francouz is locked in for one more year but has not played in nearly 12 months. So the goalie brought in would have to take on a 1A role at the minimum.
Grubauer is the ideal candidate. But if the cap number doesn't make sense, then Sakic will likely need to look elsewhere. There are a ton of goalies available in free agency and some intriguing options on the trade market.
Surely, Sakic has a plan. Let's see if we can figure out who he has in mind.
Darcy Kuemper: This looked like the most intriguing option for the longest time. His injury history is hard to ignore, and even more so given what the Coyotes are looking to acquire for him.
I don't think Sakic is interested in trading a first-round pick for a goalie just one year away from free agency. So perhaps other options are a better fit.
Ilya Sorokin or Semyon Varlamov: One of the two Russian goalies on the Island looked like a more realistic trade option two weeks ago before Lou Lamoriello was able to clear all that cap space.
But why not look into this? Sorokin is a restricted free agent after his first year in the NHL. The Islanders want to re-sign him and he's probably looking to return. But if the unrestricted free agent options sign elsewhere, he's worth taking a look at.
The 25-year-old was 13-6-3 with a .918 save percentage in the regular season before going 4-1 in the playoffs with a .922. He's likely looking for 3-5 years at around $5 million per year. That isn't a terrible number for a starting goalie. If Sakic can pry him away for fair value then sign him for four years, $20 million, then why not give it a go?
Or, if he re-signs for around that number in New York, maybe explore a trade to bring former Avalanche goalie and well-liked teammate Semyon Varlamov back to Denver.
Linus Ullmark: Bringing in another goalie from Buffalo wouldn't look good at first glance. But Ullmark is not Jonas Johansson. He's a legitimate starter in the NHL looking to be released from the shackles in Buffalo.
Ullmark was 9-6-3 with Buffalo last season, sporting a .917 save percentage on the worst team in the league. He somehow has a winning record (50-47-13) in his career despite playing all of it with the Sabres from 2015-2021.
Ullmark is almost 28 years old and also could be had for 3-5 years in the $4 million to $5 million range.
Honorable mentions: Freddie Andersen, Petr Mrazek, Alex Georgiev or Igor Shesterkin
__
Aarif Deen is our Colorado Avalanche beat reporter. He covers Avs games live from Ball Arena and attends practices, media availabilities and other events pertaining to the Avs on the daily beat. He is also a co-host of Hockey Mountain High: Your go-to Avalanche podcast. Deen joined Mile High Sports upon completion of his bachelor's degree in journalism and master's in business administration from the University of Michigan – Dearborn. Before Mile High Sports, Deen worked for the Michigan Wolverines Athletics Department as the assistant sports information director.
Follow him on Twitter @runwriteAarif