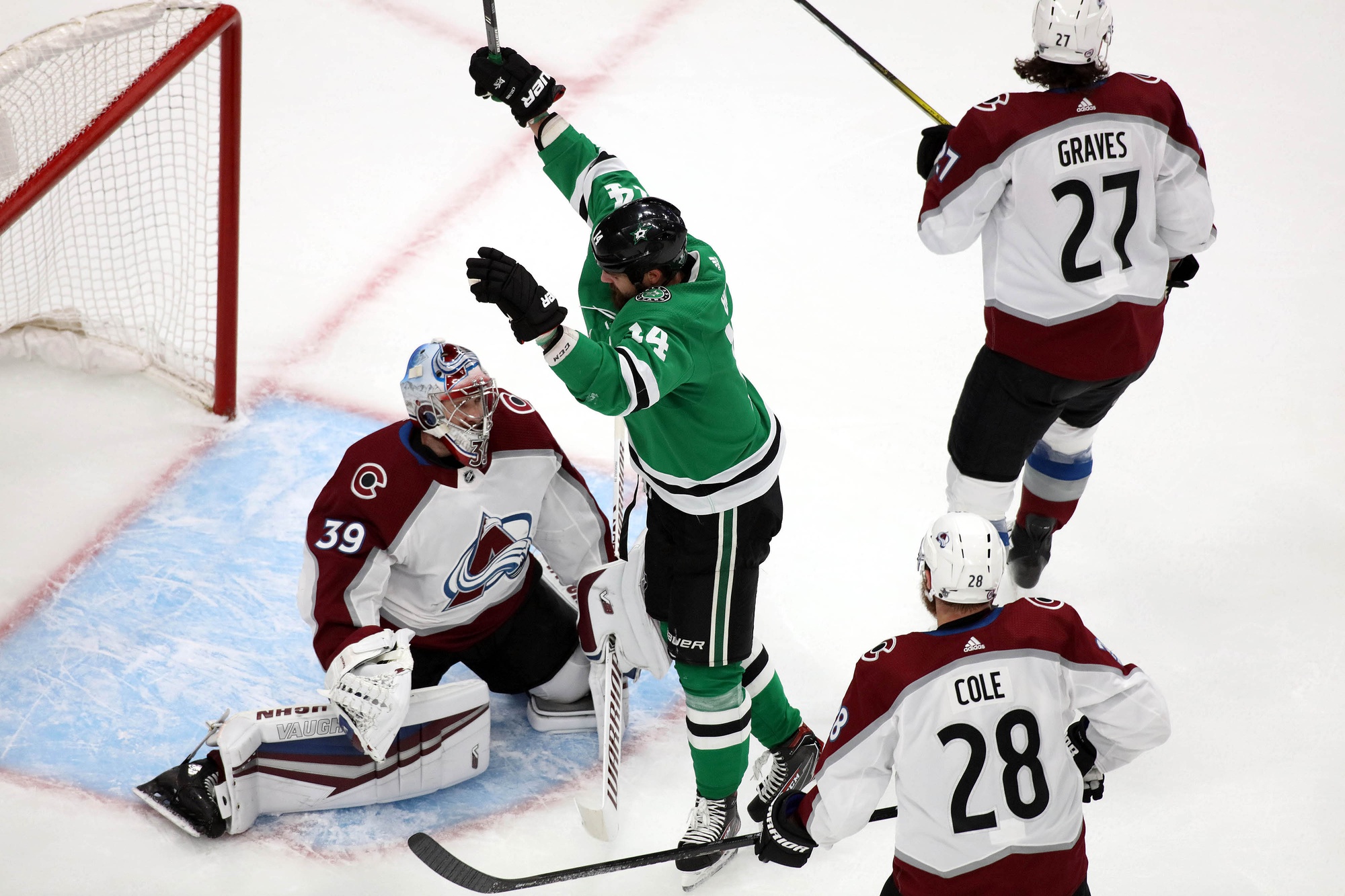 A complete 60-minute effort has been an issue for the Avalanche all series long against the Dallas Stars.
Game 4 on Sunday was another example as penalties and turnovers led to a 5-4 defeat for the Avs, who nevertheless rallied from a three-goal deficit to get within 3-2 late in the second period.
"It's penalties. When we're giving up four, five, six scoring chances on the power play and they get two power-play goals in the first period in short order, it's not going to help you," Avs coach Jared Bednar said. "I didn't love all the calls, but we got to find a way to stay out of the box and still compete hard."
Dallas takes a 3-1 lead in the Western Conference semifinal series at Rogers Place in Edmonton, with Game 5 coming quickly on Monday night.
Just as it's done in each of the first three games, Dallas scored at least three goals in short order. This time it came in 4:27 early in the first period. The Stars held that 3-0 lead and a 10-0 shots advantage until Colorado recorded its first shot at 18:34.
"It feels like they score in bunches right now. They're very opportunistic," Avs center Nathan MacKinnon said. "Obviously, some of that's on us. When they get one, they get two or three right now. We got to limit that. You know, the series isn't over. We're going to be ready for Game 5."
The Avalanche started to claw back in the second period. After recording five shots in the final 1:26 of the first, Colorado continued its offensive push on Dallas goalie Anton Khudobin. Forward Valeri Nichushkin scored his first of the playoffs for Colorado to finally solve the goaltender. And six minutes later, the Avs drew two penalties to get a two-minute 5-on-3 with 36.7 seconds left in the second period.
Bednar called timeout to give his top unit a breather. And on the ensuing faceoff, it took just 11 seconds for defenseman Cale Makar to make it 3-2 off of a feed from MacKinnon — who extended his franchise-record playoff point streak to 12 games.
The Avalanche went into the third period with 1:24 of 5-on-4 power-play time remaining and a 22-18 shot-advantage. But they didn't convert.
They continued to control the game before a penalty to forward Tyson Jost in the offensive zone suddenly shifted the momentum. Dallas capitalized for a third time on the man-advantage to regain the two-goal lead. And 32 seconds later a turnover from Makar behind the net resulted in an open-net goal from Stars forward Denis Gurianov to make it 5-2.
"Plays like that happen over the course of a game and course of a career, Avs captain Gabe Landeskog said. "God knows how many turnovers I've had. (Stuff) happens, that's all it is."
MacKinnon added: "We think Cale is the best defenseman in the league. We're not worried about him."
Bednar pulled goaltender Pavel Francouz after the fifth goal, replacing him with 30-year-old, third-string goalie Michael Hutchinson, who made his NHL playoff debut.
Francouz stopped 21-of-26 shots and has surrendered 15 goals on 109 shots (.862 save percentage) since taking over the crease from an injured Philipp Grubauer.
"He's' got to be better for sure," Bednar said of Francouz. "We've seen Franky be way better. We know he can be better than he's been."
Footnotes. Grubauer, along with defenseman Erik Johnson and forwards Matt Calvert and Joonas Donskoi, are all not expected to play Monday in Game 5. … If the Stars defeat the Avs on Monday, it will be the first time Colorado has lost a series in less than six games since being swept by the Detroit Red Wings in the second round in 2008. … The Avalanche have never come back from a 3-1 deficit to win a series.