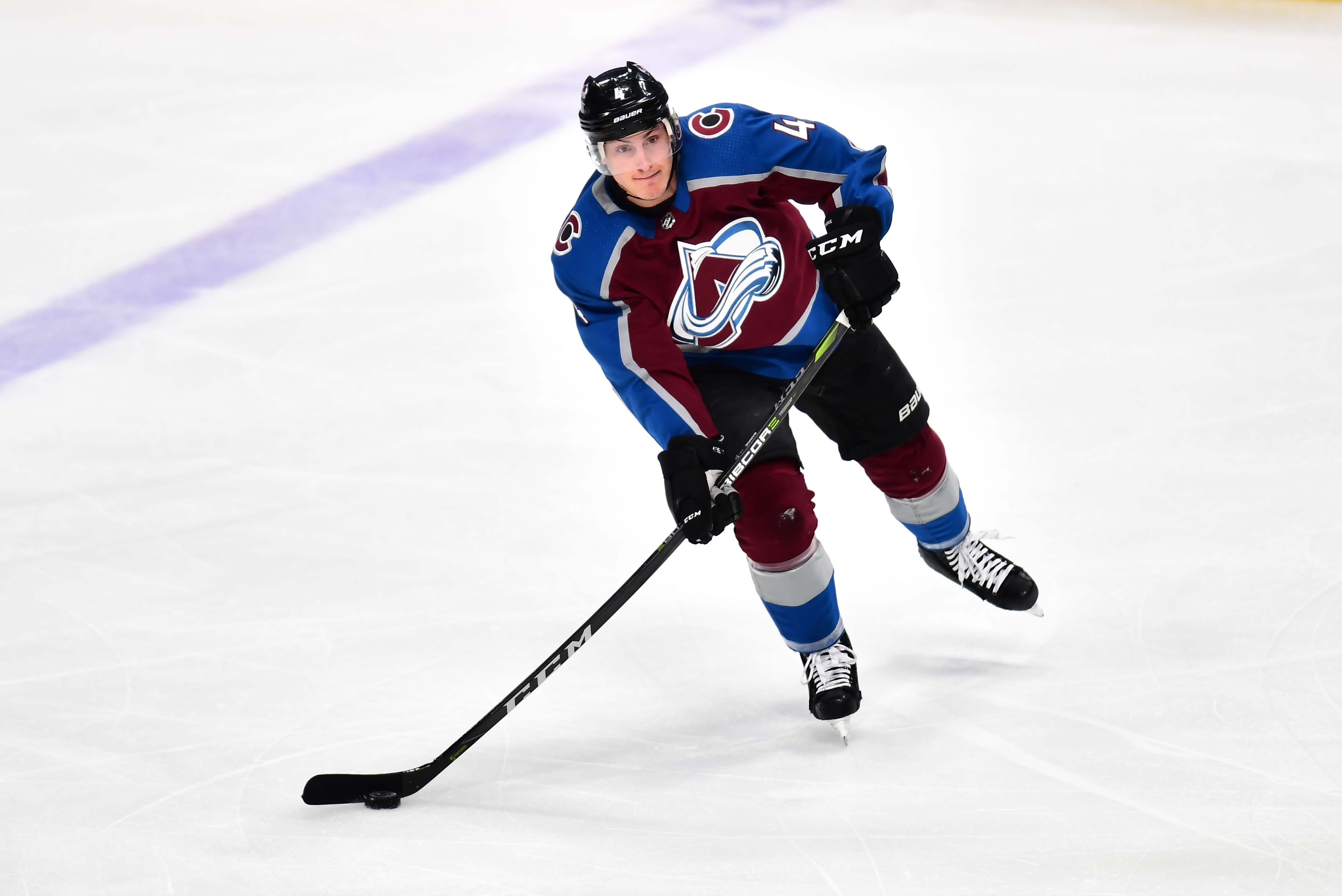 We begin our Colorado Avalanche season in review series with defenseman Tyson Barrie. The 26-year-old completed his seventh NHL season with the Avs and it was far and away his best since entering the league. We will take a look at the numbers behind Barrie's game, how he looked to the eye, give him a final grade for this past year, and give an outlook on what to expect from him next season.
The Numbers
Barrie was, statistically, the Avalanche's top producing defenseman by far. With 57 points, he finished with 32 more points than the next closest defenseman Erik Johnson, and his 14 goals also bested Johnson by five.
While many often clamor for someone else to run the power play, due to Barrie not having the big shot that will scare opposing teams, he was the top producing defenseman in the entire NHL in terms of power-play points per game, scoring at a .44-point-per-game rate. His offensive production from the blueline, in general, was elite this year, with only Erik Karlsson having a higher point per game rate than Barrie. He was particularly productive down the stretch, scoring 26 points in the final 25 games, many of which were played without Erik Johnson. Numbers wise, the only numbers you can look at negatively for him is his minus-15 plus/minus rating, which was the lowest on the defense.
In terms of the advanced numbers, Barrie finished third among regular defensemen on the team with a 47.98 Corsi For percentage. That means when Barrie was on the ice, the Avs controlled 47.98% of the shot attempts. The Avs are generally not a great possession team, so that number being the third highest on the defense speaks more to the Avs as a whole than Barrie. Barrie is also a shot-generating machine, with 13.68 shot attempts per 60 minutes at even strength, which was third on the entire team.
When Barrie is on the ice, a lot of things tend to happen at both ends, and while his overall possession numbers were strong relative to his teammates, he did finish with a 46.95% scoring chance for percentage and a 41.54 high danger chance for percentage, so the Avs have a tendency to give up very good looks in the defensive end with Barrie out there. Both of those numbers were the lowest among the Avs top six defenders.
It's also important to note that Barrie starts a high percentage of his shifts in the offensive zone, more so than any other defenseman on the team, but that makes sense. You want your best offensive players on the ice in situations where they can produce offensively, but it's concerning the number of high danger chances against the Avs allow with Barrie on the ice, given he is put in a lot of offensive situations.
The Eye Test
While Tyson Barrie is a top-flight offensive defenseman in the NHL, there is no denying that he still has his limitations as a player, and likely always will. He is the very definition of a rover, and that makes it difficult on his defensive partner, as they need to be prepared for anything with Barrie on the ice. That's why the first few weeks of the Zadorov/Barrie pairing was a bit of an adventure.
When Barrie is at the top of his game, you'll notice on the breakout. Not so much with his puck moving ability, but more his ability to skate the puck out of danger and start the breakout himself. He is perhaps at his best in transition offense, joining the rush and causing nightmares for opposing teams and coaches by his ability to create an odd-man rush by jumping into the play.
Barrie has tremendous chemistry with Nathan MacKinnon and Mikko Rantanen, and Jared Bednar wisely uses them together often in all situations. Barrie doesn't have a powerful shot, and at times struggles to get the puck through defenders, but his willingness to shoot is much needed on this Avs team and forces the opposing team to be prepared for anything with him on the ice.
Defensively, Barrie still struggles down low against forwards that can outmuscle him. That is unlikely to ever change. His willingness to take risks offensively can often lead to good scoring chances for opponents, and that's the part of an offensive defenseman's game you usually have to live with for the trade-off in scoring production. Overall, the good tends to outweigh the bad with Barrie, and he's a lot better with his stick in the defensive zone than he gets credit for.
The 2017-18 Verdict: A-
Barrie is never going to be the defensive stalwart some fans want to see, but his 2017-18 season for the Avs was tremendous. His play with the man advantage helped the Avs finish with the eighth-best power play in the league, and the gap in production between Barrie and every other Avs defenseman should show just how valuable he is to this team.
While he is not your prototypical number one defenseman, he deserves a lot of credit for how he played down the stretch after Erik Johnson went down. He played arguably the best hockey of his NHL career and was a huge reason why the Avalanche made the playoffs for the first time since 2014. For a team that lacks secondary scoring and a legitimate second line, having a defenseman that can create offense on his own is invaluable, and that's what Barrie did for the Avs this past season.
Outlook for 2018-19
Tyson Barrie will enter next year with a top-four defensive spot locked down on the Avs…as long as he's still with them. Trade rumors have swirled around Barrie in the past, and although he's coming off his best season in the NHL, there is still the possibility that Barrie could be dealt for help up front.
With Conor Timmins and Cale Makar coming up through the ranks, coupled with the development of Nikita Zadorov and Samuel Girard, the Avalanche are flush with young, talented defensemen for the first time in years, and may look to move Barrie to help supplement their secondary scoring up front. Considering Joe Sakic has stated he wants to "stay the course", a Barrie trade seems unlikely, but you never know what teams might offer to change his mind.
Assuming he does come back, it will be interesting to see who he plays with next season. He spent a lot of the year with Patrik Nemeth, but after Erik Johnson went down, spent the final 25 games with Nikita Zadorov, and scored at over a point-per-game pace in that stretch. Regardless of who he is paired with, a healthy Barrie is likely a lock for 45-55 points, and it's hard to find that kind of consistent production from the backend.