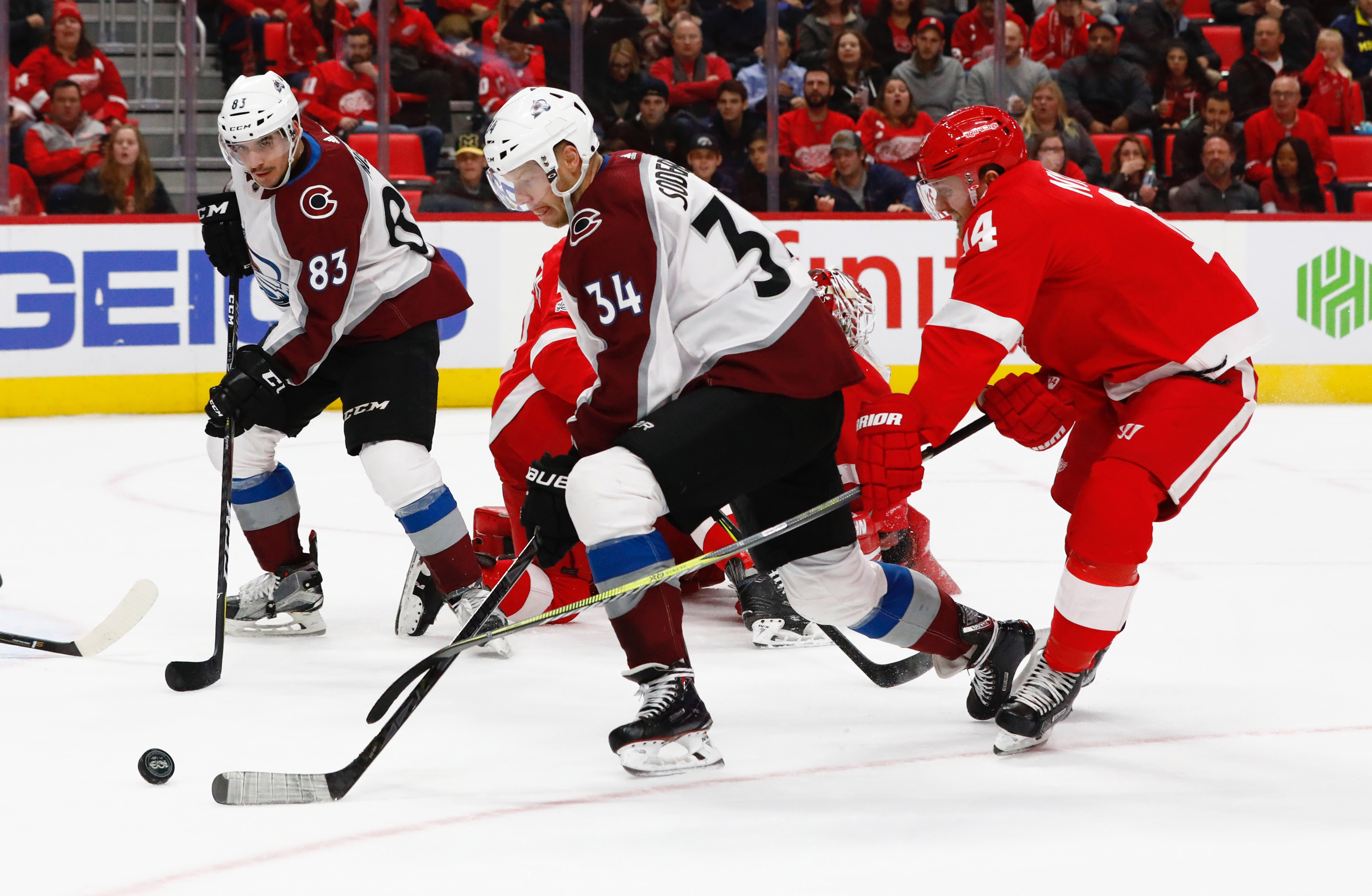 The Colorado Avalanche started their four-game road trip against former heated rivals Detroit Red Wings. These two teams used to be the worst of enemies in the late 90s, but in more recent years, the two have cooled off. It seemed the rivalry might be coming back on Sunday, however, as the Avalanche win a physical 2-0 game in Detroit.
With Detroit playing in back-to-back nights, Colorado looked to use their speed early and often. Through most of the first period, the Red Wings did a good job limiting that speed and puck control from Colorado. This allowed the teams to head into the first intermission scoreless.
Colorado didn't find their way onto the scoring sheet until Ian Cole drew a holding penalty from Jonathan Ericsson, giving the top power play in the league a chance at going to work.
It only took Nathan MacKinnon six seconds to give the Avalanche the one-goal advantage, on his 19th of the season, off a beautiful feed from Mikko Rantanen (33).
The score would not change for the remainder of the period and the Avalanche would head into the locker room up 1-0.
Despite the score not changing until late in the third, the physically ramped up, getting tempers to heat up on both sides. Both Ian Cole and Patrick Nemeth laid big checks on Red Wings players, which forced a retaliation from Tyler Bertuzzi and Anthony Mantha respectively.
Tempers continued to flare as Matt Calvert got his stick held from by Tyler Bertuzzi from inside the Detroit bench, causing Calvert to spear Bertuzzi and four other Red Wings players to grab and hold Calvert near the bench. Incredibly, no one was penalized.
Gabe Landeskog would add an empty net goal late in the final frame putting the final nail in the coffin for the Red Wings.
Semyon Varlamov finished the night perfect, saving all of the 24 shots he faced helping Colorado extend their point streak to 11 games.
The Colorado Avalanche return to action Tuesday night in Pittsburgh to take on Sydney Crosby and the Penguins. Puck drop is set for 5:00 p.m. MT from PPG Paints Arena.