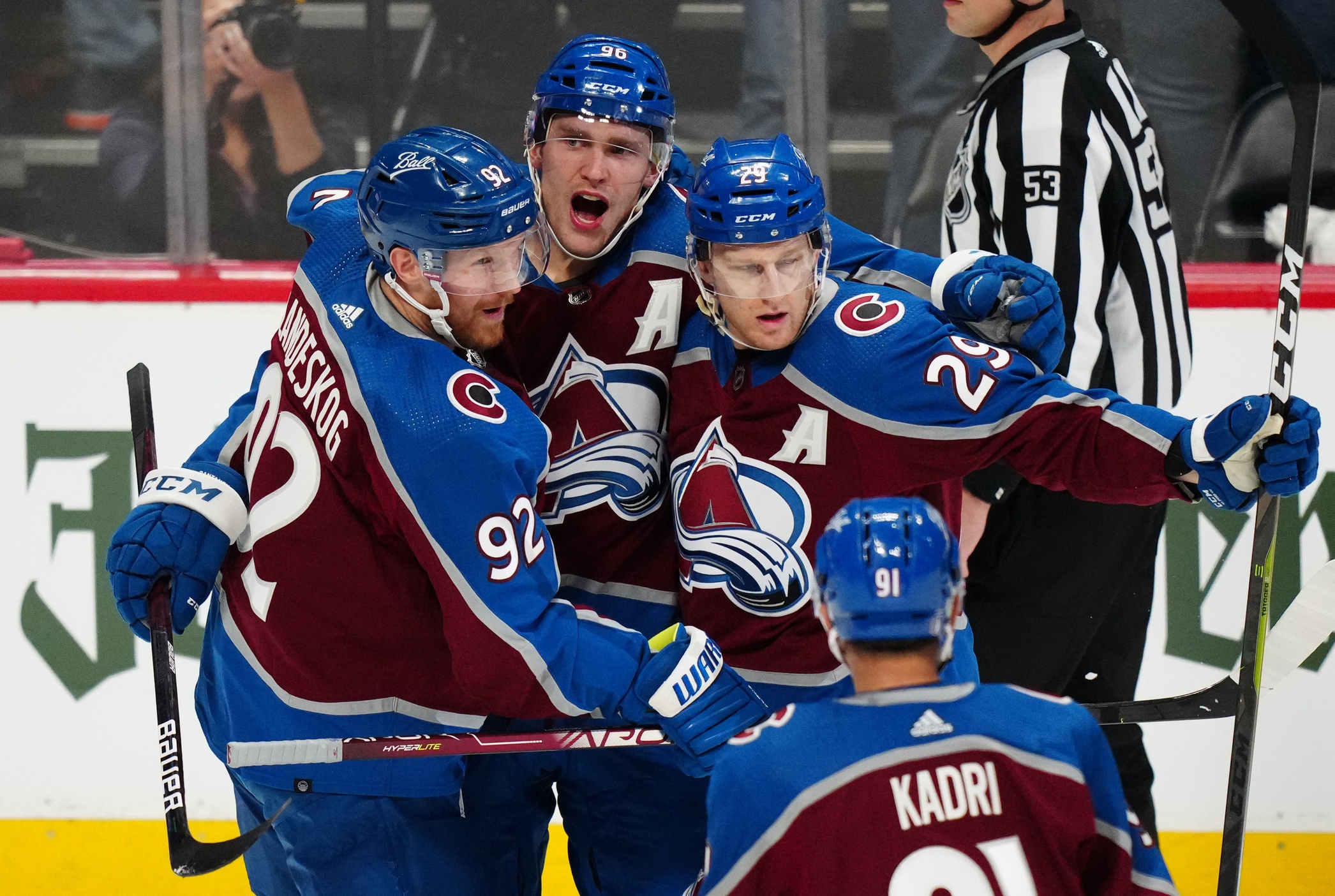 The deafening crowd of 18,091 at Ball Arena was treated to a historic night of hockey.
In their first sold-out playoff game in three years, the Avalanche matched the energy of their fans, erupting for a handful of goals on Tuesday. Colorado scored five times in the first period to open their first-round series against the Nashville Predators with a quality 7-2 victory.
"It was very exciting and easy to get into the game," captain Gabriel Landeskog said.
Listen to "Avalanche Smash Nashville in Game 1" on Spreaker.
Nashville was without starting goalie Juuse Saros, who was injured at the tail end of the regular season. David Rittich started the game for the Predators but didn't end it. He surrendered goals to Nathan MacKinnon (power play), Devon Toews, Andrew Cogliano (shorthanded) Cale Makar and Artturi Lehkonen — all in the first period.
Colorado put 13 shots on Rittich before he was pulled. His replacement Connor Ingram had a more respectable showing but it was far too late for the Preds. Ingram gave up two goals on 32 shots.
"We wanted to have a strong start," Makar said. "We set the tone tonight, but it's just going to be amping that up even more going forward."
The Preds seemingly had no response to the Avalanche's masterful offense. While they're known for their physical play, it seemed as if their physicality was matched by the Avs. But Colorado's goal-scoring prowess was on a level of its own.
MacKinnon's opening goal came 12 seconds into the first power-play opportunity. Toews' tally just 22 seconds later gave Colorado its quickest two goals to open a playoff game in franchise history (2:42).
It was also just the second time they'd score five goals in a single playoff period.
The Avs entered the series completely healthy for the first time all season. They flexed their depth muscles at both the forward and defense positions, scratching young forwards Alex Newhook and Logan O'Connor — two staples of the forward group for a majority of the season. The three notable defensemen that sat were Ryan Murray, Kurtis MacDermid and Jack Johnson.
Each of Colorado's trade deadline acquisitions — which played a large part in helping shore up the team's depth — was paramount in the victory.
Cogliano's shorthanded goal was a relentless individual effort on the penalty kill. The veteran hadn't scored in 18 games since the trade deadline before taking the puck away from Mattias Ekholm and capitalized on his own rebound.
Cogliano, who was on the fourth line with Darren Helm and Nico Sturm, later suffered an upper-body injury and didn't return for the third period.
"Cogs scores a shorthanded goal, They did a great job with a penalty kill just contributing in the right ways," Bednar said of the line. "Physical, hanging onto pucks in the offensive zone. They did a nice job against their matchup."
Another deadline acquisition, Lehkonen's handprints were all over the game. Aside from his goal, he was often the center of after-the-whistle shenanigans. At the conclusion of the second period, Lehkonen was given a 10-minute misconduct for partaking in a skirmish behind the Avs' net.
The other penalty to Colorado in that tussle was a roughing minor to defenseman Josh Manson. The deadline pick-up from Anaheim jumped in as a third man to stop Nashville's Luke Kunin from goading center Nazem Kadri into a fight.
"You have to stick up for yourself to a certain extent but our guys have been instructed if we have the option to just skate away then that's what we're going to do," head coach Jared Bednar said.
"This isn't about ego. It's about winning."
Manson had a strong showing in his playoff debut with his new club, even getting the Avalanche's first scoring opportunity. He finished with four hits while playing the fourth-most minutes among Colorado's defensemen (18:08). Manson also tied MacKinnon for the most shot attempts (nine) and had three on goal.
Colorado's stars also pitched in. They handled a lot of the scoring and some of the physicality late in the third. Landeskog made his return after missing the final 23 games of the regular season, recording a goal and two points.
The top line of Mikko Rantanen (three assists), Valeri Nichushkin (assist) and MacKinnon (two goals, assist) combined for seven points.
Makar also had three points.
Goaltender Darcy Kuemper made his Avalanche playoff debut and was strong despite the minimal workload. Colorado outshot the Preds 45-25, with Kuemper stopping 23. Both Nashville goals came from former Av Matt Duchene.
The series continues with Game 2 on Thursday at Ball Arena.
"Looking back on last year, I don't know if it was St Louis or Vegas. In the first game, we felt dominant and then in the second game, it's always a little bit of a tighter battle," Makar said. "They're going to have their best effort. And again, from our end, we just have to have that."
__
Aarif Deen is our Colorado Avalanche beat reporter. He covers Avs games live from Ball Arena and attends practices, media availabilities and other events pertaining to the Avs on the daily beat. He is also a co-host of Hockey Mountain High: Your go-to Avalanche Podcast. Deen joined Mile High Sports upon completion of his bachelor's degree in journalism and master's in business administration from the University of Michigan – Dearborn. Before Mile High Sports, Deen worked for the Michigan Wolverines Athletics Department as the assistant sports information director.
Listen to "Avalanche Smash Nashville in Game 1" on Spreaker.