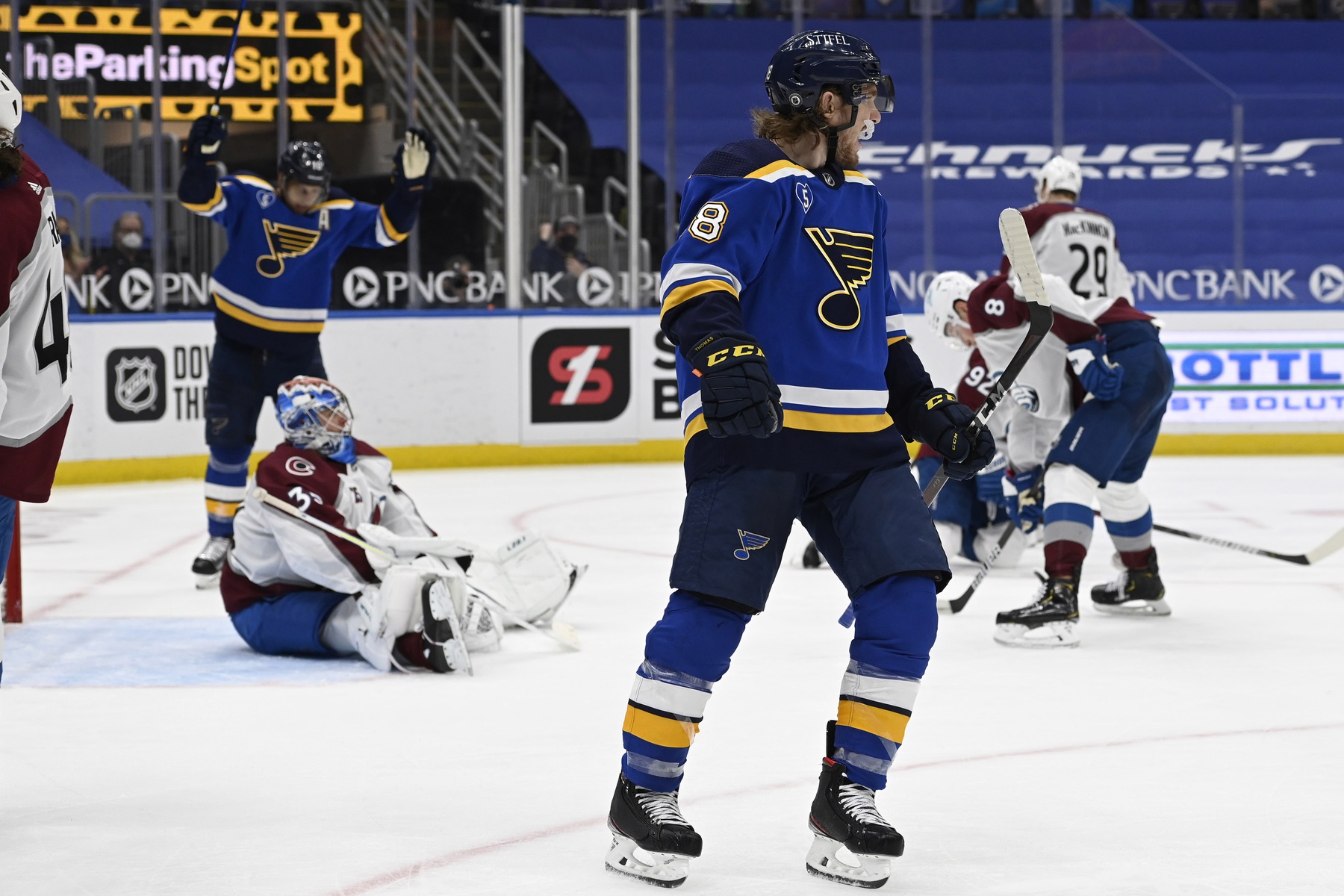 The shorthanded Avalanche stumbled out of the gate Monday and were unable to recover in their fourth and final consecutive meeting in St. Louis.
Colorado (31-11-4) surrendered two goals on five shots in the opening period, falling 4-1 to the Blues at Enterprise Center to suffer its first two-game regulation losing streak in more than two months.
Before these consecutive losses, the Avs were 22-3-3 in 28 games since losing two straight on Feb. 22 and Feb. 24.
"It's natural that you're going to lose a couple of games here and there," Avs coach Jared Bednar said. "It's a positive that it hasn't happened in a couple of months for sure."
Nathan MacKinnon scored the lone goal for the Avs on the power play but he and his wingers Gabriel Landeskog and Andre Burakovsky, along with top-pair defenseman Cale Makar, were each minus-3.
Colorado struggled to keep pace with St. Louis at 5-on-5 despite being one of the NHL's strongest teams.
The top line has been outscored 5-2 by the Blues' top line centered by Ryan O'Reilly over the past two games at even strength.
"We expect to be a dominant line every single time we step on the ice," Landeskog said. "Obviously tough matchup playing against O'Reilly, who in my opinion is probably the Selke winner for good reason. He's really good all over the ice. Tough matchup but that shouldn't stop us."
Winger Brandon Saad joined a long list of Avs players on the injured and COVID-related absence list. Scoring wingers Mikko Rantanen and Joonas Donskoi, starting goalie Philipp Grubauer and young defenseman Bowen Byram have been removed from the COVID list and are expected back in short order, though none are expected to play in Vegas on Wednesday.
Forwards Matt Calvert and Logan O'Connor also remained out with injuries.
The Blues got on the board at 9:25 with a power-play goal but it was their early dominant play at even strength that drew the penalty on Avs defenseman Patrik Nemeth.
With all the momentum on St. Louis' side after the opening tally, Brayden Schenn extended the lead to 2-0, scoring on a feed from O'Reilly from behind the net of goalie Jonas Johansson.
Acquired in a trade from Buffalo on March 20, Johansson suffered his first regulation loss with Colorado, making just 16 saves to fall to 3-1-1 in five games.
The Avs trail the Golden Knights by four points with a game in hand for first place in the West Division. Wednesday is the first of two meetings left against Vegas, both of which are on the road.
"Our goal is still to win the division," Landeskog said. "We want to make sure we're catching Vegas and putting ourselves in a good spot going into the playoffs. Nights like this aren't nearly good enough."