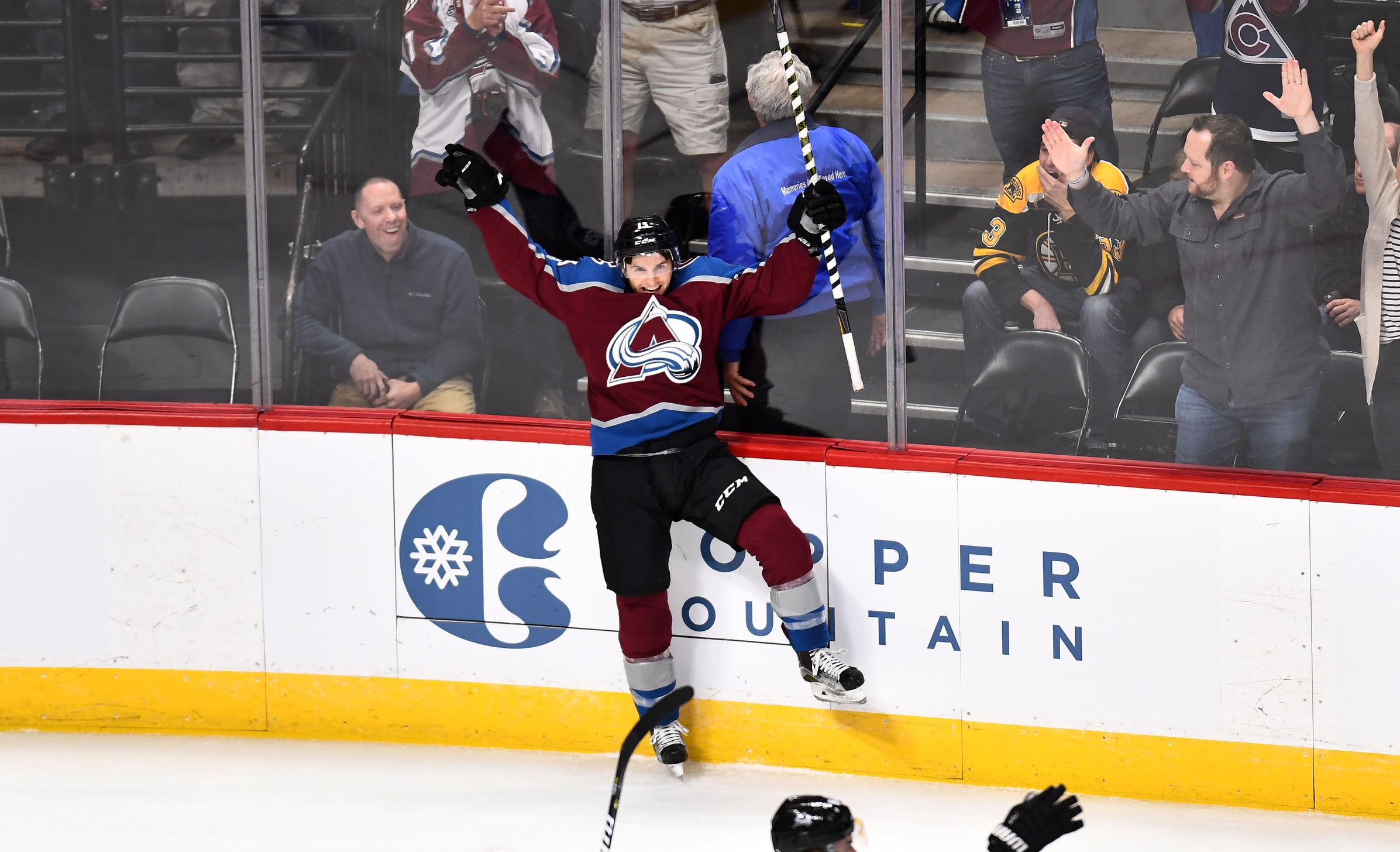 The Colorado Avalanche's home opener was a successful one; on the tail-end of a home-and-home against the Boston Bruins, the Avs toppled the Bruins once more by the score of 6-3.
An early Avalanche goal was waived off after video review determined there was no conclusive evidence that the puck, which bounced off the boards behind the net, and then off Bruins goaltender Tuukka Rask, ever crossed the goal line.
A shot from the point by Tyson Barrie led to a tip in front by Alexander Kerfoot that floated over Rask's blocker-side shoulder. The goal would be the first of Kerfoot's professional career.
The Bruins answered with a late first-period equalizer on a speedy rush by Brad Marchand evening the score at one after one period of play.
After one minute of play in the second period Nathan MacKinnon found Nail Yakupov all alone on an offensive rush, setting up Yakupov for an easy one-timer as Rask slid from the right side of his crease to the left. The goal put the Avs up 2-1 and gave Yakupov his third goal of the season.
Tyson Jost briefly left midway through the game after an Adam McQuaid cross check that sent Colorado on their fourth power play of the game. Sven Andrighetto capitalized on the ensuing power-play goal off of another Nathan MacKinnon assist making the score 3-1.
The Avalanche tallied one more goal in the second period after a sustained forecheck from the Yakupov-Duchene-Kerfoot line. Once Kerfoot made contact in the corner, Yakupov picked up the puck and found Duchene all alone in the slot.
The Bruins managed to stuff one home at 11:30 in to the third period after a chaotic scrum in front of Semyon Varlamov, where Boston's Tim Schaller received final credit for the tally. Schaller's goal began a late push for Boston as Torey Krug scored a minute-and-a-half later and gave the Bruins late-game hope.
Colorado was able to ward off the Bruins' efforts as an empty-netter from Sven Andrighetto gives him his second goal of the game and seals the Avalanche victory with 1:34 remaining on the clock. Another empty-net goal shortly followed as Tyson Jost netted his first of the year.
Varlamov stopped 20 shots as the Avalanche picked up their third win in four games. After a bumpy first two games, the Avalanche penalty kill proved to be strong, allowing zero power-play goals for the second game in a row.
The Avalanche will be back at Pepsi Center Friday night as they host the Anaheim Ducks at 7 PM MST.