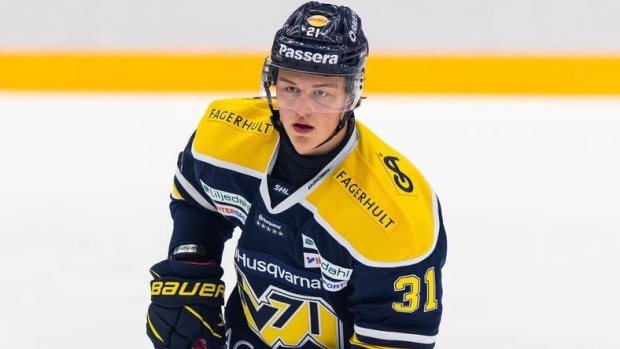 The Avalanche selected winger Oskar Olausson with the 28th overall in the first round of the 2021 NHL Entry Draft on Friday.
The Swedish forward, who shoots left but plays on the right-wing, plays for HV71 in the Swedish Hockey League. Olausson appeared in 16 games for HV71's under-20 team, scoring 14 goals and recording 27 points. He was also promoted to the main roster in the SHL and had three goals and four points in 16 games.
He also appeared in the 2021 World Junior Championship for Sweden.
"It's a really good city, a really good team I want to play with," Olausson said of being drafted by the Avs. "I think my game will fit in with that team."
Olausson plans to remain in Sweden for the 2021-22 season and continue his career with HV71.
Olausson is a versatile goal scorer. He's touted as "a mature kid, a team-first player," by ESPN's Kevin Weekes. His maturity is a large part of why he was selected.
Avs Director of Amateur Scouting Wade Klippenstein says his scouting staff in Sweden did their homework on Olausson's character within the Swedish hockey culture.
"We're very confident we're getting a good hockey player and a great young man that wants to get better and wants to play in the National Hockey League," Klippenstein said.
Born Nov. 10, 2002, Olausson is one of the older players selected in the first round. He's listed at 6'2, 181 lbs.
Olausson is the first Swede drafted in the first round by the Avalanche since captain Gabriel Landeskog was taken 2nd overall in 2011. Landeskog, like Olausson, was also one of the older players taken in the first round of his draft year.
Listen to "NHL Offseason Insanity" on Spreaker.

The Avalanche hold three more draft picks in the 2021 NHL Draft, including the 61st overall pick acquired from the New Jersey Devils in a trade for Ryan Graves last week. Colorado also has the 92nd and 220th picks in the draft.
All three of those picks will be announced Saturday, the second day of the draft.
__
Aarif Deen is our Colorado Avalanche beat reporter. He covers Avs games live from Ball Arena and attends practices, media availabilities and other events pertaining to the Avs on the daily beat. He is also a co-host of Hockey Mountain High: Your go-to Avalanche podcast. Deen joined Mile High Sports upon completion of his bachelor's degree in journalism and master's in business administration from the University of Michigan – Dearborn. Before Mile High Sports, Deen worked for the Michigan Wolverines Athletics Department as the assistant sports information director.
Follow him on Twitter @runwriteAarif