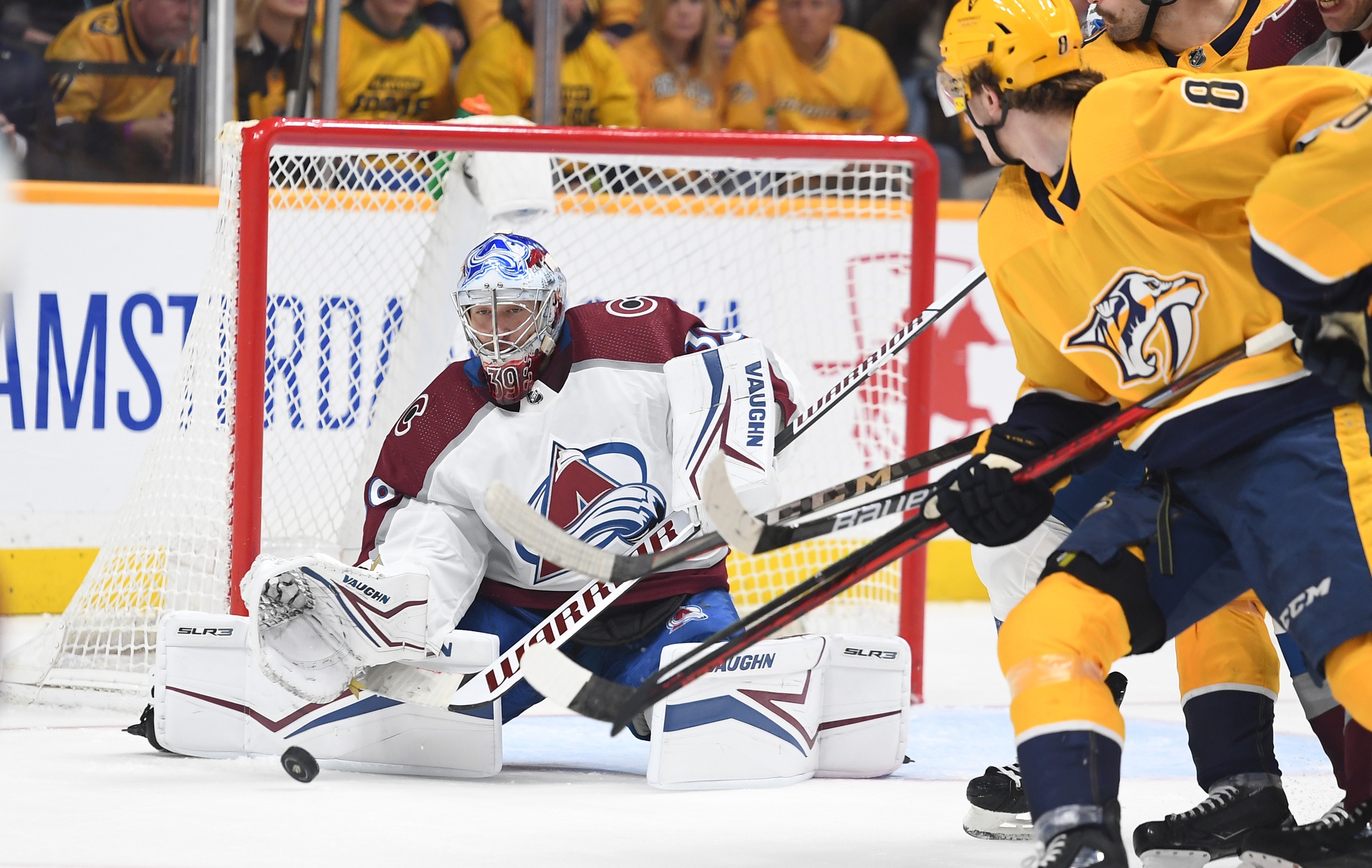 Darcy Kuemper's eye injury on Saturday appeared at first sight to be a lot more severe than it was. The Avalanche goaltender exited Game 3 late in the first period after an errant stick caught him near the eye after going through his goalie mask.
Despite losing its starter, Colorado scored four times on the power play on its way to a commanding 7-3 victory over the Preds at Bridgestone Arena to gain a stranglehold 3-0 series lead. But more importantly for the Avs, Kuemper's injury isn't expected to be long-term.
"He's doing better. We'll get him further evaluated," Avs coach Jared Bednar told reporters in Nashville. "He's got some swelling. Obviously he was unable to return but hopefully he's doing good and is able to get back to the net."
Listen to "Three Wins Closer" on Spreaker.

It's unclear at this time if Kuemper will play on Monday, where the Avalanche will have an opportunity to put the series away in just four games. Backup goalie Pavel Francouz replaced him and stopped 18-of-20 shots the rest of the way.
"I thought he got better as the game went on," Bednar said of Francouz.
Colorado had goals from Artturi Lehkonen, Nathan MacKinnon, Gabriel Landeskog (two), Nazem Kadri, Devon Toews and Valeri Nichushkin.
It was the second time in three games the Avalanche scored seven times. This time all of them came against Connor Ingram, who faced 41 shots and stopped 35 before an empty-net goal from Nichushkin. Ingram was coming off a 49-save effort against Colorado in Game 2.
The Avalanche's power play awoke in a big way. They scored twice on eight opportunities in the first two games before capitalizing on each of their first four chances in Game 3.
__
Aarif Deen is our Colorado Avalanche beat reporter. He covers Avs games live from Ball Arena and attends practices, media availabilities and other events pertaining to the Avs on the daily beat. He is also a co-host of Hockey Mountain High: Your go-to Avalanche Podcast. Deen joined Mile High Sports upon completion of his bachelor's degree in journalism and master's in business administration from the University of Michigan – Dearborn. Before Mile High Sports, Deen worked for the Michigan Wolverines Athletics Department as the assistant sports information director.
Listen to "Three Wins Closer" on Spreaker.