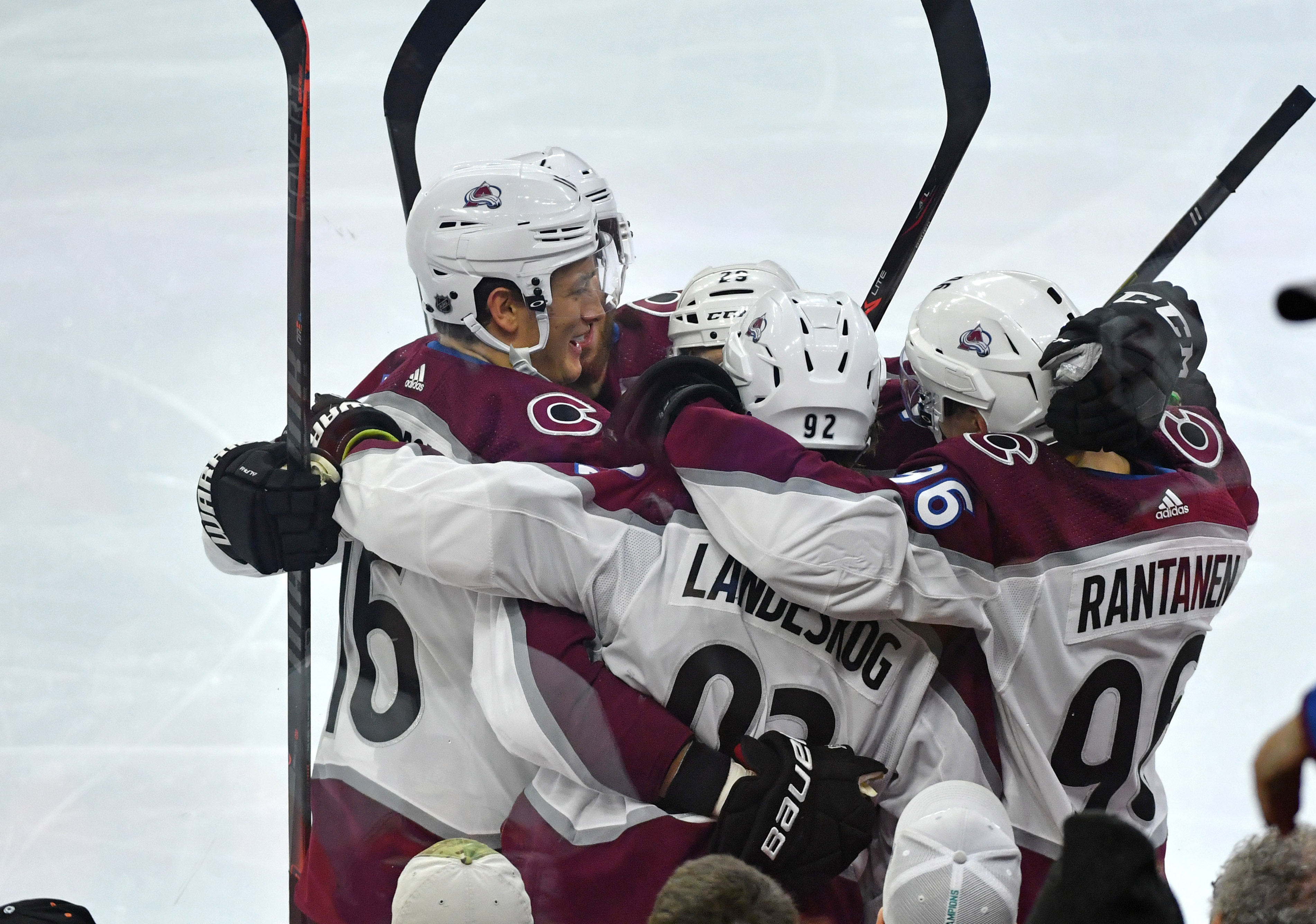 The Colorado Avalanche looked to wrap up their four-game road trip with seven of eight possible points against the Philadelphia Flyers. Continuing the theme coach Jared Bednar talked about earlier this season, quick starts, paired with timely scoring and strong defense, led to a 4-1 over the Flyers on Monday.
Colorado came out flying to start the game, as they've done all road trip. The hard forecheck opened up the game early as Sven Andrighetto drew a tripping penalty just under two minutes into the game. The top line made sure to make the Flyers pay when Mikko Rantanen tallied his third goal of this young season off of a beautiful no-look pass from Nathan MacKinnon. With this goal, the pair set a franchise record by extending their point streak to nine games, making them the only pair in Avalanche/Nordiques history to record a nine-game point streak simultaneously. Despite a couple of power-play opportunities for Colorado, the Flyers were able to slow the Avalanche down for the remainder of the period.
The Avalanche weren't able to sustain the fast start into the second period, as the Flyers controlled the puck and momentum well into the frame. However, the continuous pressure in the offensive zone for Colorado would prove too much for the Flyers late in the period. After a hard forecheck from Matt Calvert and a tipped pass by Carl Soderberg, Calvert would find Matt Nieto on a nice backhand pass from behind the net for his first goal on the season. Colorado would continue the pressure for the remainder of the period, entering the locker room up two goals and feeling in control. As he's done all season, Semyon Varlamov stood strong in goal, saving every shot he faced in the first two periods.
Gabe Landeskog entered Monday night having scored six goals in three games, and he didn't stop his torrid pace against the Flyers. The NHL's First Star of the Week took advantage of a mishandled puck early in the final frame. Landeskog would add his eighth goal of the season, scoring on a breakaway to put the game just out of reach for Philadelphia. A goal from Nolan Patrick just over a minute later brought the score to 3-1. Rantanen would tally his second of the game, scoring an empty-net goal in the final minutes, adding the final nail in the coffin to extend the point streak to five games. The top line for Colorado finished with five points on the night, while Varlamov posted 37 saves moving him to 4-0-2 on the season.
The Avalanche return home and look to build off of this strong road trip Wednesday night as they take on the Tampa Bay Lightning (5-1-1). Puck drop is set for 7:30 PM MT.