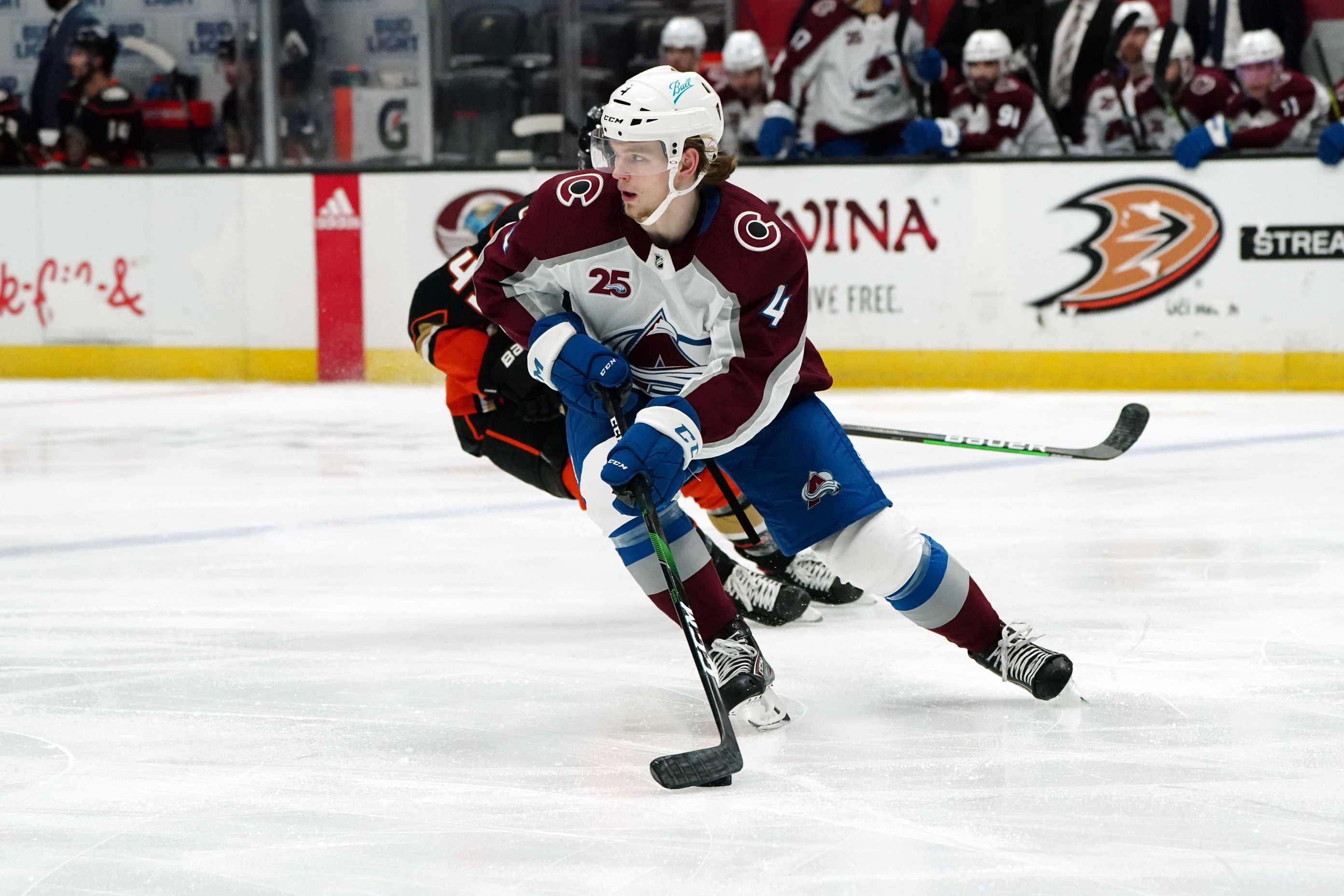 Not much has gone according to plan for young defenseman Bowen Byram since he was drafted by the Avalanche in 2019. The COVID pandemic cut his season and playoffs short in the Western Hockey League in 2019-20 and injuries affected his game in 2021 with the Avalanche.
Byram, 20, made his debut with the big club in January and recorded two assists in 19 games. He missed the entire playoffs and hasn't played since March after suffering a concussion at the hands of Golden Knights defenseman Keegan Kolesar.
Listen to "The One With Peter Baugh" on Spreaker.
"I feel great, better than I've felt in a long time," Byram said following the first day of development camp at Family Sports Center. "It was good to have some time off in the summer to make sure all my injuries got taken care of properly so I was 100 percent going into the season."
Byram is one of 28 players participating in the Avs' development camp. Alongside fellow 2019 draft pick Alex Newhook and 2018 draft pick Sampo Ranta, Byram is one of only three players in camp that has appeared in NHL games.
Development camp and the upcoming rookie tournament in Arizona will be followed up by training camp with Colorado before the preseason begins on Sep. 28.
"I think it's a competitive advantage for them," Avs director of player development Brian Willsie said of Byram and the two forwards participating in development camp. "They've already had 10-12 days of full high-paced action. anytime you can get that before going into an NHL training camp it's an advantage. They'll get some game time next week in Arizona. Following that they'll be primed and ready for NHL camp with the big club."
The priority for Byram has been to shake off the unprecedented times that COVID has shed among the hockey world, and prepare for what he hopes to be a full season in the NHL.
Byram is expected to be one of Colorado's top-six defensemen all year. The top four will likely consist of Cale Makar, Devon Toews, Samuel Girard and Erik Johnson. And assuming he plays on the third pair, Byram would be playing alongside newcomer Ryan Murray, who signed a one-year deal as an unrestricted free agent last month.
He could eventually find his way into the top four, where he'll be expected to play for years to come.
"I didn't really get a full year in last year with injuries and everything so I'm treating this as my first full year," he said. "I want to come in with the attitude to make the team and be in the lineup every night and contribute in a successful way. That's been my goal all summer and now that I'm here I'm just trying to kind of put that to work."
Byram skated with a number of NHL veterans over the summer in the Vancouver area. His group involved Montreal's Brendan Gallagher, New Jersey's Tye Smith, Calgary's Milan Lucic and Detroit's Troy Stetcher among others.
He says the group had some challenging sessions that made his offseason routine both fun and competitive.
"It makes everything more enjoyable when you have a good group of guys to hang out with," Byram said. "It was a fun summer and I feel like I've improved so I'm ready to go now."
__
Aarif Deen is our Colorado Avalanche beat reporter. He covers Avs games live from Ball Arena and attends practices, media availabilities and other events pertaining to the Avs on the daily beat. He is also a co-host of Hockey Mountain High: Your go-to Avalanche podcast. Deen joined Mile High Sports upon completion of his bachelor's degree in journalism and master's in business administration from the University of Michigan – Dearborn. Before Mile High Sports, Deen worked for the Michigan Wolverines Athletics Department as the assistant sports information director.
Follow him on Twitter @runwriteAarif
Listen to "The One With Peter Baugh" on Spreaker.