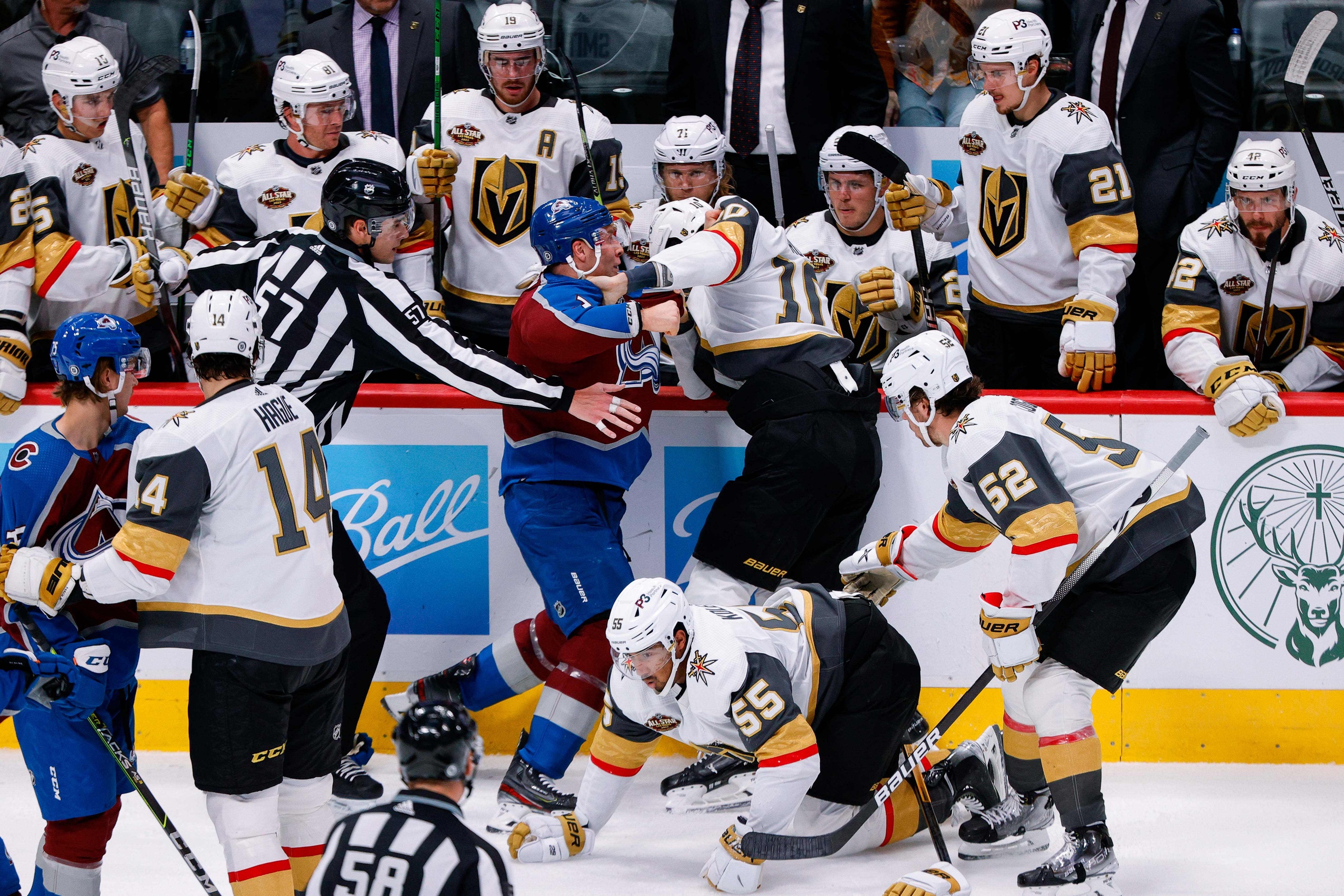 Jack Johnson didn't say much when asked about the five-minute major and game misconduct he received Tuesday night after a hit on Vegas' Keegan Kolesar. But what little words he uttered spoke volumes about what he was truly thinking.
"You know as well as I do I can't give you my honest opinion on the call," Johnson said.
It was about as rare a call as you'll find in the NHL. Five-minute majors for interference are not often called. Understandably so, the officials saw Kolesar struggle to get up and called the penalty on what initially looked like a reckless play.
But replay showed that Johnson did not appear to target Kolesar's head, nor did Kolesar leave the game with an injury — rather he played on the ensuing power play and eventually scored an empty-net goal to seal the victory for the Golden Knights.
Once a call is made, the officials are unable to wipe it out. But after review, they are able to lower it to a minor penalty. The call ended up being confirmed, and Johnson was ejected from a game where the Avs were already without defenseman Samuel Girard and still without Devon Toews.
"I thought it was a suicide pass to be quite frankly," Johnson said. "I thought I tried to time it as best as I could and just finished a play at the blue line. That's about all I can offer you for obvious reasons."
Listen to "Stumbling and Bumbling" on Spreaker.

Johnson had to answer the bell for the hit, something he said he's used to as a veteran. He fought Vegas' Nicolas Roy, who received an extra two minutes for instigating the fight, before being sent to the locker room for the night.
The Avalanche scored on the 4-on-4 and killed off the entire three-minute power play that followed.
"I've been around long enough to know that if you have a big hit you better look around to see if someone's coming or not," Johnson said.
After the game on Tuesday, Avs captain Gabriel Landeskog was visibly frustrated with the call. As was head coach Jared Bednar.
Landeskog, who served a two-game suspension earlier in the season for a hit on Chicago's Kirby Dach, also had to partly shy away from his thoughts on the call. But his opinion of the hit was loud and clear.
"They give him five minutes and a game for interference?" Landeskog said. "Looked to me like Kolesar had the puck and it was about as clean of a hit as you can make. But it is what it is, you know. We can't control the refs. They make the judgment and that's that. Not allowed to say much more."
It's obvious the Avs are not looking to get fined for challenging the officials.
"Again, I, unfortunately, I like to give you guys honesty and answers. I can't give you my honest opinion on the matter and I apologize for that," Johnson said.
__
Aarif Deen is our Colorado Avalanche beat reporter. He covers Avs games live from Ball Arena and attends practices, media availabilities and other events pertaining to the Avs on the daily beat. He is also a co-host of Hockey Mountain High: Your go-to Avalanche Podcast. Deen joined Mile High Sports upon completion of his bachelor's degree in journalism and master's in business administration from the University of Michigan – Dearborn. Before Mile High Sports, Deen worked for the Michigan Wolverines Athletics Department as the assistant sports information director.
Follow him on Twitter @runwriteAarif
Listen to "Stumbling and Bumbling" on Spreaker.