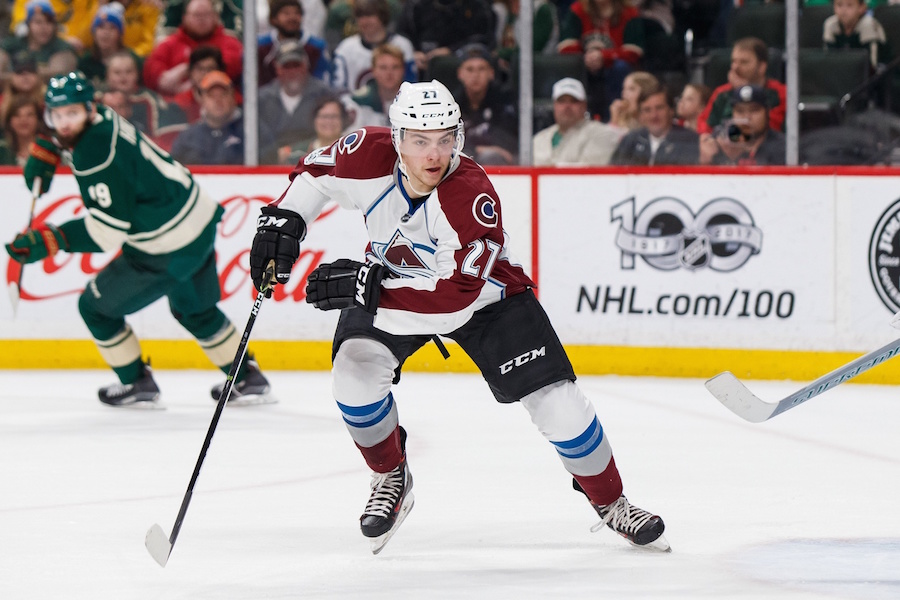 In their "31 in 31" series previewing each NHL club ahead of the 2017-18 season, Matt Waymire and Dan Rosen of NHL Network are understandably down on the Colorado Avalanche. Colorado is on the heels of the worst season ever in the shootout era, having finished 22-56-4 in Jared Bednar's first year as head coach.
"No way to sugarcoat this. They really struggled in 2016-17 season – only 22 wins, down 17 wins from the previous season," Waymire says.
Given Colorado's awful performance across the board – they finished dead last in the NHL in three of four major team statistical categories and second-to-last in the other – Rosen was quite surprised that General Manager Joe Sakic didn't disrupt the roster more in the offseason.
"It was kind of surprising to me," Rosen says, "that there was not a massive movement or change here this offseason in Colorado after, like [Matt] said, 22 wins, 48 points. This team was 30th in the league in goals, 30th in goals against, 30th in power play, 29th in penalty kill. So, I would have imagined or I would have expected some significant, significant changes here. There have not been significant changes in Colorado, so that is surprising to me."
With little hope for the playoffs in their near future (more on that later), Rosen is also surprised Colorado has yet to move a trade piece that could yield them some valuable parts moving forward – Matt Duchene. He understands some of the reasons why, but is still surprised and thinks it could set up an awkward situation come training camp.
"Look, Joe Sakic is under no pressure to trade Matt Duchene," Rosen says. "He's got years left on his contract. He's still a productive player. But it's been going on for a long time now, that he's been on the trading block. The talk of trading Duchene has been on and on and on and on for a while now. It does make you wonder: Will it be awkward for Matt Duchene and the Avalanche if he does show up in training camp as a member of the Avalanche. He's a professional. He'll show up. He'll play. But it could be awkward."
It's not all awkwardness and gloom in Colorado, however. Rosen does see a silver lining with several of the Avs' young prospects.
"I think that's the excitement if you're an Avalanche fan and you're looking for some excitement. You're looking at Tyson Jost; you're looking at J.T. Compher and the opportunity that those guys will get this season. They both got some games last year. They'll likely be in the lineup opening night this season. You're looking at the continued development at Mikko Rantanen and obviously Nathan MacKinnon, too. Nathan MacKinnon is still a very young player in the National Hockey League even though he has a number of years under his belt already. He's still a young player, so there is hope for the future in Denver."
The question is whether or not Colorado can develop that talent. While Duchene, MacKinnon and Gabriel Landeskog – the latest "young core" touted by scouts and analysts – have turned into decent players individually, there has been very little team success during their tenure. And with very few significant offseason additions to the roster, Bednar may have to call on the next "young" core of Jost, Compher and Rantanen to deliver in 2017-18.
"Will Jost and Compher be legitimate, impact productive players this season, in their rookie season? That's going to be the big question, because if those guys are able to perform and be those impact players and you see the continued development of Rantanen and MacKinnon continues to be Nathan MacKinnon – what you know him to be, or even more productive than what he has been in the past – then you're looking at something in Denver," Rosen says. "Then you're looking at a bright future in Denver, but if Compher and Jost in particular, if they fall flat this season, they don't have productive impactful rookie years, then you're just going to sit there in the offseason wondering, 'What now?'"
That's the question that may be coming next offseason. As the regular season approaches, neither Rosen nor Waymire sees any hope of a postseason berth for Colorado.
"They're not a playoff team. We can agree on that," Rosen says. "They're definitely not a playoff team. But that's why you have to look at Jost, and you have to look at Compher and Rantanen and have the levels of excitement with those guys."