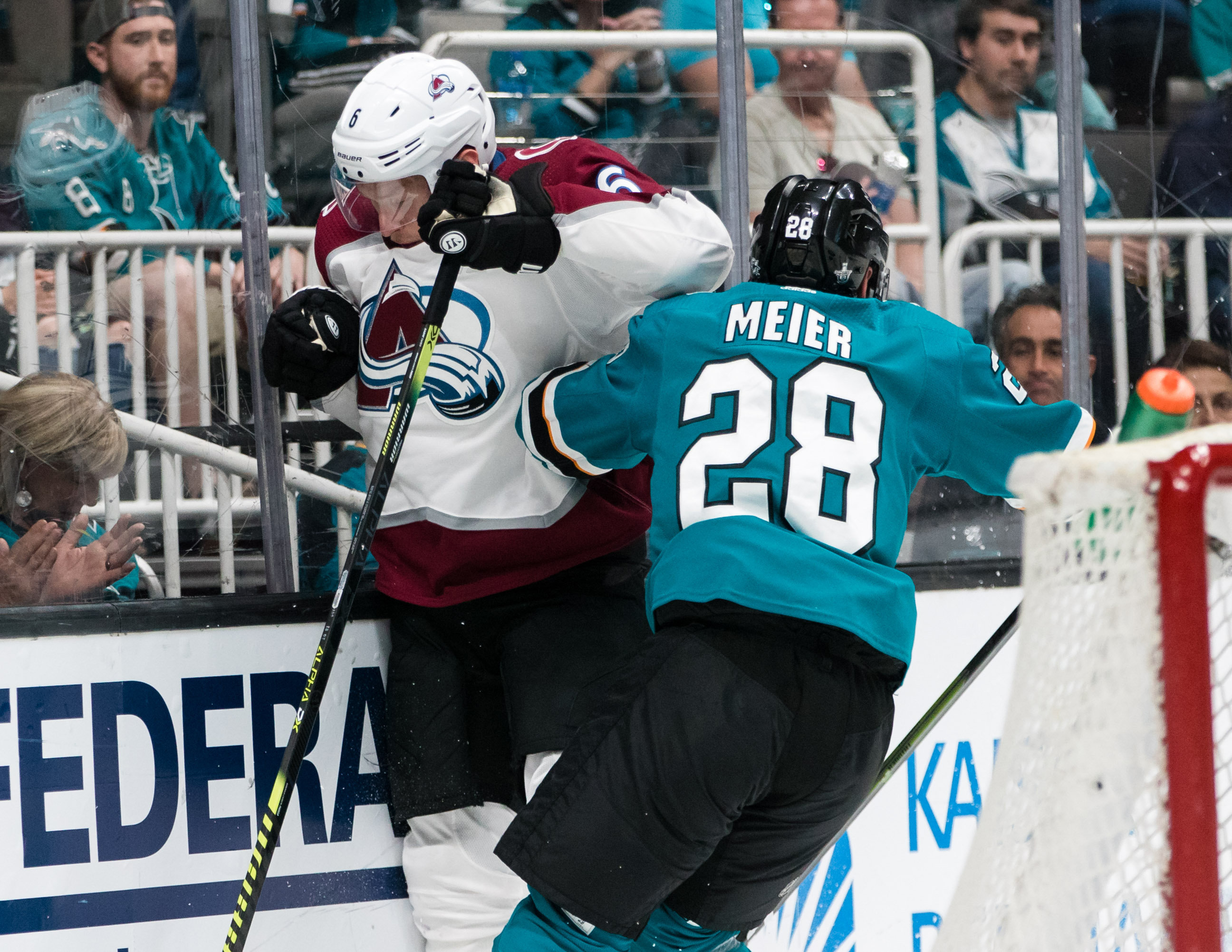 The San Jose Sharks looked like they were going to be too much for the Colorado Avalanche to handle. Following a dominant showing on their home ice in Game 1, the Sharks came out just as strong Sunday night.
San Jose skated with intensity, creating multiple early scoring opportunities on the offensive end. And on defense, the experienced squad looked impenetrable. So much so that the TV broadcast repeatedly referred to the Sharks defense as a "teal picket fence".
After controlling the possession for nearly the entire first period, the Sharks took a 1-0 lead into intermission. But even with it only being a one-goal game, San Jose's dominance made the lead feel much larger.
In the second period, everything changed. Not only were the Avs able to adjust on the offensive end, but more importantly they showed a willingness to stand up and fight. Like Arya Stark in the Battle of Winterfell, the Avs told death, "not today", and responded by completely flipping the momentum.
With the top line of Gabe Landeskog, Nathan MacKinnon and Mikko Rantanen reunited, the Avalanche were able to control the puck for the vast majority of the final 40 minutes. As a result, Colorado exploded on the offensive end for four goals in the final two periods.
As impressive as the offensive output was, especially during the third period when the Avs were able to keep the puck in San Jose's zone for minutes at a time, what really made Sunday's victory impressive was Colorado's tenaciousness. The Avs finished with more hits (28) and blocks (25). Colorado also successfully killed off two-of-three Sharks power play opportunities.
Even when MacKinnon tallied the game-winning goal with 01:02 remaining in the third period, it was Matt Calvert that made the play possible by sacrificing his body for the team. Calvert knew he was going to get blown up in the open ice, but he hung in there and delivered a perfect pass to MacKinnon, who then handled the rest.
In the Stanley Cup Playoffs, when the margin for error is so slim and scoring chances are limited, committing to doing the little things on the ice can often be the difference. The Avs proved Sunday night that they're not just a flashy offensive unit – they're a scrappy group that's willing to do whatever it takes to win. And with how Philipp Grubauer has looked in net over the past month, that should make the rest of the league real nervous.
After splitting the first two games in San Jose, the Avs will return to the Pepsi Center for the next two. Game 3 starts at 8:00 p.m. MT and will be televised on NBC Sports Network.