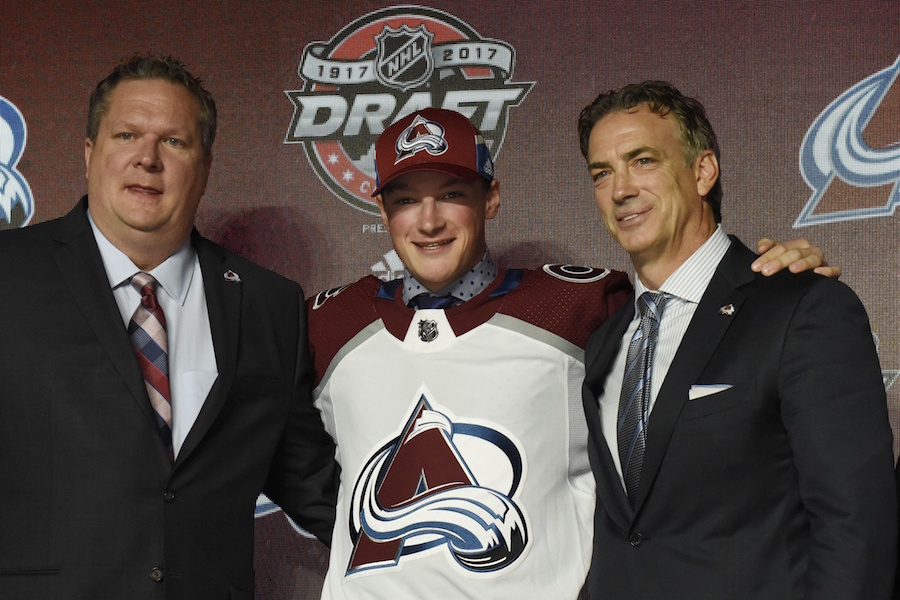 The Colorado Avalanche went young and untested, but they went defense with their first pick in the 2017 NHL Entry Draft. Colorado selected defenseman Cale Makar, 18, the highest-ever draft pick from the Alberta Junior Hockey League with the fourth overall pick Friday..
Makar surpassed current Avalanche forward Joe Colborne (Camrose Kodiaks), who was selected by the Boston Bruins with the 16th overall pick in 2008, for the designation.
The 5-foot-11, 187-pound defenseman spent the 2016-17 season with the Brooks Bandits, where he led all AJHL defensemen with 75 points (24g/51a) in 54 games, which also ranked sixth among all skaters. He added 18 points (5g/13a) in 13 playoff contests to help the Bandits to their second consecutive AJHL championship, earning playoff MVP honors.
He was named the 2016-17 Canadian Junior Hockey League's Most Valuable Player and was the AJHL's Most Outstanding Defenseman and Most Valuable Player.
A Calgary, Alberta, native, Makar registered eight points (3g/5a) in five games to help Brooks capture the 2017 Western Canada Cup and received CJHL top defenseman honors. The Bandits finished runners up in the Royal Bank Cup, the Canadian Junior A championship series, but Makar received the Roland Mercier Trophy as tournament MVP, becoming the first player in the nearly 50-year history of the award to earn it in back-to-back seasons.
Considered an offensive defenseman, Makar helps fulfill needs on both ends of the ice, where Colorado ranked dead last in both goals score and in goals against in 2016-17. At 18, however, Makar is still far from NHL ready.
On the NBC Sports telecast of the Draft, analyst Craig Button called it an "easy pick," but did express some concern.
"If you can find a National Hockey League scout who says 'This kid can play defensive hockey in the NHL,' you're a good man or you found a liar. Because nobody knows if he can play defense [in the NHL]."
His concern is that Makar has not played in particularly difficult leagues through his career so far, and that he's been so dominant on offense where he has played.
"The reason we don't know he can play any D is because he's always got the puck on his stick. At a level of hockey – Junior A hockey – the Alberta Junior Hockey League is a cut well below the Western Hockey League and the Canadian Hockey League. He did not play at the World Junior Championships. This kid lit it up a a lower level [of] hockey. That's not to diminish what he did. But that is to suggest that he's got to prove that can do it at a higher level."
Despite those criticisms, he does see parallel skills to one of the top offensive defensemen in the NHL today.
"Cale Makar has a game that's eerily reminiscent of the way [Ottawa's] Erik Karlsson plays. You know, you've got to get up to that level, but that ability to be two and three steps ahead of everybody – make it look easy, uncheck yourself at the right time, take the open ice when it's there. Outstanding ability to transition, play defense and then quickly you're on the attack. Not just on the attack; you're able to understand and see what all the options are and take full advantage of them."
Karlsson ranked third in scoring among defensemen last season with 71 points for the Senators.
The Avalanche scouting department clearly saw similar traits.
"We're excited to add Cale to our organization," Avalanche Director of Amateur Scouting Alan Hepple said. "He's a very good skater, a very good puck-mover. Very good puck management. Offensive upside with a great shot and great vision."
Though he didn't play in the World Junior Championships, Makar served as captain of Team Canada West at the 2016 World Junior A Challenge, totaling eight points (4g/4a) in four games, including a single-game record five points by a defenseman.
Born Oct. 30, 1998, the right-shooting defenseman is the Avalanche's fourth top-five draft pick since the franchise relocated from Quebec, as the club chose Nathan MacKinnon first overall in 2013, Gabriel Landeskog second overall in 2011 and Matt Duchene third overall in 2009.  This is the sixth time that the Avs have picked in the top 10, having previously selected MacKinnon, Landeskog, Duchene, Mikko Rantanen (10th in 2015) and Tyson Jost (10th in 2016).