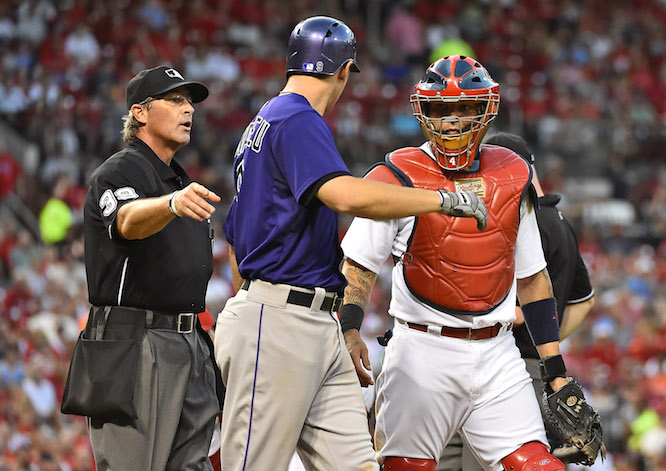 As a guy who allowed just one earned run from April 8 until June 17, these past six weeks must have been agony for John Axford. The closer who was virtually unhittable in his first 20 games, compiling a .047 ERA and .162 batting average against to go along with one win and 12 saves, can't seem to buy an out these days. Heck, he's having a hard time even getting strikes at this point.
Last night, in a seesaw battle with Major League-leading St. Louis, Axford allowed two runs on two hits and issued three walks – including a game-losing, five-pitch walk-off free pass, in the bottom of the ninth in a game that culminated a five-game stretch in which he has taken a loss and compiled four blown saves. Axford managed two wins during that time, but it's little consolation for the closer and the club.
Clinging to a two-run lead in the bottom of the ninth, Rockies manager Walt Weiss let Boone Logan start the inning against Matt Carpenter. Logan had struck out Brandon Moss to end the eighth with a man on. Carpenter smoked a 3-2 fastball over the center field wall and Weiss went to his struggling closer, despite the fact that Axford had three blown saves and a loss in his previous four games, not to mention five walks and a massive 16.2 ERA in just 3.1 innings pitched.
Axford issued a five-pitch walk to Randal Grichuk followed by a single by Kolten Wong to load the bases and put the winning run on first. After a first-pitch strike to Jhonny Peralta, Axford missed with consecutive breaking balls before Peralta lined a fastball to center to tie the game.
With runners on second and third after pinch-runner Pete Kozma moved up on defensive indifference, Weiss and the Rockies elected to intentionally walk Jason Heyward to load the bases with no outs. Weiss then brought Brandon Barnes in to the infield to try and cut off the winning run.
Axford could barely find the strike zone with Yadier Molina at the plate, allowing the 2013 Silver Slugger to get a 3-0 count and needing just a fly ball to end the game. Axford worked his way back into the at-bat and finally induced a flyball out shallow center that did not allow Wong to score the winning run.
However, Axford's control issues returned against Greg Garcia, allowing another 3-0 count before eventually walking in the winning run, Wong, on a 3-1 fastball. Even the strike was a questionable call and probably ought to have resulted in a base on balls a pitch earlier.
With the blown save and loss Axford's ERA over the past five games is now 19.64 and he has walked twice as many hitters as he has struck out by a 2-to-1 ratio.
Since June 17, Axford has five blown saves and five losses with an 11.12 ERA.
The loss was just one of many lows in the game for both sides, as a heated exchange between the Rockies and St. Louis starter Carlos Martinez in the fifth inning led to obscene gestures from Martinez towards the Rockies dugout as well as a lengthy discussion between Molina and Nolan Arenado after the inning. St. Louis also didn't take kindly to Wong being hit by a pitch from Christian Friedrich a few innings later.
Axford wasn't the only Rockies pitcher to have a rough night. Starter Chris Rusin allowed six runs on 10 hits in five innings, though he did hit his first Major League home run, accounting for two of the five runs on 10 hits surrendered by Martinez.
After the game, Axford took to Twitter to issue an apology to fans, vowing to get things right.
This is the ABSOLUTE WORST stretch of my career. I'm sorry Rockies fans. You deserve better. I'm going to keep working hard & turn it around

— John Axford (@JohnAxford) July 31, 2015
The words are no doubt appreciated by fans, but given his struggles since mid-June, Weiss may have few options remaining but to hand over the closing duties to someone else while Axford gets things right.
Colorado and St. Louis resume their four-game set on Friday at 6:15 p.m. MDT. Kyle Kendrick (4-11) faces Michael Wacha (11-4).