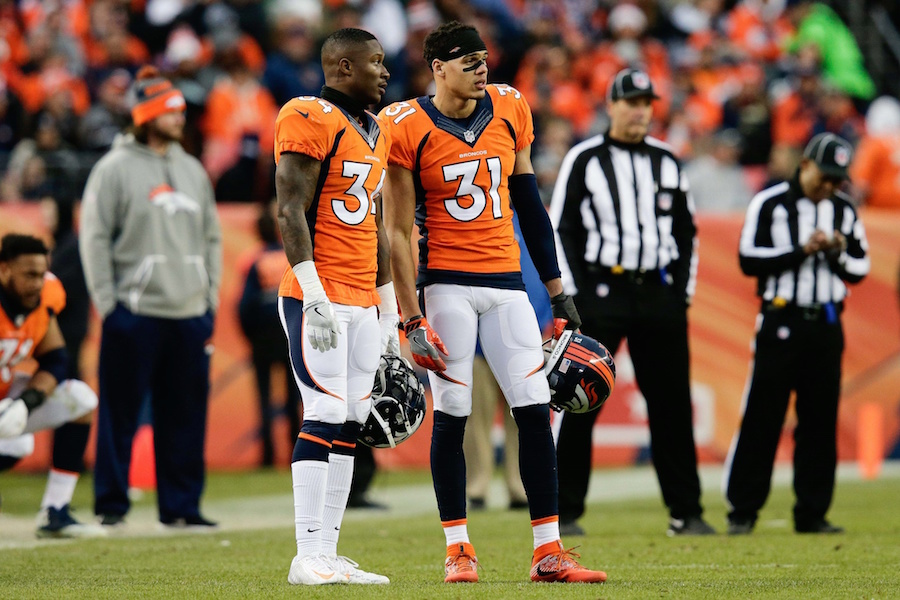 Perhaps the first thing that comes to mind when the Denver Broncos' defense is brought up is their secondary.
Dubbed the 'No Fly Zone,' 2017 marks the third year that Aqib Talib, Chris Harris Jr., Bradley Roby, Darian Stewart and T.J. Ward will supply opposing quarterbacks with plenty of headaches.
The No Fly Zone has rightfully earned the nickname. The Broncos have finished as the NFL's top passing defense in each of the last two seasons.
"The whole thing with that group is that it's a bunch of competitive guys that have chips on their shoulders," defensive coordinator Joe Woods said. "Even from my first year here coaching those guys, I never had to worry about motivation."
It's easy to be drawn to the unit. Whether it's shutting down the opposing team's best wide receiver, intercepting a ball or forcing a fumble, the No Fly Zone leaves its mark on the game.
While the five members of the No Fly Zone are an integral part of the Broncos' secondary, the players that back them up play an important role as well.
"They're a critical part of our defense," Woods said of the young defensive backs. "Last year between [safetys] Justin [Simmons] and Will [Parks], they played some substantial time for us."
Both Parks and Simmons had busy rookie seasons in 2016.
Parks, the Broncos' second selection in the sixth round of the 2016 draft, played in all 16 games. He finished his rookie season with one interception, three pass deflections, 22 tackles and recovered one fumble.
Simmons, who started three games, played in 13 in 2016. The Broncos' third-round pick in 2016 finished his rookie season with 30 tackles, one sack, two interceptions, and four pass deflections.
"Myself and Will [Parks] and a few other guys consider ourselves 'Baby No Fly' right now," Simmons said. "We're still in the works. We're still [learning] the tools and the trade to carry that 'No Fly Zone' logo around with us."
It will take some time before they're on the level of the No Fly Zone, but they are certainly headed in the right direction. According to Woods, he's expecting a greater contribution out of the two in their second season.
"Everybody knows from the first year to the second year that you expect a big jump," Woods said. "I think those guys did a great job last year in the role we had them play, but we expect them to step in and be able to do even more for us."
While cornerback Bradley Roby is very much a part of the No Fly Zone, he is placed in the unique situation of having to play behind Aqib Talib and Chris Harris Jr., something that doesn't happen very often around the league.
"Roby is a young corner that could be really, really special," head coach Vance Joseph said. "He's playing behind two Pro Bowl guys. From time to time, he has to push himself to continue to become what they are. That's tough because on most teams, he would be a starter. To keep him going mentally and to keep him focused on his future, it's important."
Roby, now in his fourth year, hasn't missed a game since he was drafted in the first round back in 2014. With 144 tackles, two sacks, 31 pass deflections, five interceptions, two touchdowns, four forced fumbles and three fumble recoveries, Roby has done a little bit of everything in just three seasons.
According to Joseph, Roby is on the right track to what could be another solid season.
"He's had a great spring. His last couple days have been really, really special."