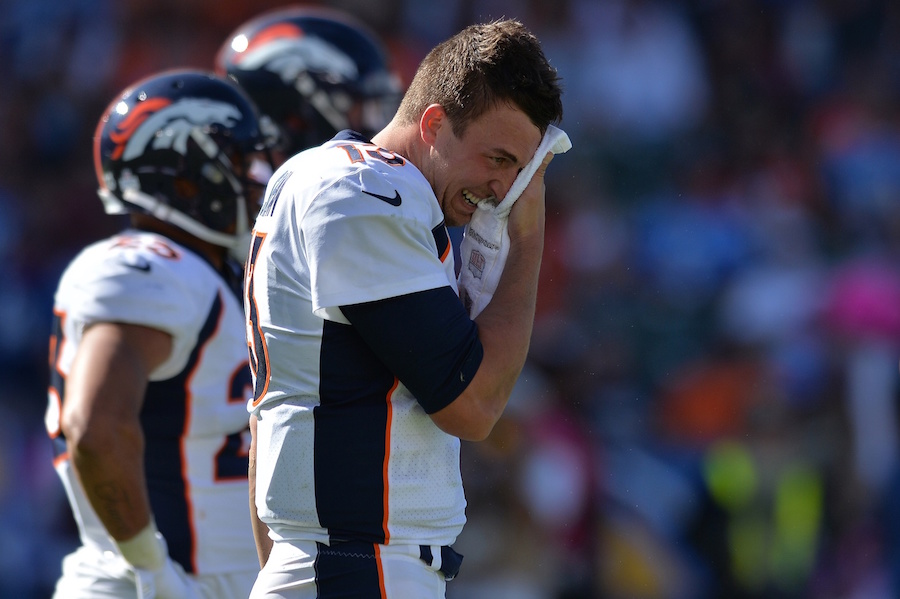 It's not the losing; it's how they're losing.
The Denver Broncos now sit at 3-9 after an eighth-straight loss, this one at the hands of a Miami Dolphins team that was also on its heels having previously lost five straight itself. With both teams on a major skid, the Broncos offense trending positively, and the defense finally putting effort back in, it looked like a chance for Denver to break free of all of the trouble that has been haunting them since the second week of October. But mistakes and bad decisions cost the Broncos again, and in embarrassing fashion.
After a slow first quarter, bad luck reared its ugly head as the Dolphins marched down the field for a touchdown. Then, a kickoff and a play later, the Dolphins were literally handed another one by quarterback Trevor Siemian in the form of an interception returned for a touchdown, putting Miami up 16-3. (Denver also gifted Miami a safety with the game's first score.)
"In the second quarter we gave up 14 points in four seconds," head coach Vance Joseph said. "They had a long drive on our defense and a pick-six. That all happened in four seconds. Now we're down by two scores again and it looks like every other week."
Once again, early in the game the Broncos found themselves in a nearly insurmountable situation; a score pretty much out of reach for an anemic offense that has only mustered an average of 17.2 points per game. Bad luck created out of bad decisions.
After a third-quarter pick-six in Denver's favor that brought the game within two scores, Joseph attempted to "surprise" the Dolphins and kickstart the offense with an onside kick. The delay of game penalty Denver took setting it up made it less of a surprise. Miami recovered and marched down the field, scoring another touchdown and opening the game back up to a three-possession lead. The Broncos seemingly gave up at this point, opting to succumb to their bad luck and bad decisions. Denver allowed nine more points through a safety and another Dolphins touchdown. They even allowed Miami to recover an onside kick that was unnecessary, but revealing of the Broncos' effort at that point in the game.
Instead of building on the limited successes found in the previous two weeks, the Broncos travelled further down their historically bad road. The coaches and players continue to struggle finding the disconnect between seemingly "great" weeks of practice and poorly executed games. The locker room has quickly become a frustrated place, and it's starting to show through the players' words and actions.
"I think it's taking a big toll, because every week we say the same things, we answer the same questions the same way," receiver Demaryius Thomas said. "Every week, we do the same thing week in and week out, and we don't make it no better. I think it's getting frustrating, more frustrating, because we know what we're doing wrong as a group, especially on our side of the ball."
The offense hasn't been able to minimize its mistakes at this point in the season. Every game seems to be a carbon copy of the last, regardless of who is under center or calling plays. Now, it looks like they just don't want to — or simply don't have the ability to — correct them. Bright spots have been identified here and there, especially over the past two weeks. In fact, against the Oakland Raiders, the offense nearly led a comeback from three scores down, something that was unthinkable by the Broncos offense only a few weeks ago. It looked like they were trending in the right direction.
But, rather than continue the upward trend, the Broncos offense instead rolled over again this week after its first mistake. Rather than continue to improve on some of those bright spots, the unit reverted back to just going through the motions, ending the day 1-for-13 on third down. Siemian finished the game with a rating of 30.5; lead receivers Thomas and Emmanuel Sanders combined for four catches for 38 yards between them.
The team, at least on the offensive side of the ball, isn't just losing; it looks like they're giving up.
"I mean, everything, everything is tough right now," All-Pro linebacker Von Miller said postgame. "Everything. What is Bronco football? We have to find that. We have to grind and get back to whatever it is. You can't say Bronco football is… what we did in 2015. That's two years ago. We have to find identity. We have to find the guys that are ready to take their game to the next level. We just have to keep fighting."
After putting in an effort that looked like players were thinking more about a vacation in Miami rather than a game, the Broncos' leaders — be it coaches, players or executives — need to find a way to motivate the group for the final four weeks of the season. The team has these four weeks to show fans what "Bronco football" is; although, the past eight weeks have seemed to define that already.