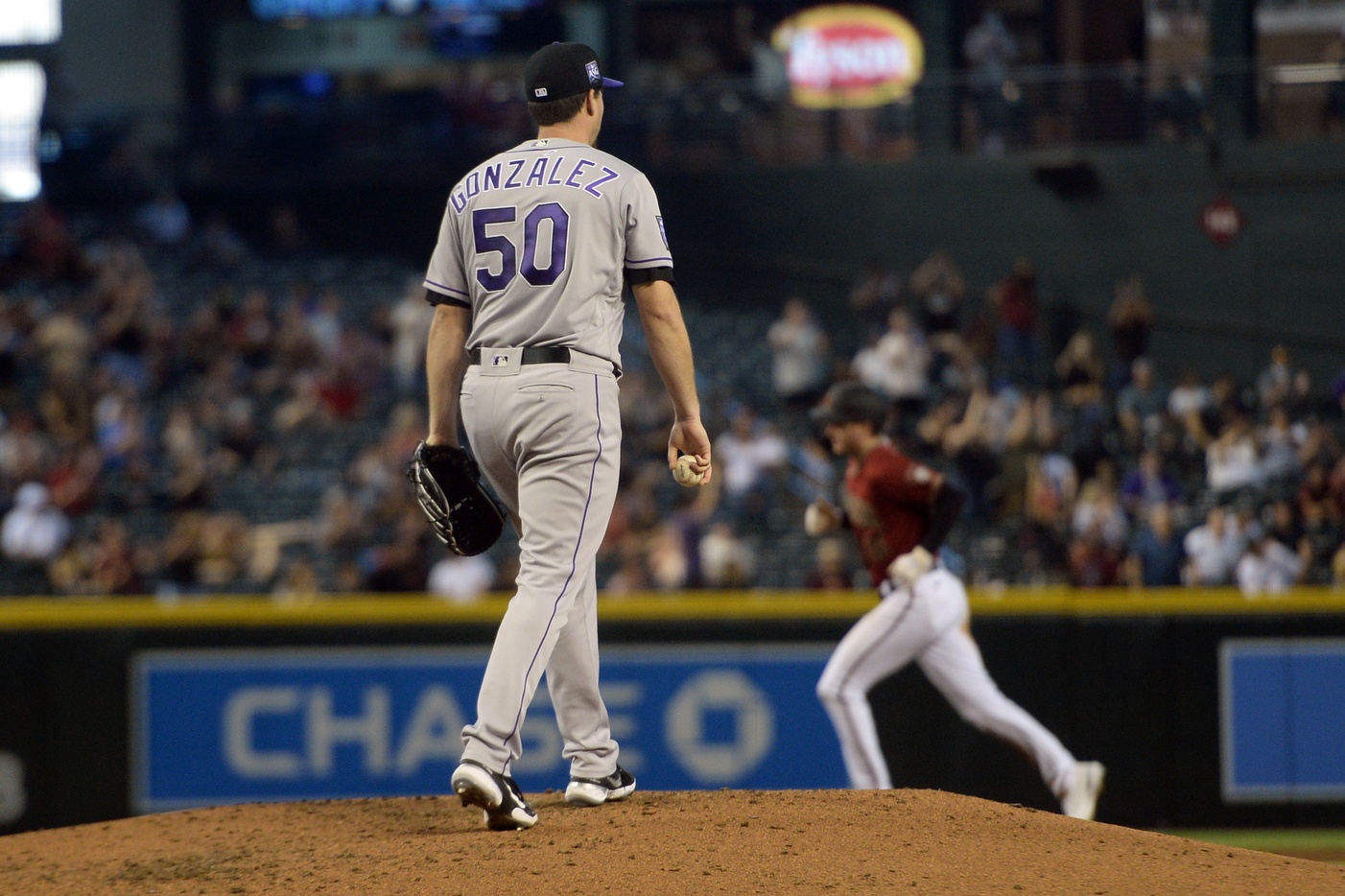 The Colorado Rockies furthered their descent into the National League basement with a four-game series loss at the hands of the Arizona Diamondbacks. Colorado, which owns baseball's second-worst overall record at 10-18, dropped to 2-11 on the road after dropping the finale in extra-disappointing fashion.
The Rockies had a good chance to get out of the desert with a split after rallying from down 4-2 to tie the game in the eighth inning, but closer Daniel Bard—tabbed by manager Bud Black to presumably work two innings—allowed four runs on four hits and a walk in just a third of an inning. The Rockies lost, 8-4.
The D-backs also took the first two games of the series, thanks in no small part to some rare shoddy defense on the part of the Rockies. Colorado committed four errors in a 7-2 loss on Friday; the Rockies had seven errors that led to four unearned runs throughout the entirety of the series. It wasn't just the defense that held the Rockies back, though; in the team's three losses, the starting pitchers allowed 11 earned runs in 15 1/3 innings. The one quality start Colorado got in the series came in Saturday's 14-6 win, during which Austin Gomber was charged with two earned runs in six innings.
What (else) went wrong
Colorado's bullpen pitched poorly in important situations. A few days before Bard's blowup in a tie game in the finale, Robert Stephenson gave up a pair of runs—though only one was earned—on two hits (including a triple) and a walk to turn a 3-3 tie into a 5-3 deficit. On Friday, Jordan Sheffield allowed his first runs of the year when he teed up a two-run homer to Josh Rojas to blow the game wide open in the eighth.
The Rockies' bullpen owns a 5.25 ERA, the second-worst mark in the NL ahead of only the Cincinnati Reds. That rough surface-level performance has contributed in large part to the unit's MLB-worst WPA (Win Probability Added) of -2.64. For reference, the Toronto Blue Jays' bullpen has posted a league-best 2.65 WPA, essentially a difference of five wins. Bard has had an especially rough time; the reigning NL Comeback Player of the Year entered Sunday with a bottom-five WPA among major league relievers, and that figure stands to get a lot worse when databases are updated on Monday. Bard's ERA now sits at an even 9.00, and he has as many blown saves (two) as saves during the first month-plus of the season.
If that's not bad enough, Trevor Story, while in the midst of a great series in which he homered twice, tripled, and hit a pair of doubles, left Sunday's game after being hit on the finger with a pitch. Story's X-rays didn't show any breaks, though, and the Rockies don't believe he'll miss much time.
What went right
Raimel Tapia had a weekend. The energetic outfielder, after going 0-for-4 in the series opener, tallied eight hits in 12 at-bats over the weekend and knocked in three runs to boot. Tapia, who in 2020 had somewhat of a breakout season by posting a .321/.369/.402 in his first real opportunity as a full-time player, is hitting .320/.368/.433 in 106 plate appearances thus far in 2021.
Justin Lawrence made his major league debut in Arizona by being called upon in a pair of low-leverage situations, and he did not disappoint. Lawrence gave up a couple of hits and walked a batter in two total innings pitched but he also notched four strikeouts and didn't allow a run. The 26-year-old right-hander, who throws from a unique arm slot, averaged 99.2 mph on 26 fastballs over his two appearances. He hit triple digits a total of 12 times, topping out at 101.2 mph on a strikeout of Eduardo Escobar on Thursday.
Lawrence had a lot of trouble with command in his last full season of action, which came in 2019. That year, he walked 29 batters in 32 innings at Double-A Hartford and Triple-A Albuquerque. But Lawrence pitched reasonably well in Cactus League play and was impressive at the alternate site to begin this season, according to Rockies brass. So far, in very limited action, Colorado's optimism regarding Lawrence has paid off.
What's next
The Rockies return home for a three-game set against the San Francisco Giants, who are 5-1 against Colorado in the early going. Germán Márquez will take the hill for the Rox on Monday and Jon Gray is scheduled to get the start on Wednesday.
Game 2 of the series is up in the air after Antonio Senzatela was placed on the 10-day injured list over the weekend. The Rockies called up reliever Lucas Gilbreath, who made his major league debut on Saturday, in a corresponding move. That likely leaves Jhoulys Chacin in line to make a spot start in place of Senzatela; it would be Chacin's first start for the Rockies since June 28, 2014, when the right-hander was tagged for seven runs on 11 hits in a loss to the Milwaukee Brewers.