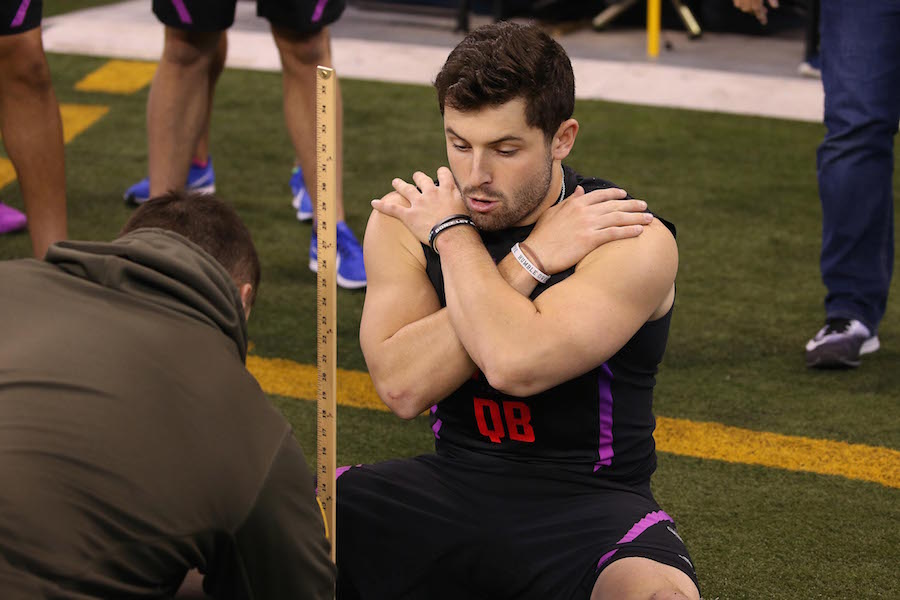 Oklahoma quarterback and 2018 NFL Draft prospect Baker Mayfield doesn't have a height problem, at least not according to an NFL GM who could be targeting him.
At 6-foot-1, Mayfield is of below average height as a quarterback in today's NFL.
Compared to the other three top draft prospects at his position, Mayfield is the shortest. Wyoming's Josh Allen measures 6-foot-5, UCLA's Josh Rosen is 6-foot-4 and USC's Sam Darnold is 6-foot-3.
That height difference doesn't matter to John Elway, though.
"He's fine," Elway said about Mayfield in his pre-draft press conference on Thursday.
Elway went on to compare Mayfield to a quarterback that the Broncos know quite well — the one that defeated them in Super Bowl XLVIII.
"When you look at the guys that have had success that are his height and even a little bit shorter—I think [Seattle QB] Russell [Wilson] is a little bit shorter than Baker. I think that what he's done, the numbers he's put up and the success he's had the last three years at Oklahoma, I think he's overcome the size issue."
Wilson, in fact, registers two full inches shorter than Mayfield, the 2017 Heisman Trophy winner.
Elway has a history of selecting tall quarterbacks with big arms. His first high QB selection as a GM was of 6-foot-7 Brock Osweiler in the second round in 2012. Elway used the No. 26 overall pick in 2016 to select Paxton Lynch, also 6-foot-7.
Although a bit shorter at 6-foot-3, Elway himself fit that "big arm" profile coming out of Stanford as the No. 1 pick in 1983.
Despite that history, Elway said Thursday that he's coming around to considering quarterbacks who play a more "cerebral" game.
"I was a lot more six or seven years ago," Elway said about being drawn to QBs with big arms, "but then we had [QB] Peyton [Manning], right? Peyton was more of the cerebral type. I've learned a lot since I've been doing this job as far as what certain quarterbacks have success with. The bottom line is that I believe the one thing is that is that you got to be able to win from the pocket. No matter what you do, I think the one thing that I've learned is as a quarterback you got to be able to win it from the pocket. You can win games but you can't win championships unless you have the ability to win it from the pocket. Then if you can get out and move around and create, and do those types of things then that's an added bonus."
As far as how Mayfield stacks up against the other three top quarterbacks in the draft, Elway wouldn't tip his hand.
"You can go around a room and probably get four or five different opinions on how they should be stacked. But the bottom line is once you come to a consensus of maybe where the first and second ones are—if you have that consensus then you're doing pretty good," Elway said.
With that said, Elway did say that his scouting team has ranked all the eligible quarterbacks in this year's draft.
"Yes, we've done that. We've stacked them, got them in order, how we think they fit, who fits us and who doesn't. We've been through that process. We do that process with every position. Where they fit into our football and are they a fit for us. Even as we stack the board, we stack them talent-wise but also if they are a fit for us."
The Broncos signed free agent Case Keenum to a two-year contract this offseason to be their starting quarterback, but Denver may still target Mayfield or another top quarterback in this year's deep class of signal callers. Lynch so far has not panned out as an NFL passer, and Keenum has been mostly a journeyman throughout his career despite leading the Vikings to the NFC Championship Game in 2017.
The Broncos have the No. 5 overall pick in the 2018 draft, but the teams ahead of them — Cleveland (1 and 4), the Giants (2) and the Jets (3) — all could be targeting a quarterback or willing to trade with quarterback hungry teams like the Bills, who posses two first-round picks.
Elway said that he's open to trading up or down from the fifth pick, although that evaluation process won't start until next week.
"We're going to go through that next week. We're getting through the board. We'll start going through scenarios probably starting on Monday. We'll get into that. At that point in time, we'll look at all of the different options. If we're going to move back, we've got to go back and look and say, 'What do we think we're going to get if we move back.' We've got to go through every different scenario. If we move up, what is it going to cost us to move up and is it worth it to move up. All those scenarios, we'll start working on them on Monday."
The 2018 NFL Draft begins on Thursday, April 26 at 6 p.m. MDT.