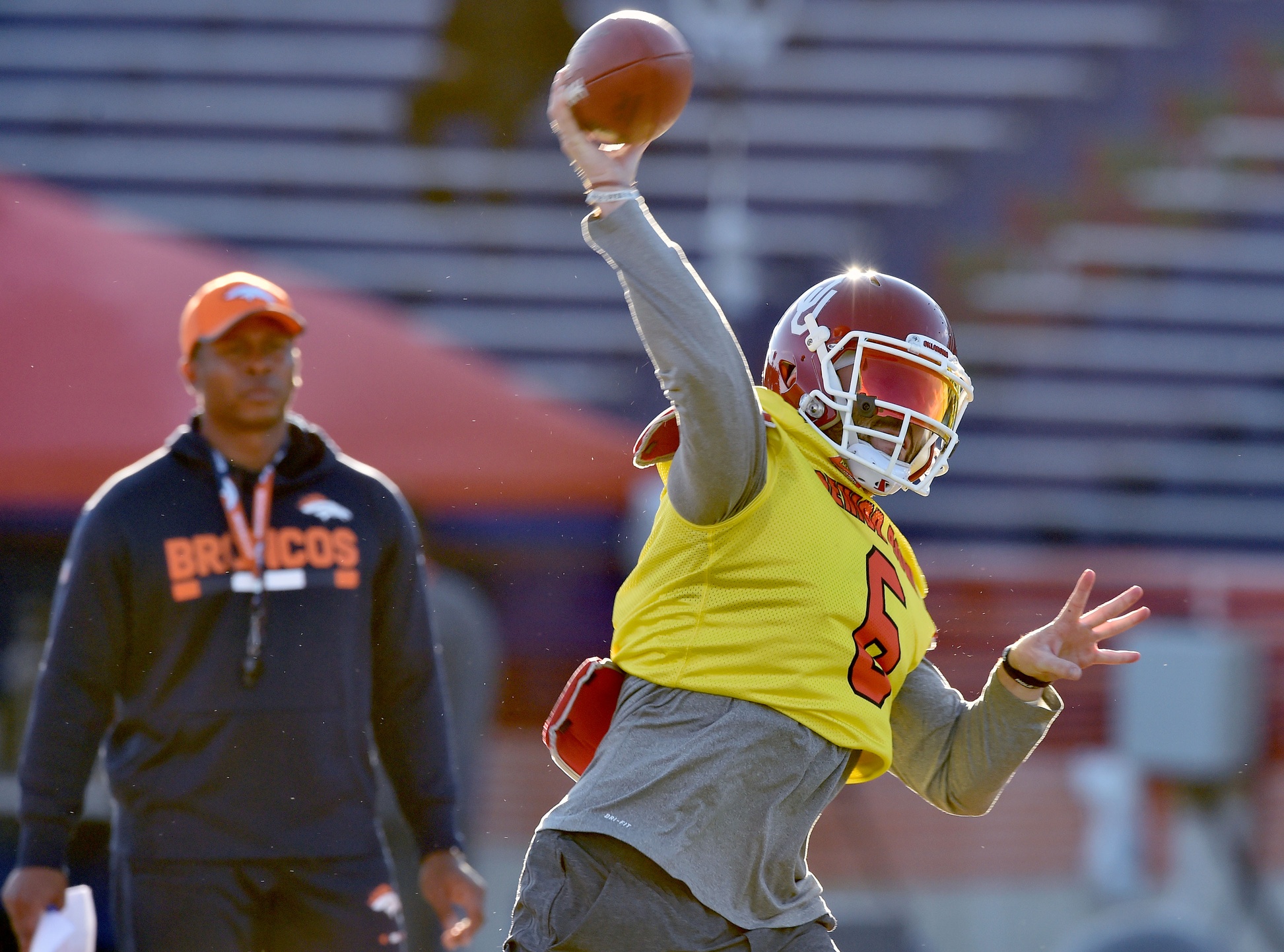 The 2018 season starts now for the Denver Broncos, who got their first look at young arms, fresh legs and passionate eyes in the form of the participants at the Reese's Senior Bowl in Mobile, Ala. Broncos head coach Vance Joseph and his staff are coaching the North side, with practices kicking off on Tuesday. Of particular interest to Joseph will be the young quarterbacks on his roster.
Baker Mayfield, Josh Allen, Tanner Lee and Luke Falk, all threw in "training camp" style drills, as Joseph described them, and certainly turned a few heads.
In an interview live from the Senior Bowl, Mile High Sports contributor Benjamin Allbright broke down the quarterbacks' performances for Eric Goodman and Les Shapiro of Mile High Sports AM 1340 | FM 104.7. Mayfield, in particular, has been the talk of Mobile these past two days.
The Heisman Trophy winner did not show up to the Senior Bowl until Tuesday, missing Monday's activities due to family matters. Matters Allbright says are very real.
"He got off the plane and came straight to practice. His was in the hospital last night as his Mother has the flu. She was coughing up a little blood, so thoughts and prayers with his family," said Allbright, who got a chance to see Mayfield up-close on the field.
"He was fine. He started off a little slow, but got going towards the end of practice. Had a nice little hook up with Michael Gallup out of Colorado State for a score, so that was interesting to watch."
Allbright also spoke on Wyoming quarterback Josh Allen's day at practice and how his arm was on full display for the Broncos coaching staff.
"I wish Josh Allen was a baseball pitcher, because he'd have a mean fastball. He throws a rocket — whether you're five yards away or fifty yards away. It may or may not be within two yards of your catching radius. He's got a gun, he's got the size, I just don't know how quickly he processes the field and how accurate he is," Allbright said of Allen.
Joseph and his staff will continue to get hands-on work with all the 2018 draft prospects on their roster between now and Saturday. Kickoff is at 12:30 p.m. MST Saturday and will be broadcast on NFL Network.
Click here to listen to the full interview with Benjamin Allbright, including what he had to say about the sleeper not being talked about and who John Elway chatted with on the sidelines and more, or listen to the podcast below.
Catch Afternoon Drive with Goodman and Shapiro every weekday from 4p-6p on Mile High Sports AM 1340 | FM 104.7 or stream live any time for the best local coverage of Colorado sports from Denver's biggest sports talk lineup. Download the all-new free Mile High Sports mobile app for Apple or Android.