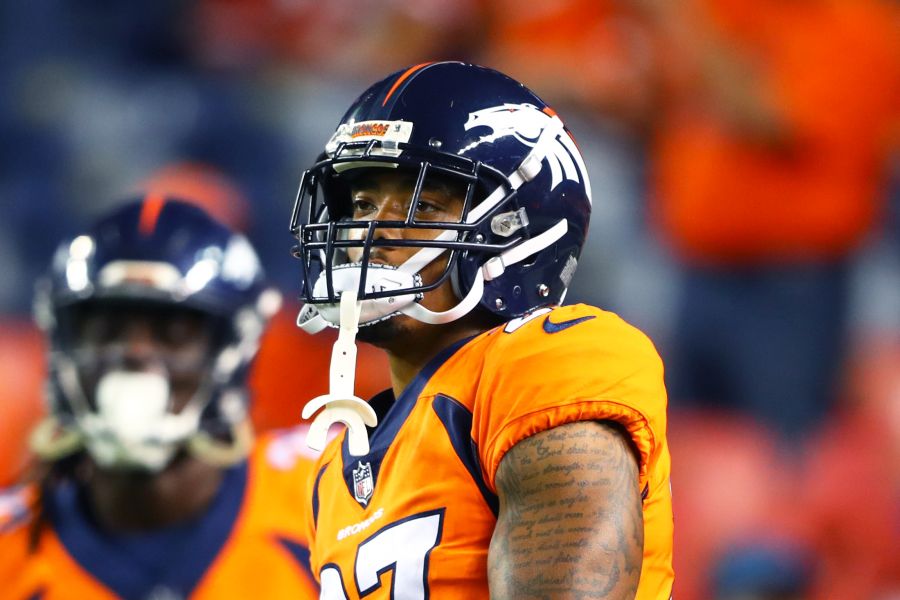 Aqib Talib put Brendan Langley in a tough spot on Sunday.
After Talib was ejected for mixing it up with Oakland Raiders wide receiver Michael Crabtree on the third play of the game, Langley's first significant snaps in the NFL came against Derek Carr and Amari Cooper.
Carr won the battles and the Raiders ultimately won the war, handing the Broncos their seventh-straight loss of their tough 2017 season by the final score of 21-14.
Talib is still suspended for Sunday's game against the Miami Dolphins after winning his appeal the the league offices which cut his two-game suspension down to one, which means that Langley will be back in a significant role for at least one more week.
Langley's tough day hasn't discouraged his coaches or teammates. As the Broncos' third-round draft pick in 2017, Langley is more than capable of playing in the NFL. He'll have another chance to prove it on Sunday.
"He's definitely developing," defensive coordinator Joe Woods said on Thursday. "His technique has gotten better. He's making plays on the ball. He's had some clinical plays in practice."
According to Woods, the biggest thing Langley needs to do when the light come on is simple: he just needs to relax.
"When you get out there on Sunday, it's a whole different deal.," Woods said. "Those are live bullets. It's real football. It's more pressure. He has to learn that the football is the same. It doesn't matter if you're in practice or gameday. It's the same route, same techniques. Just trust it."
A wide receiver-turned-cornerback, Langley picked off seven passes in his two years at Lamar University. Jumping from receiver to corner isn't always an easy transition. According to Woods, Langley is making mistakes that a person that played wide receiver just two seasons ago is expected to make. The positive thing is that he's getting better.
"After last week with Langley, it's a part of the process," Woods said. "He's a young corner in this league. He was an offensive player that got moved to defense [in college] in terms of his learning curve. He's still learning a lot of defensive football. I went through the same thing with [Vikings CB] Xavier Rhodes in Minnesota. I'm used to it. I talked to him. He'll be fine. He's going to have to grow through experience."
Sometimes the best way to learn is to dive in head first. Langley's currently experiencing that. He's playing whether or not he's ready, and the Broncos need him to show up.
"We have to have everybody," Woods said. "All hands on deck. We have a couple different packages that we can use based on how they want to play us. We prepared all of those guys this week, so it's fluid, and we can move in and out of what we need to to play the game."