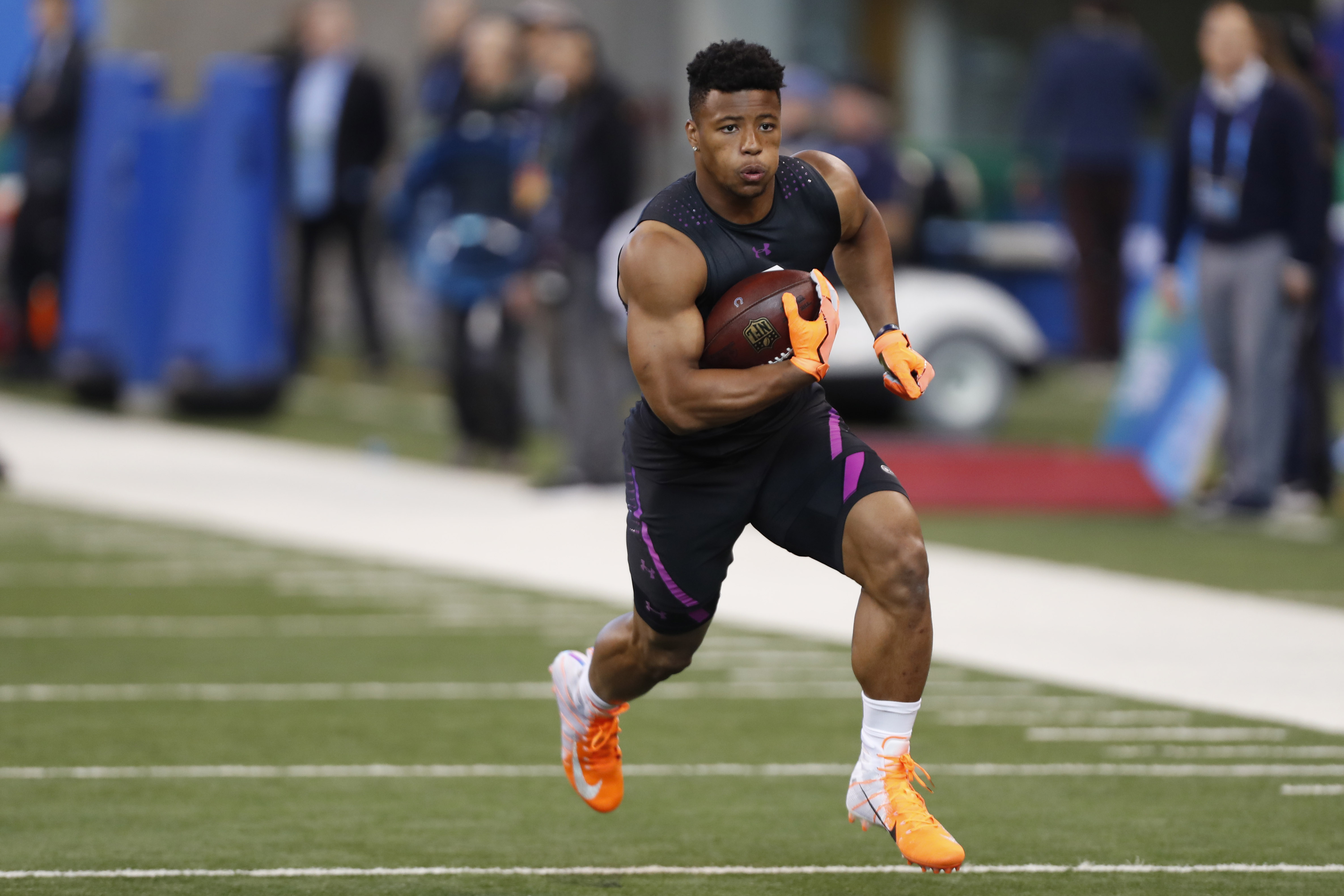 Denver Broncos general manager John Elway doesn't believe in rebuilding — he's said so himself. "Life is too short to rebuild in the NFL," Elway said last month as the league's scouting combine began. He's been consistent on that point ever since he took over in 2011, swinging for the fences with aplomb.
Sometimes, with players like Peyton Manning, Aqib Talib, T.J. Ward and Emmanuel Sanders — all big-money, free-agent signings — he's hit it a country mile. At other times, with players like Paxton Lynch, Brock Osweiler, Montee Ball, Ty Sambrailo and Cody Latimer — all first- or second-round draft selections — he's missed so badly that he all but corkscrewed himself into the ground.
"Believe me, I'm not done swinging and missing," Elway said. "Misses don't bother me. We've just got to figure out a way to get it right… I still think we aren't too far away."
Whether Elway's right about that or not remains to be seen, but there's no question that he believes it; that he expects the Broncos to compete for the AFC crown right now. A disastrous 5-11 season indicated that the team's championship window is closed, but Elway put a $36 million Band-Aid on the quarterback position by signing Case Keenum, all but assuring Denver of improved performance at that position, even if all the evidence indicates that Keenum is likely to be only marginally better than Trevor Siemian, who the Vikings subsequently acquired in a trade to replace Keenum.
The Broncos' once-vaunted defense has fallen off dramatically from the all-time great 2015 squad, as free agency stripped away valuable pieces and the inevitable bill from Denver's own spending sprees in free agency finally came due, costing them Ward in the last off-season and Talib in this one. Still, the Broncos still sport a formidable-enough defense, and with perennial Pro Bowlers in linebacker Von Miller and Chris Harris, Jr. patrolling the field, they possess game-breaking talent that's the envy of most NFL front offices.
It was the offense that did the Broncos in last year, and the year before that. Turnover-prone and utterly predictable, the hapless Denver offense too often cost the Broncos more points than they scored — and could rarely keep any quarterback upright for two plays in a row.
So, if Elway wants the Broncos to compete now, then the best bang for the buck will be on offense. Since the Broncos can't shore up every hole on the roster in free agency's second wave and the NFL draft, he'll have to mimic what he's done on defense — make sure the unit is decent enough on the whole, and rely on game-breaking talents to do exactly that from Day One.
There's only one of those players in the draft; only one that can immediately reshape an offense with immediate home-run potential. That player is Penn State running back Saquon Barkley — and if Elway's serious about competing with the AFC's elite right now, Barkley's the player that Elway has to draft.
Reached out to some running backs coaches in the NFL to get their take on why no RB coaches showed up for Saquon Barkley's Pro, one coach shared over text "We joked about how there has to be something wrong with him, but nobody can find it, he is the safest pick in a while."

— Dianna Russini (@diannaESPN) March 21, 2018
Only a few years after no team selected a single running back in the first round of the draft, the position has become en vogue again as a group of world-class athletes with multidimensional games have proven the old football axiom that a quarterback's best friend is a solid running game.
Two seasons ago, Ohio State's Ezekiel Elliott — a phenom like Barkley — was drafted by the Dallas Cowboys. Elliott exploded onto the NFL scene with 1,631 rushing yards and 15 touchdowns, and was only six yards away from a 2,000-combined-yards season. Elliott took the pressure off of fellow rookie Dak Prescott, who assumed the Cowboys' quarterback position in the same season and helped lead Dallas to a 13-3 record after going 4-12 the year before.
Last season, the Jacksonville Jaguars drafted LSU product Leonard Fournette, who broke the 1,000-yard barrier in only 13 games and somehow made underachieving quarterback Blake Bortles look competent in the process as the Jaguars went from 3-13 in 2016 to the AFC South title and and AFC Championship appearance in 2017.
Two bad teams, neither of which had elite quarterbacks, transformed instantly by gifted, physical runners that diversified their offenses and allowed their teams' wide receivers to shine in the process. Keenum isn't an elite quarterback by any stretch, but he's probably better than Bortles and plays a similar style of football to Prescott. Demaryius Thomas and Sanders make for a better receiving duo than either the Cowboys and Jaguars had, as well. Although both the Cowboys and Jaguars had better offensive lines than the Broncos do now, after adding Garret Bolles and Ron Leary (from the Cowboys), they're finally trending up.
The similarities don't end there. Elliott was picked fourth overall in 2016. Fournette was selected fourth overall in 2017. Barkley is likely to be selected fourth overall in 2018… but the Broncos pick fifth. For now, at least.
The Browns hold both the first and fourth overall picks. They'd like Barkley, but the famous quarterback jersey that used to stand as a monument to hopelessness in a store window near Cleveland's stadium tells you all you need to know about how foolhardy it would be to let other teams pick their quarterbacks while you settle for the leftovers.
@PatMcManamon pic.twitter.com/HTzdTAigNx

— Sean Dove (@Sdove56) December 9, 2014
Make no mistake, the Browns will pick a quarterback first overall, and it'll almost certainly be USC signal-caller Sam Darnold. Returning running back Duke Johnson, Jr. isn't half-bad either, gaining more than 1,000 combined yards and leading the team in receiving while averaging 4.2 yards per carry; the best number among all of Cleveland's backs last season. The Browns, unlike the Broncos, don't expect to make the playoffs immediately as they undertake yet another overhaul. Johnson will do well enough for now, and the Browns would be perfectly happy with Alabama defensive back Minkah Fitzpatrick or N.C. State pass-rusher Bradley Chubb — which is why Elway should trade up one spot with the Browns to select Barkley, landing the one player who could make Elway's playoff vision an immediate reality. Incumbent halfback C.J. Anderson, who's been a constant breath of fresh air in the clubhouse over the years, but more of a volume runner, could be dealt for a draft pick to offset one or more that the Broncos would have to include in any deal, saving precious cap space in the process.
Barkley is set to become a father just prior to April's draft, and the surprisingly mature and dedicated 21-year-old seems ready for that, too. "I give credit to my family, coaches and friends that have kept me in line at school and made sure I didn't make dumb decisions," Barkley told Sirius XM's Alex Marvez in February. "The way I look at it, every team fits me — or I can fit any team — because at the end of the day, you want to adapt to the team and coaches that pick you. I don't look at myself as a one-dimensional back. I look at myself as a back that can do it all and is going to continue to work and grow in every part of the game. Whatever team drafts me is going to get a person who's going to try and be the best."
"The biggest thing I've just been thinking about is that my life is going to change in a matter of two months," Barkley said. "I'm going to be in a new city with a new team living my dream."
Elway's dream — and all of Denver's — is to see their beloved, besieged and beleaguered Broncos back in the playoffs this fall. Their best option sits tantalizingly within reach.
#Barkley4Broncos. Fortune favors the bold.