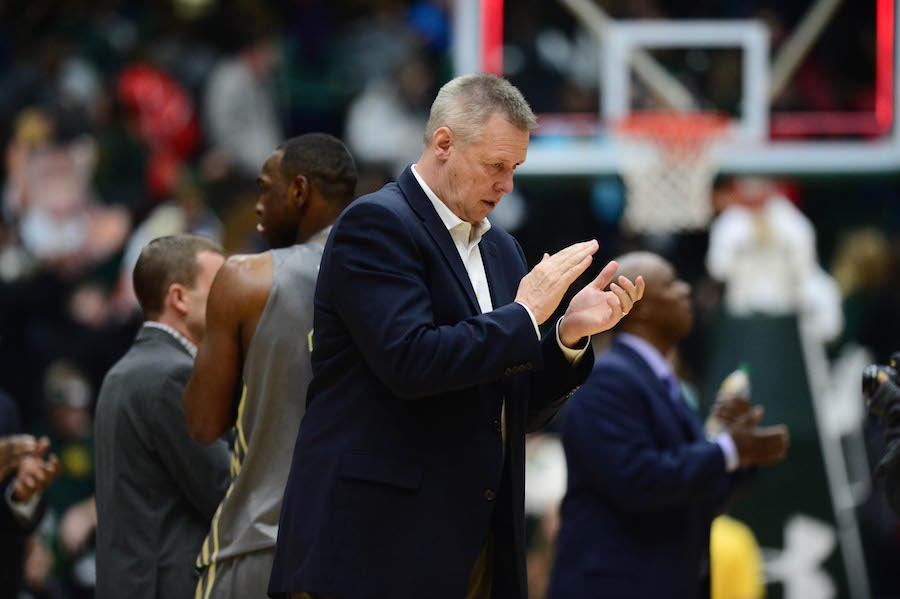 View this story at CSURams.com
Colorado State men's basketball has added Jase Herl as an assistant coach, head coach Larry Eustachy announced today. In addition, Eustachy promoted long time assistant coach Steve Barnes to associate head coach and has moved Willie Glover up from director of player development to assistant coach.
"I am really excited about Jase joining our staff," Eustachy said. "He wants to be a head coach and he has been getting after it in his career. I have known him for several years and feel like he will be a great fit for our program, as he has shown he can recruit quality talent as well as then help them improve on the court.
"With Steve and Willie, I have always been about loyalty and advancing those people, and both of those have been very loyal to me and the program," Eustachy continued. "I learned from Joe Parker, our AD, to not be hasty and I think I have done that here and we are in a great place moving forward. I've never felt better about a staff and, despite how it appears, I have never felt better about advancement of the program. I go back to the expectations and I love that our fans are so involved and that 18 wins is not good enough any more at Colorado State." 
A native of Goodland, Kan., Herl most recently was an assistant coach at South Plains College in Texas, where he spent the last season working on recruitment, player schedules, academics and daily operations as well as on-court coaching. This past season, he helped the Texans to a 21-9 overall record, 12-4 in conference action and coached four All-Conference honorees, including CSU signee Che Bob.
Prior to that, he spent three years as the head coach at Northwest Kansas Technical College in Goodland, Kan. The first-ever head coach of the program at Northwest Tech, Herl amassed 56 wins and posted a 32-5 record on the Mavs home floor at the Max Jones Fieldhouse. His 56 wins were the most by all head coaches under the age of 30 in the NJCAA by the end of the 2014-15 season.
In three years under Herl's guidance, the Mavericks placed four players on the All-Region VI team, two NJCAA Region VI All-Tournament team performers and one Sporting News JUCO All-American. His Mavericks have posted three victories over NJCAA Top 25 ranked teams and all fourteen of his sophomores continued their playing careers at four-year institutions, including the school's first NCAA Division I signee, CSU's Gian Clavell following the 2013-14 season. In three seasons, Herl had five players sign at the NCAA Division I level. Two additional former Mavericks have played professionally overseas.
Prior to being named the first ever head coach at Northwest Tech, Herl spent the 2010-11 season as an assistant coach under Jim Heaps at his alma mater Colorado Mesa University (formerly Mesa State College). Herl helped lead the Mavericks to an 18-10 record and an NCAA tournament berth in his lone season on the CMU coaching staff.
 
As a player at Colorado Mesa University, Herl was an integral part of the 2009 team that reached as high as the No. 9 seed in the NABC/Division II polls, the highest national ranking in school history. Herl was named to Rocky Mountain Athletic Conference First Team as well as Conference Defensive Player of the Year and All-Academic First Team following his senior season in 2009-10. Following his junior season at CMU he was named to the 2nd Team All-RMAC after averaging 12.5 points per game and a team high 7.7 rebounds per contest. Upon graduation, Herl was ranked in the top 13 in five career statistical categories at Colorado Mesa University despite playing just two seasons for the Mavericks. Prior to transferring to Colorado Mesa, Herl played two seasons at Dodge City Community College from 2006-08, where he was a team captain and averaged 10.7 points per game and 5.2 rebounds.
Herl is also the all-time leading scorer at Goodland High School (965 points). He was named to the All-State team following his senior season when he averaged 15.5 points and 10.3 rebounds per game. He was also a member of the National Honor Society and named to the Supreme Honor Roll. Herl is also the proud father of Carter Herl, who is four years old.
Steve Barnes enters his fifth season on the staff at Colorado State this year after spending three seasons as an assistant and one as director of player personnel.
Barnes, who has 31 years of collegiate coaching experience and 32 years overall in collegiate athletics, came to Colorado State after spending the previous eighth season as the associate head men's basketball coach under Larry Eustachy at Southern Miss.
Barnes, whose relationship with Eustachy dates back to the 1970s, previously coached with Eustachy at Iowa State as the associate head coach in 1998-99 and 2002-03.
Barnes and Eustachy were high school and college teammates at Arcadia High School, Citrus Junior College and Chico State. The pair have competed or coached together in six different settings (Arcadia High, Citrus, Chico State, Idaho, Utah State and Iowa State), including all four of Eustachy's head coaching posts.
Between his two stints at Iowa State, Barnes was the head coach at San Jose State University for three years, posting a 39-51 mark. He led SJSU to the school's first back-to-back .500 seasons since the mid-1980s, going 15-15 and 14-14 in his first two campaigns.
In his first season, Barnes helped lead SJSU to a fifth-place finish in the Western Athletic Conference, the best by the school since becoming a member of the WAC. The Spartans were 10-22 in Barnes' final season (2001-02). That year was highlighted by a 64-62 win at Iowa State that broke the Cyclones' school-record 39-game home-court winning streak, the second-best active winning streak in the nation at the time.
Known for his recruiting prowess, Barnes reaped immediate rewards at San Jose State, assembling some of the top recruiting classes in the school's history. His 2001 SJSU recruiting class was ranked in the top 20 nationally by Clark Francis' HoopScoop. Barnes also had a key role in recruiting Iowa State All-American and 2001 Big 12 Conference Player of the Year Jamaal Tinsley, a first-round NBA draft pick in 2001.
Barnes began his coaching career in 1978 at Arcadia (Calif.) High School, his alma mater, as an assistant coach. He later became an assistant coach for the 1982 and 1983 seasons at Azusa Pacific, his collegiate alma mater. While in college, he played one season at Azusa Pacific, leading his squad to a 25-10 record as a senior and earning his bachelor's degree in 1985.
He received his first head coaching job at Capistrano (Calif.) Christian High School in 1984, before returning to the collegiate level at Saddleback College in 1985 as an assistant coach. Barnes spent two seasons there, finishing in second place at the California Community College state championship tournament in 1987.
He spent the 1987-88 season at Cal Poly – San Luis Obispo, before joining Kermit Davis' Idaho staff in 1988 as an assistant coach. In his first two years at Idaho, the Vandals won two Big Sky Championships and made two NCAA Tournament appearances.
After Davis departed in 1990, Barnes stayed on staff at Idaho, working with Eustachy. That stint marked the first time the two worked together as collegiate coaches. The pair coached three years together at Idaho, winning the Big Sky Conference Championship with a 24-8 record in 1993.
Barnes and Eustachy continued their coaching relationship in 1994, as Barnes served as the associate head coach at Utah State for two years.
Following the 1994 season, Barnes left the Aggies to become an assistant at Division II Cal State Bakersfield. The Roadrunners made NCAA Tournament appearances both years, including a 26-4 mark in 1996. In his short time at CSU-Bakersfield, Barnes recruited first-team All-American and 1996 Division II Player of the Year Kebu Stewart, who later became a second-round draft pick for the Philadelphia 76ers.
Barnes coached two front-line standouts while at Iowa State, All-American Marcus Fizer and Paul Shirley, both of whom went on to careers in the NBA. Barnes also had a hand in recruiting former All-American and current NBA standout Jamaal Tinsley and NBA veteran Jackson Vroman.
Barnes again teamed with Eustachy at Utah State as the associate head coach in 1997. The pair spent two more seasons with the Aggies, sharing the Big West Conference regular-season title in 1997, and finishing with a 25-8 record in 1998, capturing the outright title and earning an NCAA berth.
Barnes left with Eustachy and headed to Iowa State in 1998. The Cyclones went 15-15 in Eustachy's first season, led by first-team All-Big 12 selection and future All-American Marcus Fizer. Barnes left ISU in 1999 when he took the head job at San Jose State.
Glover enters his fourth season with the Colorado State men's basketball program after spending the past three years as the director of player development and video coordinator at CSU . Prior to that, he worked on Head Coach Larry Eustachy's staff for four seasons at Southern Mississippi.
Glover worked on the Golden Eagles' staff as a student assistant for three seasons, 2006-09, while earning his undergraduate degree in coaching in 2009.
Following his graduation from USM, he served one season, 2009-10, as the Golden Eagles' video coordinator and camp director. He also assisted with academics, while retaining duties and responsibilities as a manager.