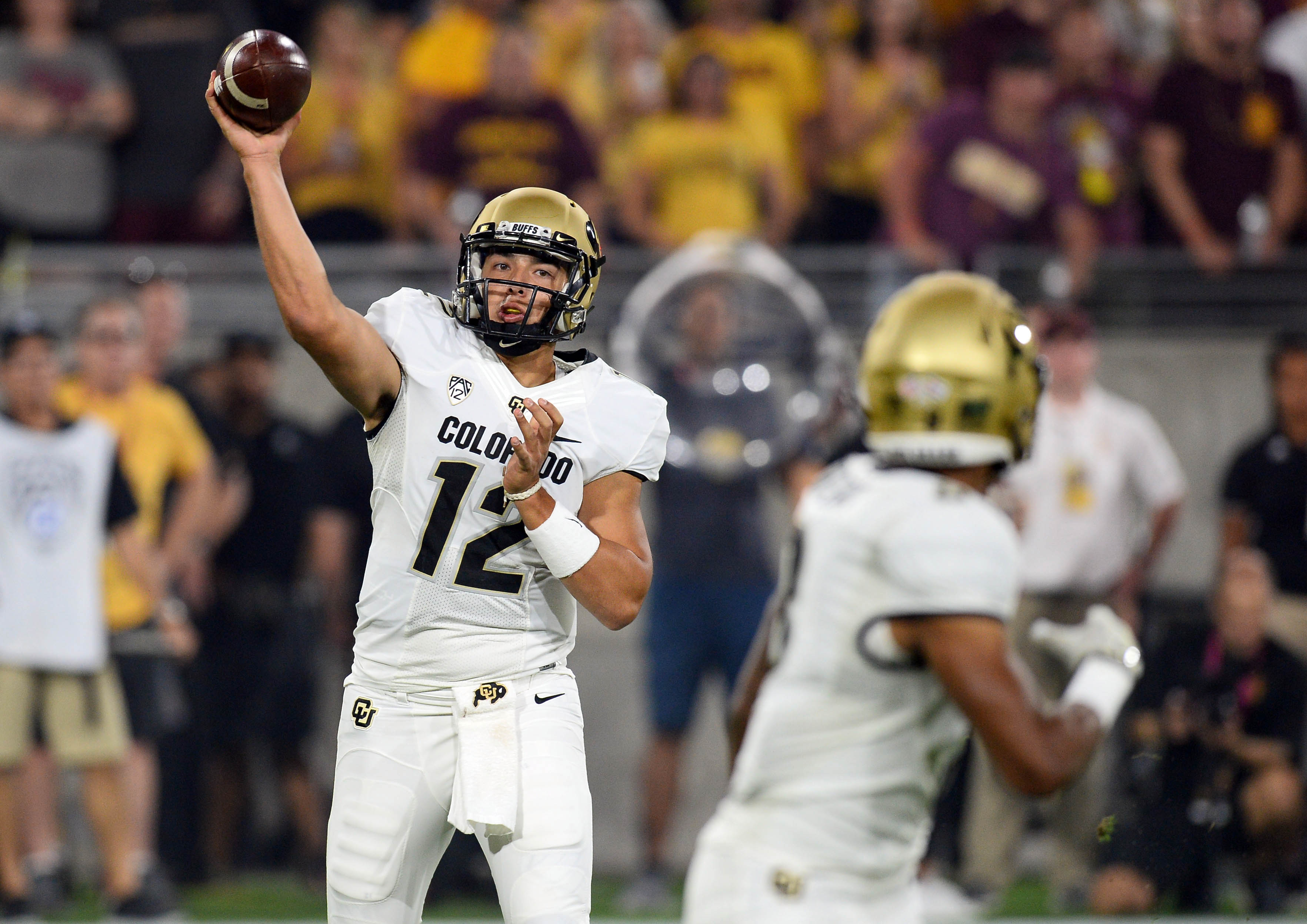 The emotional win Colorado earned against Arizona State almost two weeks ago left the Buffaloes battered and bruised. But Mel Tucker's third win as Colorado's head coach put them in a position atop the Pac-12 South standings. Now, after a bye week to work and heal, Tucker's Buffs play the Arizona Wildcats with a matching 3-1 record Saturday at Folsom Field. The game will be broadcast on the Pac-12 Network at 2:30 PM (MT).
Tucker's influence in the locker room and on the field is reflected in the resilience of the Colorado players. Winning the first conference game of the season on the road, despite losing key players, earned Tucker praise from Kirk Herbstreit as one of his top performing coaches of Week 4.
My top performances of WEEK 4:

Teams
1-@BadgerFootball
2-@Pitt_FB
3-@AuburnFootball
4-@SMU_Football
5-@UCLAFootball
5-@SJSUAthletics

Coaches
Kevin Steele Auburn DC
Jim Leonhard Wisconsin DC
Mark Whipple Pitt OC
Clay Helton USC
Mel Tucker Colorado

— Kirk Herbstreit (@KirkHerbstreit) September 23, 2019
The only team to beat Colorado so far this year was Air Force, containing the explosive Buffs offense and exposing weaknesses in their defense. If Arizona clamps down on the run game and can also limit Montez to fewer than 300 yards passing, Colorado will struggle to score. 23 points in the loss to Air Force remains the team's lowest point total of the year, 11 points lower than their two victories over ranked opponents (25) Nebraska and (24) Arizona State.
The Arizona offense has plenty of potential to score, so Steven Montez, the talented receiving corps, and the young running back duo of Jaren Mangham and Alex Fontenot will need to come out of the week off, or "work week" as Mel Tucker referred to it, sharp and ready to execute.
Coming to Boulder after three straight home wins for Arizona will give the Colorado faithful an opportunity to redeem themselves for the Nebraska invasion of a few weeks ago. Noise while the Buffaloes are on defense will make it difficult for Arizona freshman quarterback Grant Gunnell to operate the offense on his terms.
Gunnell played well last week for Arizona in a win over UCLA, but they had to count on a missed field goal to grant them the victory. Gunnell went 29-for-44 with 352 yards and a touchdown. If starting senior quarterback Khalil Tate remains out, the Buffaloes defense can turn the tide of this game by attacking Gunnell and putting pressure on the young quarterback. Tate is currently the leading passer and second-leading rusher for Arizona, but he missed the UCLA game with an ankle/hamstring injury and his status has not been updated for this weekend.
The Buffaloes remain injured as well with two key leaders of the team, one on each side of the ball, listed as "game time decisions" by Mel Tucker.
Mel Tucker said WR Laviska Shenault and DL Mustafa Johnson will be game time decisions this week against Arizona. Both were injured at ASU in Sept. 21. CB Chris Miller is further behind than the others #cubuffs

— Brian Howell (@BrianHowell33) September 30, 2019
Injuries are a constant in sports and Colorado has done well to minimize their effects this season. The talented veteran receivers K.D. Nixon and Tony Brown continue to make plays during the struggles of Laviska Shenault Jr.
Steven Montez is also performing at a higher level than the past. His growth and maturation are ongoing, but the fruits are starting to be visible. Montez has thrown 90 completions in 134 attempts for 1,164 yards with 9 touchdowns and 2 interceptions this season. He is ahead of Oregon's Justin Herbert in passing yards and ahead of Clemson's Trevor Lawrence in both yards and touchdowns despite Montez playing only four games to Lawrence's five. Both Herbert and Lawrence have been in the Heisman conversation and are projected to be high draft picks in their respective years.
A definite bright spot on defense has been the ball-hawking ability of safety Mikial Onu. He has created five turnovers for Colorado so far this season and is tied for first in the FBS with 3 interceptions. Arizona cornerback Jace Whitaker is also one of the 13 players tied for first in interceptions. However, Onu is the only player with three interceptions and multiple forced fumbles. He also leads the first place interception group in tackles. Onu was banged up in the Arizona State game, but returned to play after a short absence from the field. He was not listed on the injury report ahead of Saturday's contest.
The defense will miss Mustafa Johnson if he is out but if the secondary continues to take steps forward and Nate Landman has a good game they can keep Colorado in it.
Another week, another possible Pac-12 shootout. The wild west is alive and well.