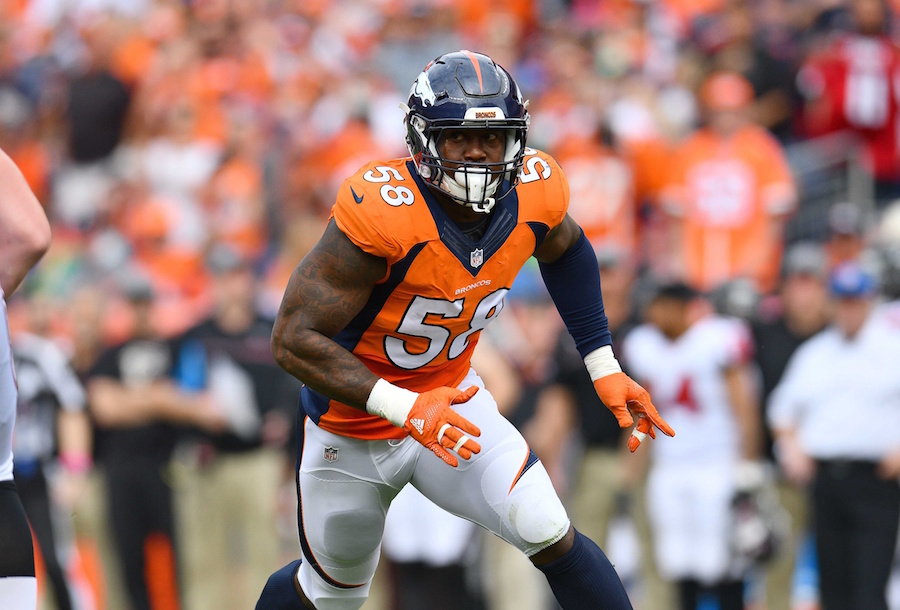 There hasn't been much for Broncos Country to get excited about in 2017.
The Denver Broncos are on an eight-game losing streak, and it doesn't look like that's going to change this weekend either when the 5-7 New York Jets roll into Denver.
When a team is in as deep a hole as the Broncos are in this season, it's easy to gloss over the positive aspects of the team. It shouldn't be that way, but that's the unfortunate reality of a 3-9 season.
In a year where the Broncos haven't given fans much to be happy about, they have given us Von Miller, who is cranking out another very solid season.
"It's been a tough season for everybody — for the players, the staff and the fans," Miller said on Thursday. "It's been a tough season for Denver."
As the second overall pick in 2011, Miller has never had the luxury of flying under the radar. This year has been no different. Because of the name on his back, Miller has been mugged all season long, and even in the middle of the worst losing streak the Broncos have experienced in 50 years, Miller is still producing.
"We get all of our stuff from our analytics guys and right now he's the most disruptive player at his position in the NFL in terms of quarterback pressure and sacks when you look at the entire picture," defensive coordinator Joe Woods said on Thursday. "He's still getting it done, and again, he draws attention. If they're going to pay that much attention to block him, then we got one-on-ones on the other side and those guys have to win."
Miller has nine sacks through 12 games, and is just one sack away from being the first Bronco with double-digit sacks in six seasons. It's unfortunate that Miller isn't closing in on the franchise milestone under better circumstances, but that doesn't take away from the accomplishment if he's able to get to the quarterback one more time in the next month.
"It's dope," Miller said of the possible record. "It's kind of scary because it shows me that I've been in the league a long time. It's been a long time. I don't really try to focus on that stuff. If it was the sixth time I lead the NFL in sacks, I'd be doing back-flips right now. It's different. You just have to stay even keel and come to work and grind it out."
With only four games remaining in a tough season, the only thing Miller can do is what he's been doing all year. He's going to keep a positive attitude and keep getting after the quarterback.
"Just the approach that I have on my job and my role here with the Denver Broncos," Miller said. "That's what I can control. I can control my attitude and my energy."
Beyond his outstanding contributions on the field, Miller is also a major force in the community with his Von's Vision charitable foundation. In 2017 alone he has raised $1.1 million ($3.4 million in total)  to provide eye exams, frames and lenses to low-income children.
The Broncos don't have as many wins as Broncos Country would like, but they do still have Von Miller.
It's not all bad.