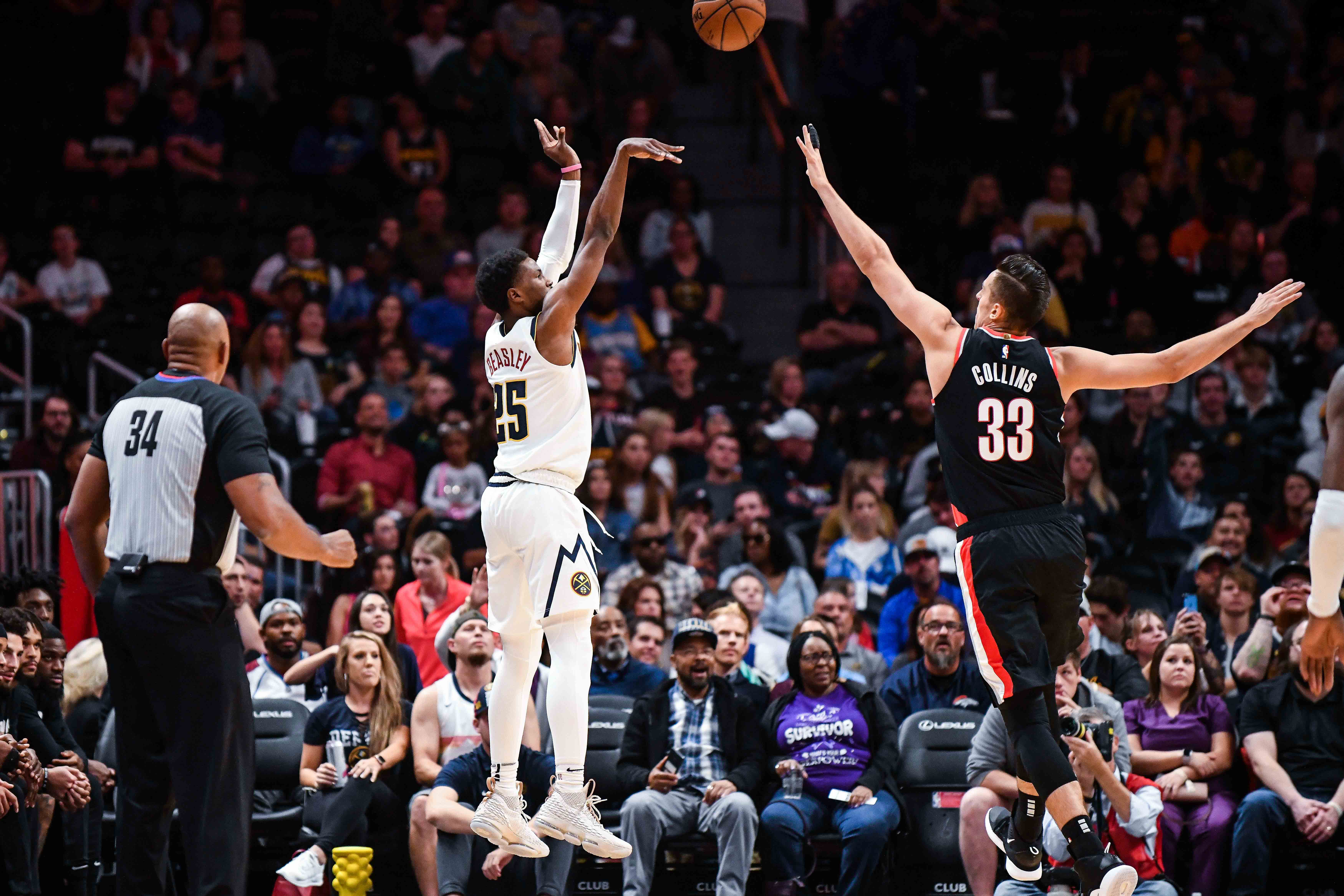 The Denver Nuggets entered Monday, October 21st with a goal of extending the contracts of both Malik Beasley and Juancho Hernangomez before the 4pm MDT deadline, but as the fourth hour of the afternoon came and went in Denver, no deal was struck for either player.
Now, the Nuggets will enter the 2020 offseason with both of Beasley and Hernangomez entering restricted free agency.
Being a restricted free agent means that, when free agency begins on July 1st of 2020, any team can offer said player a contract. If Beasley or Hernangomez agree to an offer sheet with another team, the Nuggets will have three days to match the contract. If they do not match the contract offered by an opposing team, they could lose either player without any kind of reimbursement.
So now that both Beasley and Hernangomez are headed for restricted free agency, does that make them more or less likely to remain with the Nuggets?
Malik Beasley
Beasley's meteoric rise during the 2018-19 season was a massive advantage that helped the Nuggets win their first playoff series in a decade and finish the season as the second seed in the death gauntlet that is the Western Conference.
Now, the price of Beasley's growth may be too much for the Nuggets to afford.
According to Shams Charania of The Athletic, Beasley and the Nuggets failed to come to terms on an extension of his rookie contract. Now, Beasley will enter the 2020 offseason as a restricted free agent.
With Beasley headed for restricted free agency, the Nuggets are in a tough predicament. There will be no shortage of suitors for Beasley in the restricted free agent market for multiple different reasons which means that Beasley's price is only going to go up.
The biggest and most impactful of those reasons is Beasley signing on with Klutch Sports and Rich Paul — the most renowned and powerful agent in the entirety of the NBA. With Paul's connections and reputation, he will be able to create an advantageous market for Beasley which in turn makes it more difficult for Denver to keep Beasley at a relatively cheap price.
Secondly, the 2020 free agent class is one of the weakest in recent memory which will only increase Beasley's value around the league. The only star-level players who will be free agents in 2020 are Anthony Davis and DeMar DeRozan with the likes of Danilo Gallinari, Otto Porter Jr. and Andre Drummond rounding out the top-five most impactful players available. That means Beasley is not just a high-upside young player, but also one of the most impactful players in the entire free agent class.
Lastly, Beasley has an enviable skill set. At 6-foot-5 and just under 200 pounds, Beasley is one of the most explosive athletes in the National Basketball Association, but he is much more than his leaping ability. He was one of only five players in the league to take at least five 3-pointers per game while still having an effective field goal percentage over 58% and he has been showing signs of ever-growing facilitating abilities. As a shooter and athlete, there are few players who are able to impact the game like Beasley does. Oh, and in his 18 games as a starter last year, Beasley managed to average 15.9 points, 2.6 rebounds, and 1.6 assists while shooting 55.1% from the field and a scalding hot 50% from three-point range.
With Beasley passing on an extension, he is essentially betting on himself. If he has another breakout year, he will likely command between $15-$20 million per year. If he struggles, he could become another victim of restricted free agency.
Juancho Hernangomez
It is significantly more difficult to assess Hernangomez's situation as he enters restricted free agency, which was also reported by Charania.
On one hand, the Nuggets absolutely value Hernangomez on and off the court. Denver would rather keep Hernangomez in the fold as opposed to letting him walk in free agency. On the other hand, Hernangomez is at best the 10th man on the roster this season. Of course things could change, but right now it is tough to see where Hernangomez fits on the roster in the immediate future.
So the real question here has more to do with if there is another franchise who believes in Hernangomez and is willing to throw an offer sheet his way that out-prices the Nuggets. If a team like the Orlando Magic felt that he could be the shooter they need to open up the floor, a bidding war could be created. If there is no market for his services, Hernangomez could find himself struggling to create interest in the restricted free agent market.
Like Beasley, Hernangomez has chosen to bet on himself. If he can find a way to break into Malone's rotation and plays well, he could make himself somewhere in the realm of $10 million per year. If not, the Nuggets will likely be able to bring him back for cheap.
Overall, it makes a lot of sense for Hernangomez to test the restricted free agency waters because what does he have to lose? The Nuggets need helpful players at the end of the bench for cheap so Hernangomez seemingly has a landing spot with the Nuggets regardless  of what happens this coming season, but if he ends up exceeding expectations, he could end up with the biggest pay day of his life.
Just as it is with Beasley, only time will tell.