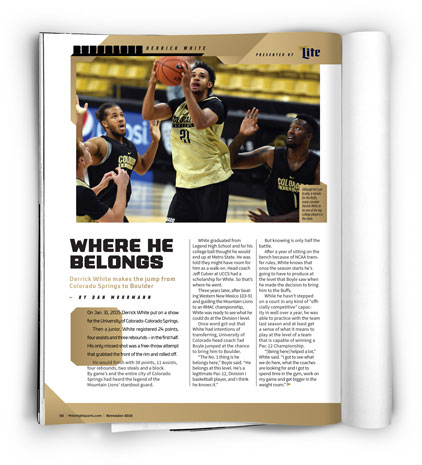 This story originally appeared in Mile High Sports Magazine. Read the full digital edition.
On Jan. 31, 2015 Derrick White put on a show for the University of Colorado-Colorado Springs.
Then a junior, White registered 24 points, four assists and three rebounds – in the first half. His only missed shot was a free-throw attempt that grabbed the front of the rim and rolled off.
He would finish with 38 points, 11 assists, four rebounds, two steals and a block. By game's end the entire city of Colorado Springs had heard the legend of the Mountain Lions' standout guard.
White graduated from Legend High School and for his college ball, thought he would end up at Metro State. He was told they might have room for him as a walk-on. Head coach Jeff Culver at UCCS had a scholarship for White. So that's where he went.
Three years later, after beating Western New Mexico 103-91 and guiding the Mountain Lions to an RMAC championship, White was ready to see what he could do at the Division I level.
Once word got out that White had intentions of transferring, University of Colorado head coach Tad Boyle jumped at the chance to bring him to Boulder.
"The No. 1 thing is he belongs here," Boyle said. "He belongs at this level. He's a legitimate Pac-12, Division I basketball player, and I think he knows it."
But knowing is only half the battle.
After a year of sitting on the bench because of NCAA transfer rules, White knows that once the season starts he's going to have to produce at the level that Boyle saw when he made the decision to bring him to the Buffs.
While he hasn't stepped on a court in any kind of "officially competitive" capacity in well over a year, he was able to practice with the team last season and at least get a sense of what it means to play at the level of a team that is capable of winning a Pac-12 championship.
"[Being here] helped a lot," White said. "I got to see what we do here, what the coaches are looking for and I got to spend time in the gym, work on my game and get bigger in the weight room."
If there was one knock on White at UCCS, it was his size – not necessarily his height. At 6-foot-5, he is the ideal height for a wing with the ability to score.
But those who remember White from his days with the Mountain Lions don't quite remember him as a player with the weight to bang bodies with Division I basketball players.
"He had to be, what, 170 pounds when he was here?" KOAA-TV sports director Grant Meech asked.
The Buffs now list White at 193; he looks closer to 200. This is going to be essential in his growth because White cannot be just a scorer for the Buffs.
With the departure of big man Josh Scott, much attention will be given to rebounding this season. Boyle will look to several players – including White – to pick up where Scott left off.
"I think we can do it all as a group," White said. "Me, X [Xavier Johnson], all the new guys, Wesley [Gordon]; we all have to step up and be a little better to make up for what Josh did."
Success for the Buffs is not just about trying to make up for the production of one lost player. For CU to compete in the Pac-12 this season, they need to get solid production from returning players like Gordon and Dom Collier.
It also helps that Johnson returns after missing last season with a torn Achilles.
So when a guy like White – whom many saw as one of the top college players at any level in the state of Colorado two years ago – joins the mix, the possibilities of what this team can do offensively suddenly become very appealing to Boyle.
"[White] can make plays for himself and he can make plays for other guys," Boyle said. "They're going to benefit from his ability to pass the ball, score the ball and take pressure off of them. Derrick's a multi-faceted player. I don't put labels on guys. He's not a shooter, he's not a rebounder, he's not just a scorer, he does it all."
Perhaps the biggest shame of this entire situation is that Boyle only gets to have White for one year. He made a quick splash in his first two years in Colorado Springs. So much so that there was talk that White was considering transferring a year sooner than he actually did.
"There were rumblings that he was going to leave the year before he left," Boyle said. "I've thought many times that if we had him for two years instead of one, what a blessing that would be."
But, White had to forge his own path. Maybe that extra year at UCCS put him on a level that will make him a star for the Buffs.
Based on his past performances, there is little doubt that White could easily be the talk of the Pac-12. As much fun as that could be, it won't mean much if the Buffs aren't successful as a unit.
With Scott gone, Boyle must now rely on his new star and a slew of players who need to take that next step to bring the Buffs more Pac-12 glory and send them on an NCAA Tournament run.
"Our ability to play together and our leadership is going to be what defines us," Boyle said. "We have the talent. We lost one good player but we added two really good players. We have four new freshmen. There's a lot of new blood. That's what's great about coaching; no two teams are the same."
Only time will tell if this will be a team that truly stands out in the Boyle era. The attraction of a player with White's talent could do wonders in terms of the team's expectations. Internally they always have goals of making the NCAA Tournament, winning a Pac-12 title and so on.
With his transfer, White has personal goals that go hand-in-hand with what the Buffs are looking to do as a team.
White spent three years hunting with the Mountain Lions. Now he's running with the Buffaloes; he'd like nothing more than to bring the herd to new heights.