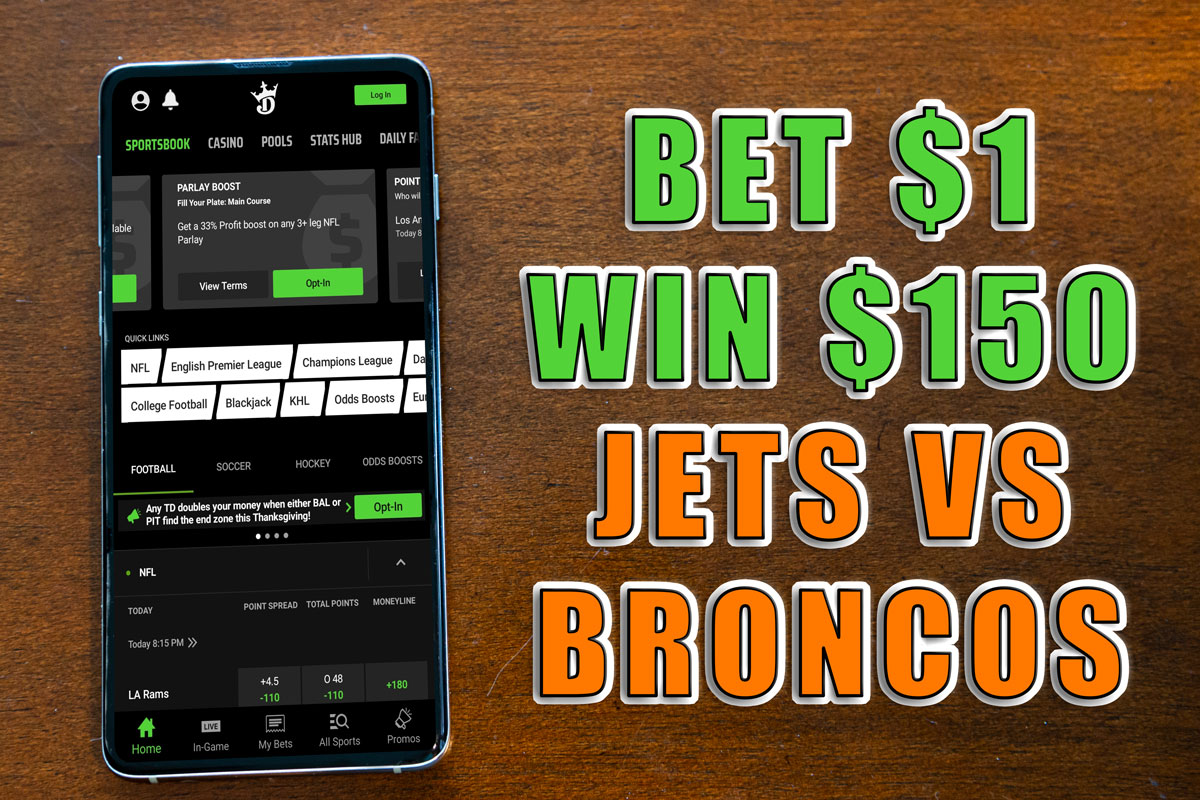 Life is good if you are a Broncos fan. They are 2-0 with another winnable game this weekend and DraftKings Sportsbook is giving away money on this Week 3 matchup between the Broncos and Jets.
New depositors on DraftKings Sportsbook can win $150 in bonuses guaranteed just for placing a $1 wager on any Broncos-Jets market. The outcome of your original bet is irrelevant. This $150 bonus is a guarantee so long as you place the bet.

DraftKings Promo
States: AZ, CO, PA, NJ, IN, IL, IA, MI, MI, VA, TN, and WV
GET THE APP
Teddy Bridgewater is proving that he can lead this Broncos offense that is flush with offensive weapons. The defense is showing early signs of dominance and they have a rookie quarterback coming into town this week. Things are breaking right for Denver early in this season.
It's not often that sportsbooks give away anything. DraftKings Sportsbook's guaranteed $150 bonus is a smart way to bring in new customers and give them a test drive.
Sign up with DraftKings Sportsbook and win a $150 guaranteed bonus on Broncos-Jets by clicking here.
Broncos vs. Jets Promo at DraftKings Sportsbook
This Broncos vs. Jets promo at DraftKings Sportsbook is a no-brainer. You are winning $150 in bonuses and even if your original bet loses, you are only down $1. In essence, you are betting $1 for a guarantee of $150.
This bonus credit cannot be redeemed as cash. There is a one-time playthrough requirement before you can withdraw these funds. The $150 in bonus credit will be deposited into accounts as six $25 free bets.
These free bets serve as an opportunity for new bettors to test out DraftKings Sportsbook and see if they like it.
The bonus credit can be used on any available market too. You aren't limited to using this just on the NFL. It's a win-win for everyone involved.
Getting Started With DraftKings Sportsbook
Let's take a quick look at how new DraftKings Sportsbook depositors can take advantage of this guaranteed bonus. Follow these steps to get started today:
Create an account by clicking here.
Make a deposit of at least $5 via DraftKings Sportsbook's secure and convenient banking methods.
Place a $1 wager on any Broncos-Jets market.
Win $150 in bonus credit as soon as your original bet settles.
The Undefeated Broncos Host the Winless Jets
Colorado sports fans have to be in heaven right now. The Denver Broncos are off to a 2-0 start for the first time since 2018 and they have the 0-2 New York Jets coming into town.
East coast teams always have a tough time heading out west. Add in the fact that the Jets are starting rookie quarterback Zach Wilson and this is starting to look like an easy win for the Broncos.
However, the Broncos are 10.5-point favorites to win this weekend. That's a big number for a team that has Teddy Bridgewater at quarterback.
But again, you don't have to bet on any specific market to trigger DraftKings Sportsbook's instant bonus. As long as you place a $1 wager on any available Jets-Broncos market, the $150 bonus is a guarantee.
Sign up with DraftKings Sportsbook and win a $150 guaranteed bonus on Broncos-Jets by clicking here.

DraftKings Promo
States: AZ, CO, PA, NJ, IN, IL, IA, MI, MI, VA, TN, and WV
GET THE APP