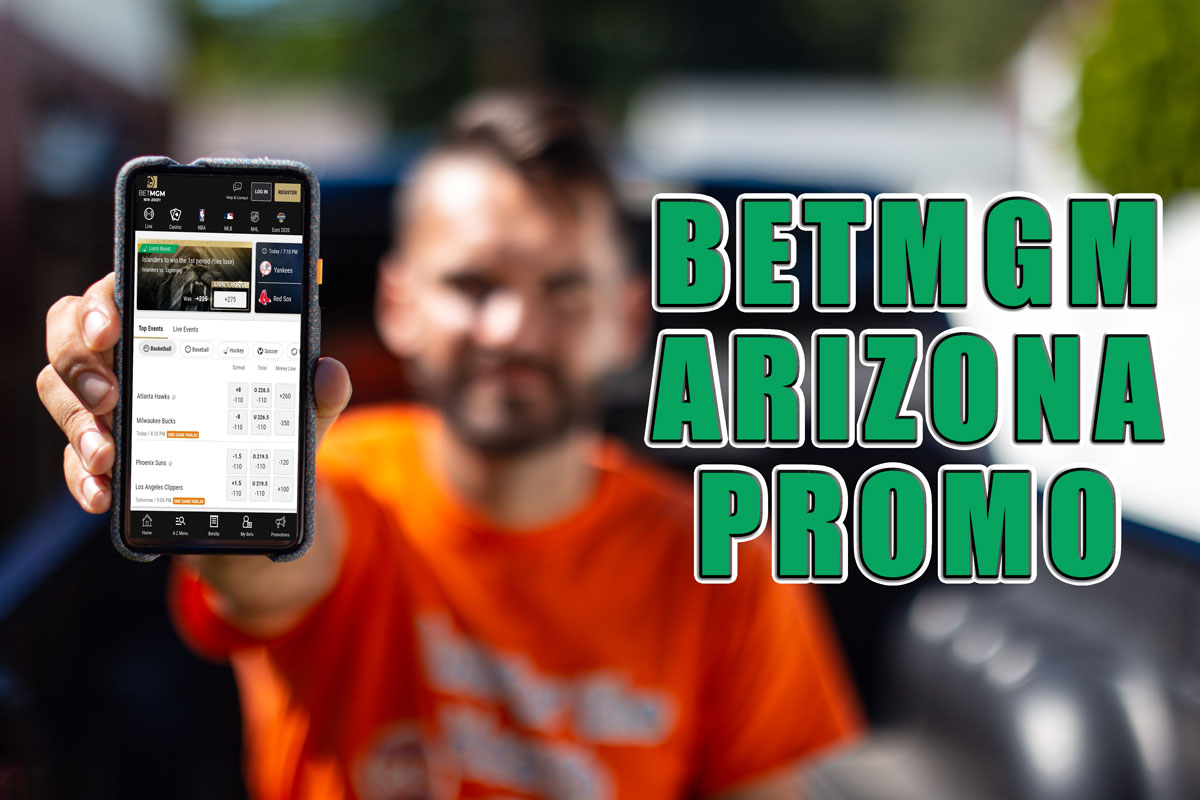 BetMGM Arizona has been coming through with various ways to win and intriguing promo deals for both new and existing users, and it's doing it once again this weekend.
BetMGM Arizona readies for wild weekend of packed football action with an outstanding promo that gives bettors a chance to bet $10, win $200 if their team scores a touchdown in Week 3.
There will be countless college football games Saturday as well as 15 NFL contests this Sunday and Monday to bet on. Sportsbook players will have the opportunity to win big on a number different spreads, totals, moneylines, and prop bets at BetMGM Arizona. And they can do it with a number of boosts and bonuses that will enhance potential profits.
The headline offer is on NFL Week 3 action. New players who sign up, deposit at least $10 and bet it on a Week 3 moneyline will win $200 if that team goes on to score at least one touchdown.
Register with BetMGM Arizona, bet $10, and win a $200 bonus by clicking here.
BetMGM Arizona Promo Bet $10, Win $200 on Touchdown
BetMGM Arizona is rolling out a promotional deal for new users that's as intriguing as ever. Following registration and an initial deposit (for this promo, it must be at least $10), you'll need to bet $10 on an NFL team to win outright in its Week 3 game. If that team scores a touchdown in its matchup, BetMGM Arizona will issue your account a $200 bonus, which you can then use to wager on other live sporting events.
How good is this promo and how to does it stack up against the top Arizona sportsbook promos? Let's take a look at some early season results to get a better grasp on the value.
Entering play Sunday, there have been 33 NFL games so far this season. That means there has been opportunities for an NFL team to score at least one touchdown in a game. So far, 62 of 66 teams have reached the end zone at least once.
Once you bet $10 on any team to win, BetMGM Arizona will automatically activate 20-1 odds on that team to score at least one touchdown.
Locally, the Cardinals, led by Kyler Murray, are second in the NFL in total scoring at 36 points per game. They will be facing a generous Jaguars defense this week that's allowing 30 points per game, so they may make for the perfect play with the BetMGM Arizona promo.
BetMGM Arizona Bonuses
The Friday night BetMGM Arizona Lion's Boost will be for the Fresno State-UNLV college football matchup (Friday, 10:00 p.m. ET, 7:00 p.m. PT). Fresno State (No. 22 in the AP Top 25) winning by at least 30 points was -121 but is now +100.
There is also an interesting college football parlay for Friday — Charlotte, Liberty, Virginia, and Fresno State all winning is at +270.
As far as baseball is concerned, the Yankees, Rays, and Tigers all winning on Friday is at +375.
You can also partake in the Tackle the Weekend special — users can choose which teams they think will score the most points over the weekend and earn a shot at a $50,000 cash reward. It's just another interesting and entertaining way to possibly win big.
BetMGM Arizona offers great insurance deals as well, such as insurance up to $50 on one-game college football parlays and insurance up to $25 on one-game NFL parlays. Users can additionally get a 40% boost on a 4-7-leg parlay with the Parlay Plus deal that BetMGM Arizona offers to its users.
NFL Week 3 Odds
There will be a number of NFL games to watch this weekend, including the matchup between the Cardinals and Jaguars.
Cardinals: -7.5 // O52.0 // -350
Jaguars:  +7.5 // U52.0 // +275
Chargers: +7.0 // O55.0 // +250
Chiefs:     -7.0 // U55.0 // -300
Bucs:  -1.0 // O55.5 // -125
Rams: +1.0 // U55.5 // +105
Packers: +3.5 // O50.0 // +150
49ers:    -3.5 // U50.0 // -175
Register with BetMGM Arizona, bet $10, and win a $200 bonus by clicking here.