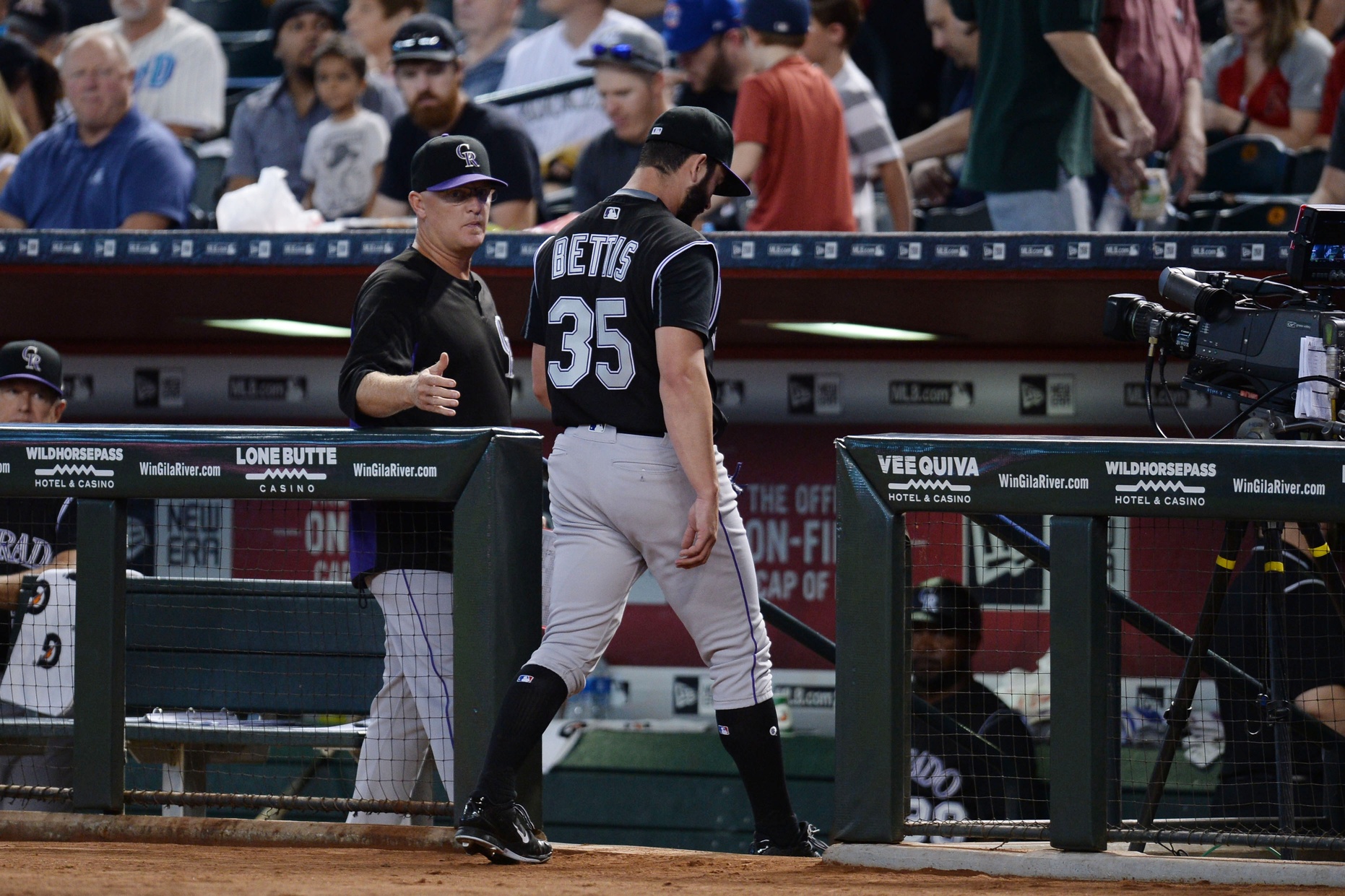 The Colorado Rockies finished a demanding, eight-game road trip with an impressive 6-2 record; sweeping the Los Angeles Dodgers and taking the first two games of a four-game series against the Arizona Diamondbacks — but it's the way they lost the last two that's concerning.
In Wednesday night's loss, pitcher German Marquez underwhelmed, surrendering 11 hits in only 3-2/3 innings. The offense didn't fare much better in the lopsided, 8-2 loss.
On Thursday afternoon, in the series finale, Wednesday's loss felt like a pleasant memory.
In what was easily one of the Rockies' worst performances of the season — top to bottom — they put up no resistance whatsoever in a 7-0 loss that was decided before the first inning even ended.
Rockies starter Chad Bettis walked Arizona left fielder Gregor Blanco — the first batter he faced — and it went downhill from there. The rest of Bettis's outing went as follows:
Catcher Chris Iannetta doubled.
Third baseman Jake Lamb walked to load the bases.
First baseman Paul Goldschmidt singled, scoring Blanco.
Right fielder J.D. Martinez grounded out, scoring Iannetta. (Martinez would later crush his 39th homer of the season in the third inning off reliever Chris Rusin.)
Second baseman Brandon Drury walked with the bases loaded, scoring Lamb.
Center fielder A.J. Pollock doubled, clearing the bases.
That was that. After only one-third of an inning, three walks, three hits (two of which were doubles) and five earned runs allowed, manager Bud Black had seen enough.
Unfortunately, for the second straight game, the Rockies' offense was missing in action, swinging and missing with alarming regularity against Diamondbacks starter Zach Godley, who shut Colorado out for eight innings while allowing only five hits — and no walks.
In the meantime, Black had to burn through six different relievers simply to finish the game. The Rockies, after leaving the desert with their tails tucked between their legs, won't have a travel day to rest; they face the San Diego Padres for a weekend set on Friday night.
The Rockies still hold the second NL wild card spot, but they now lead both the St. Louis Cardinals and the Milwaukee Brewers by a mere 2.5 games; making scoreboard-watchers more than a little nervous.
It appears the Rockies will need Coors Field to wake up their bats, which is possible. As for the pitching? At least it's hard to imagine how it could get much worse, even at altitude.