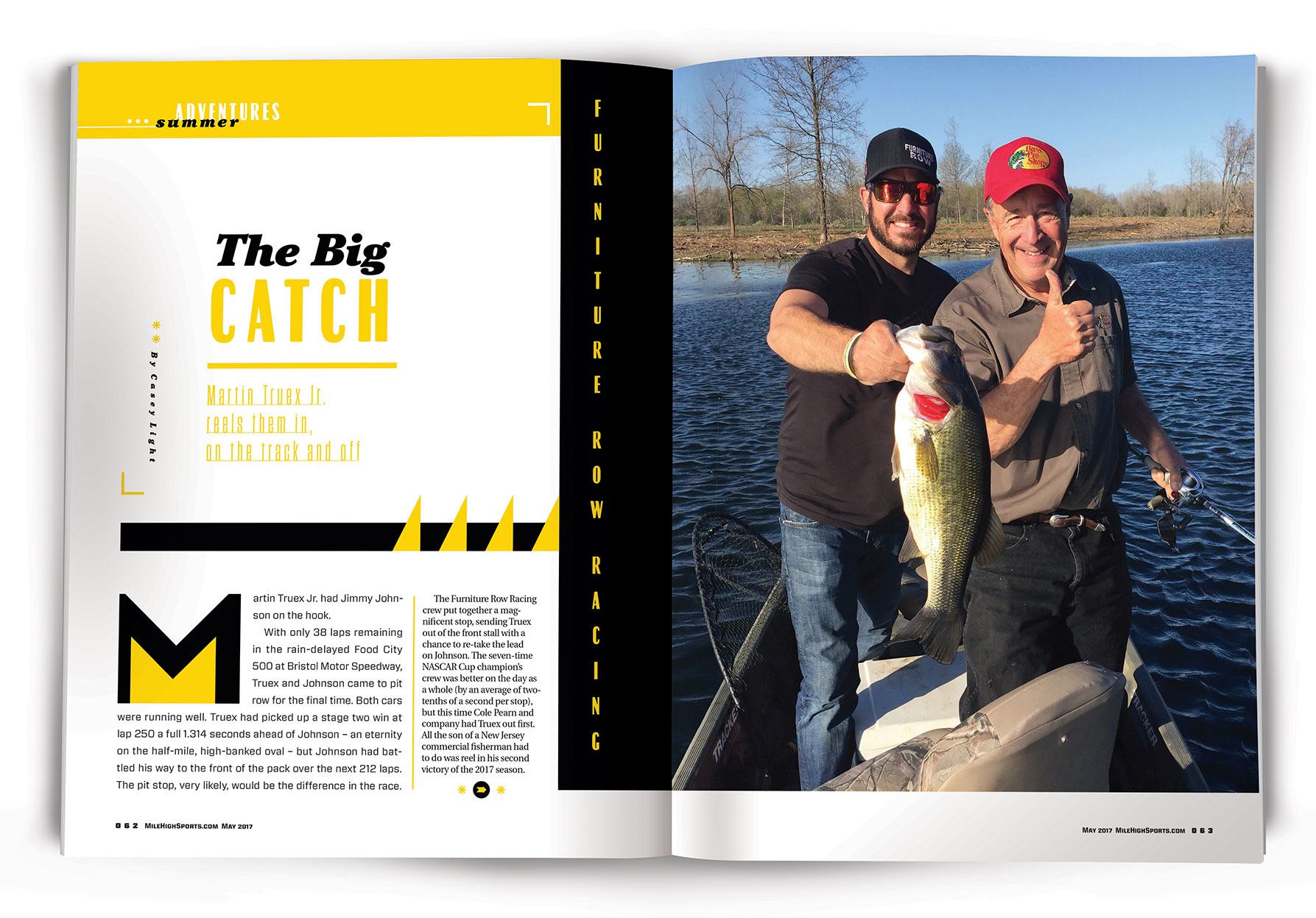 This story originally appeared in Mile High Sports Magazine. Read the full digital edition.
Martin Truex Jr. had Jimmy Johnson on the hook.
With only 38 laps remaining in the rain-delayed Food City 500 at Bristol Motor Speedway, Truex and Johnson came to pit row for the final time. Both cars were running well. Truex had picked up a stage two win at lap 250 a full 1.314 seconds ahead of Johnson – an eternity on the half-mile, high-banked oval – but Johnson had battled his way to the front of the pack over the next 212 laps. The pit stop, very likely, would be the difference in the race.
The Furniture Row Racing crew put together a magnificent stop, sending Truex out of the front stall with a chance to re-take the lead on Johnson. The seven-time NASCAR Cup champion's crew was better on the day as a whole (by an average of two-tenths of a second per stop), but this time Cole Pearn and company had Truex out first. All the son of a New Jersey commercial fisherman had to do was reel in his second victory of the 2017 season.
But this fish tale doesn't end with a whopper, like in May 2016 when Truex won the Coca-Cola 600 in the most-dominant victory in NASCAR history by leading 392 of the race's 400 laps. No, this was one that got away.
"Yep, definitely one that got away, but in racing, these things happen a lot, just like in fishing," Truex said two days after the race.
Over the past year Truex has been hooking them more and more frequently, though.
In 2016 he took home two of NASCAR's four "majors," the aforementioned Coca-Cola 600 and the Bojangles Southern 500. He was .01 seconds away from winning the granddaddy of them all, the Daytona 500. (That's a difference of less than two feet after a 500-mile race). All told, Truex brought home a career-best four victories in 2016. He finished top-10 in 17 races en route to an 11th-place overall finish.
While he posted more wins in 2016, he was stronger down the stretch in 2015 to finish fourth overall in the Chase, NASCAR's playoffs. It was a huge jump from his first race in the No. 78 car in 2014, finishing dead last in his debut Daytona 500 for Furniture Row Racing after a blown engine just 30 laps in.
But Truex has shown patience and persistence from the first day he joined on as the seventh driver in team history. This season, in which he already boasts a win and five top-10 finishes, makes Truex the longest-tenured driver in Furniture Row Racing history. He's far and away the most successful.
Patience and persistence have been keys to his success on the track, and in the outdoors.
"I think handling the ups and downs is just part of the sport," Truex says. "It's part of what you learn coming up in the the sport and just being a part of it for so long. I've seen so many different things, been part of different teams, had good seasons, had bad seasons and everything in-between. I think it's similar to going fishing sometimes. Sometimes you catch 50 fish; sometimes you don't get a bite. Racing's kind of the same way."
In addition to being an avid angler, Truex is also an accomplished hunter, both with a bow and with a rifle. This past January he finally bagged a buck that had been haunting an Ohio farm property he co-owns with Dale Earnhardt Jr. For two years they had only seen tracks of "the ghost" before Truex was finally able to put a tag on him.
"We nicknamed him 'the ghost' just because no one had ever seen him before. We've got a bunch of trail cameras out there on our farm, and we'd been watching him for a long time and knew that he was one that we were after. He finally stepped out in January and I was able to make a good shot on him. So that was awesome."
Truex waited even longer between his first two NASCAR victories. From his first win at Dover in 2007 under the Earnhardt Racing banner, it was a full six years and three races before he'd claimed another victory. After that second win, then with Michael Waltrip Racing, he waited nearly two more years before taking the checkered again with Furniture Row Racing in 2015. The floodgates have opened up since that time, adding five more wins for the Denver-based team.
Despite the ups and downs Truex has experienced on the track at Daytona, it's also a spot where his two passions collide. The superspeedway located in Daytona Beach, Fla. is one of two NASCAR tracks, along with Miami-Homestead, that boasts an adjoining lake. The 29-acre Lake Lloyd hosts powerboat racing, but it's also home to some quality fishing according to Truex. He tries to take part whenever he's at the track. This year he reeled in some large mouth bass.
"Obviously the lake is old, it's been there a long time, but they take care of it. It's very good large mouth bass fishing," Truex says about Lake Lloyd.
Despite it being NASCAR's biggest, busiest week, Truex still has plenty of time to drop a line.
"Because we're there 10 days, we actually have quite a bit of time off when we're not on the racetrack or doing something else," he says, "so we usually get a few hours at least every day that people get out and do something. And my thing to do obviously is hit the lake."
His preferred form of recreation is made easier (and more successful) thanks in part to a running sponsorship with Bass Pro Shops and Tracker Boats. The retail hunting, fishing and outdoors outfitter has 100 stores across North America, including one just a short drive from Furniture Row Racing's headquarters in Denver. In August 2016, Truex signed a new contract to drive with Furniture Row Racing through the 2018 season. At the same time, Bass Pro Shops and Tracker Boats announced it was increasing its primary sponsorship of the No. 78 Toyota Camry from 12 races to 16 in 2017, starting with the Daytona 500.
The relationship goes back many years. Bass Pro Shops and Tracker Boats were the primary sponsors for his two Xfinity Series championships in 2004 and 2005, as well as the primary sponsor for Truex's first three years in Cup Series. Truex says it was really just good fortune that connected his love for hunting and fishing with a marquee sponsor in that very same line of business.
"It was really just luck that I was an outdoorsman and loved Bass Pro Shops and loved what they were all about. So it was definitely a perfect match," Truex says of the partnership. "It was one of those dream sponsors that you could never really think could ever happen, but definitely lucky and they've been such huge supporters of my career. Since then it's been incredible. So, definitely proud to have them on our No. 78."
Beyond the sponsorship arrangement their companies share, Truex and Bass Pro Shops founder and CEO Johnny Morris share a friendship – one they take to the lake when their busy schedules afford them the opportunity. Last year Morris hosted Truex on his farm in Springfield, Mo., near the Bass Pro Shops headquarters, where the two caught some impressive bass (of course) and crappie.
Morris started his company in 1972, operating out of the back of his father's liquor store in Springfield, selling homemade bait and tackle. He has grown those eight square-feet into one of the largest retail outfits in the country, drawing more than 120 million visitors and earning $4.45 billion in revenue in 2015. Bloomberg valued Morris' personal wealth at a minimum of $2.8 billion, yet the avid outdoorsman still does things the old-fashioned way.
"He's down to earth, he's humble, he's kind, he really, really appreciates everybody that works for him, he's passionate about what he does," Truex says of Morris. "The outdoors is his life. That's his lifestyle. That's what he lives, that's what he believes in. He does so much, not only for the people that work for him, but for the outdoors, giving back for conservation, you know, making the outdoors better for everyone and making sure it's here for a long time."
It all accounts for why Bass Pro Shops is regularly named one of the top companies to work for in the U.S., and why the relationship with Truex has lasted for so long.
"I'm very honored to call him a friend and somebody that I've been fishing and hunting with a bunch of times, and hopefully we'll get to do it a lot more in the future," Truex says.
Being a driver on the top stock car circuit in the world might afford him the opportunity to fish alongside angling royalty, but like Morris, Truex likes to keep things close to home.
He's been hunting several times in his team's home state. Truex even bagged an elk on a recent trip to Colorado, although he has yet to get out and fish.
"This past year I did an Elk hunt in Colorado, so that's the first time that I've hunted there in quite a few years, but beautiful country, and a lot of wildlife. I've actually never fished in Colorado, so maybe one of these days. We've got some guys that work in the shop that fish in the area. So maybe one of these days I'll get out and I'll experience some of the fishing as well," he said.
Truex grew up in Mayetta, on the south-central New Jersey shore. His family owned a commercial clamming operation, but used that money to invest in stock car racing. Out of high school, Truex worked on his father's clamming boats as a way to put tires on his cars. Commercial fishing was a means to an end for the Truex family, in terms of racing, and Martin wasn't always sure he was going to make his living as a racecar driver.
"I don't know really if I ever knew I was going to make it in racing," Truex says, thinking about his early days split between the track and the fishing boats. "I raced because I loved it. I love building cars. I love going to the racetrack. I love the competition. I really love every single part of the whole process. I would say that I never really put a lot of pressure on myself, or said, 'Here's how I'm going to do it. If I'm not successful, I'm going to be unhappy.' I just kind of was doing it because I loved it, and I got a lucky break along the way, getting hired to drive for Chance 2 Motorsports, and honestly, up until that point, I had never thought about it ever being my career or my job, I was just enjoying the moment and living in the moment and I think that's a part of why it just happened."
That doesn't mean East Coast ocean fishing is out of his blood, though. Just last year, in the weeks leading up to the Chase, Truex connected with family and friends for some fishing on Cape Cod. That time on the water gave Truex a chance to decompress from the nearly year-round schedule of a NASCAR driver.
"Whenever we get together," childhood friend Adam Sherer said, "we rarely talk about racing. When we get together we talk about archery, deer hunting, fishing."
Truex hooked an impressive tuna while out with Sherer, and described the trip as a way to reset his thinking ahead of the Chase.
"These days, it means even more to get out, spend a couple days with friends, family, whoever, on the water and just kind of decompress, recharge my batteries, get my mind right," Truex says.
It clearly worked, as six days later Truex went to Chicago and won the Teenage Mutant Ninja Turtles 400 to book an automatic berth in the next round of the Chase. He picked up another win two weeks later at Dover.
"In that instance, yeah, it was a great trip with my best friend that I grew up with and we had an awesome time, but I totally think having that [relaxed] mindset going into those big races like that is definitely a bonus. It's something that I think is an advantage, going in with the right mindset, calm, cool and collected, charged up and ready to go. That's what helped me," Truex recalls.
Unfortunately, a blown engine after just 41 laps at Talladega in the Hellman's 500 (after winning the pole, no less) a few weeks later ended his 2016 Chase run just when it seemed like the No. 78 car was hitting its stride. It was a disappointing end to what was a successful season on every other level, and it set the stage for a career-best start to 2017.
After eight races this year, Truex was ahead of 2016 in wins at one (0 at the same time last year), top-fives at two (one), top-10s at five (two), laps led at 432 (198), average start 9.9 (12.4) and average finish at 8.6 (13.0). He ranked third in driver points and led the Cup Series with five stage wins. Truex credits a great race team, but also NASCAR's new segmented race format to his early success in 2017.
"It's been great," he says of the new format. "It really rewards the guys who run well throughout the race and gives them extra bonus points for the playoffs, which I think is going to be huge for us. I think my favorite part about it is if for some reason you have a bad finish – you have a car failure, you get caught up in an accident – if you run well all day you get points throughout the race, and if something happens toward the end and you don't get a great finish it doesn't hurt so bad."
Truex is off to a great start, but still seeking that elusive first Cup Series championship. Just as Jimmy Johnson wriggled free and grabbed victory at Bristol, the driver of the No. 48 car slipped away with a record-tying seventh championship with a dramatic late victory in last year's finale at Miami in a year that many believed Truex was primed to take home the title. Truex doesn't let it bother him, though. Just like there are good and bad days fishing, days on the track are no different. He's just having fun driving for Furniture Row Racing, knowing he has a chance every week to hook one.
"I feel like we have a shot to win every single week," Truex says, "no matter where we go, and that's fun. That's what we all did this for when we were kids. Winning races is as fun as it gets, so having an opportunity every week is something special."
EDITOR'S NOTE: One week after this story was published, Truex earned his second Cup Series victory of the season in the night race at Kansas.