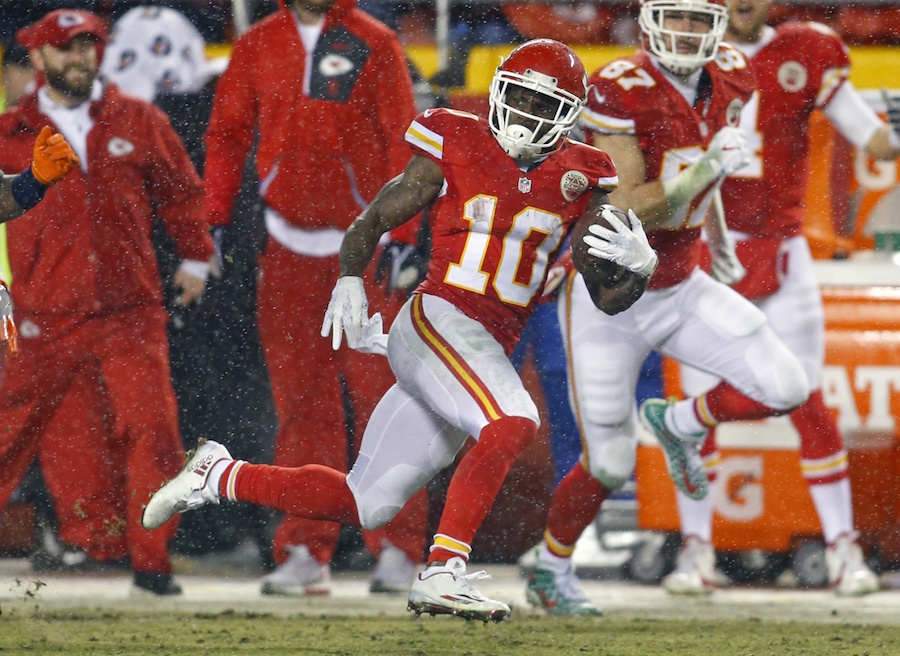 Needing a win to keep their playoff chances alive, the Denver Broncos are on the brink of elimination after allowing big plays to bust things open in Kansas City. The Chiefs scored touchdowns of 70 and 80 yards en route to a 21-10 halftime lead that could spell doom for Denver.
The Broncos received the opening kickoff after losing the toss with a light rain still falling. Strong pregame rains left the field soggy at kickoff.
Jeff Heurerman, playing in place of the injured Virgil Green and A.J. Derby, helped convert a third-and-seven to avoid going three-and-out on the opening drive, but the drive would not gain another yard. Trevor Siemian missed on three passes on the drive.
Denver did its best to keep Tyreek Hill from hurting them in the punt game by not letting him touch the ball, but they couldn't stop him when Alex Smith put it in his hands. Hill scampered around the Denver defense for a 28-yard run that was complemented by a pair of passes to Travis Kelce and the Chiefs were into first and goal after just six plays. Smith took a play-action keeper into the end zone and Denver was in a 7-0 hole after six minutes.
Devontae Booker propelled the Broncos to back-to-back first downs, one on a screen and another on a handoff, to kickstart the next possession. Three failed passing attempts later, though, and the Broncos were punting again.
Dixon this time punted at Tyreek Hill, but the Broncos were able to contain the back who burned them in Week 12. They did not contain him just a few plays later. Hill found the left edge and blew past the Broncos' secondary for a 70-yard touchdown to extend Kansas City's lead.
Raymond nearly put on a mad dash of his own on the ensuing kickoff, finding a bit of a seam and getting Siemian and the offense the ball at the 44 to open the next drive. But a three-and-out, aided by a false start penalty, put the ball right back into Kansas City's hands.
The Broncos got exactly what they needed on defense, though, as Corey Nelson came untouched and levied a huge hit on Smith that resulted in a Justin Simmons interception returned to the Kansas City 6-yard line. On second down Justin Forsett scored his first touchdown as a Denver Bronco the margin was again seven.
That margin wouldn't last long, though, as Smith found Kelce on a bubble screen that went 80-yards for a touchdown. By the time the damage was done at the end of the first quarter, Kansas City had 21 points on 243 yards on just 16 plays. Denver, meanwhile had gained just 57 yards on 17 plays.
Desperation appeared to be setting in early in the second quarter when Gary Kubiak called a flea-flicker play that was nearly intercepted. A holding penalty two plays later put Denver into third-and-19, negating a first down and furthering the offensive woes.
Kansas City continued ripping off big yardage when Spencer Ware slipped past DeMarcus Ware on a screen that went for 20 early in the next drive. Smith and the Chiefs then chipped away at the middle of the field to set up a Cairo Santos field goal try. Denver got its second break of the day when Santos missed from 39 yards.
Heuerman and Devontae Booker gave the Broncos a little spark on the next drive, combining for 37 total yards on two plays. Brandon McManus kept Denver breathing with a 52-yard field goal as the rain continued to fall.
Denver took another blow on the ensuing kickoff when Kayvon Webster was leveled by a blocker. Trainers brought out the board, but Webster was able to stand and make his way to a cart with the assistance of the training staff. At the same time, Derek Wolfe headed to the locker room with a neck injury.
The Broncos finally forced a punt on Kansas City's sixth drive, taking over at the 17-yard line with 3:21 remaining in the half. Booker was met in the backfield on third-and-one, though, and Denver was giving the ball back after another three-and-out. The defense held serve, forcing a three-and-out of their own.
Denver got a huge helping hand on their ensuing possession when Dee Ford took a personal foul penalty on top of a 17-yard pass play to Jordan Norwood. Donald Stephenson took back-to-back penalties, though, then allowed a sack on Trevor Siemian to put Denver on the very edge of McManus' range. They picked up a handful of yards to make McManus' second try of the day a 53-yarder.
Kubiak's desperation showed its highest form on a failed fake field goal and Denver went into the locker room trailing by 11.
When the clock finally hit zeroes on the second half, Kansas City had 330 total yards – 102 from Hill and 123 from Kelce – but some opportunistic play by the Broncos has a few seconds still remaining on their season clock.
Here's how the first half played out on social media via the Mile High Sports team and some of our favorite follows…
With Virgil Green and A.J. Derby out, Jeff Heuerman helps Broncos convert third down on first possession.

— Jon Heath (@JonHeathNFL) December 26, 2016
1st Christmas Miracle: Broncos pick up a 1st down on their 1st drive. #4Broncos

— Michael Spencer (@MichaelCBS4) December 26, 2016
Kelce, Hill, lather, rinse, repeat, & then Smith keeps it himself, using a block by Kelce on Simmons to get outside. Easy TD drive for KC.

— Andrew Mason (@MaseDenver) December 26, 2016
Wow. Alex Smith with the TD. Yet another Broncos opponent scores on their opening drive. Chiefs up 7-0.

— Nicki Jhabvala (@NickiJhabvala) December 26, 2016
Finally some life from Booker on back to back big plays and then we go back to the aerial attack.

Play calling folks.

— Ronnie K (@RonnieKRadio) December 26, 2016
Touchdown — Tyreek Hill, 70 yards. Kelce knocked Stewart down. Simmons left flailing. Chiefs slashing through Broncos on the ground.

— Andrew Mason (@MaseDenver) December 26, 2016
Good to see Raymond getting opportunity to make plays… 40-yard return. #DENvsKC @DenverChannel

— Troy Renck (@TroyRenck) December 26, 2016
No 3 and out on 1st drive but they've had it in back to back drives since. #9sports

— Rod Mackey (@Rod9sports) December 26, 2016
Corey Nelson forces an errant pass by Smith and Justin Simmons picks it off. #Broncos offense in red zone.

— Ronnie K (@RonnieKRadio) December 26, 2016
The @Broncos get on the board!

It's a @JForsett TD! #DENvsKC https://t.co/JiFYKqlb7p

— NFL (@NFL) December 26, 2016
Awful defense there. Not enough fight through he blocks, and Kelce just took off … 80 yards, TD.

— Andrew Mason (@MaseDenver) December 26, 2016
Chiefs have 243 yards and 3 touchdowns. First quarter still not over.

— Nicki Jhabvala (@NickiJhabvala) December 26, 2016
#Broncos allowed 70-yard run by Hill. And an 80-yard pass to Kelce. Both represent longest vs. Denver this season. #DENvsKC @DenverChannel

— Troy Renck (@TroyRenck) December 26, 2016
Some good mobility from Siemian and nice catch by Sanders negated by holding on Michael Schofield.

Nothing new.

— Jon Heath (@JonHeathNFL) December 26, 2016
Santos is no good from 39 yards out. Broncos will take over at their own 29. #4Broncos

— Michael Spencer (@MichaelCBS4) December 26, 2016
Chiefs are yet to punt tonight only non-scoring drives were a Justin Simmons INT and a missed field goal.

— Jon Heath (@JonHeathNFL) December 26, 2016
52 yd FG from McManus #Chiefs lead is cut down 21-10 as #Broncos trail with 6:43 2Q

— Kami Carmann (@KamiCarmann) December 26, 2016
With 52-yd FG, Broncos K @thekidmcmanus now has 8 career 50+yd FGs. 3rd most in team history behind Jason Elam & Matt Prater.

— Patrick Smyth (@psmyth12) December 26, 2016
Scary scene. cart coming out for Kayvon Webster. took a helmet to helmet hit. But he's up…

also Derek Wolfe headed to locker room. yikes.

— Lionel Bienvenu (@lionelbienvenu) December 26, 2016
Broncos force punt. Most important hurry, hurry situation for Broncos offense of season?

— Mark Kiszla (@markkiszla) December 26, 2016
AAAAAHHHHHH!!!!! #Broncos fail to convert another 3rd and 1. 3RD AND 1!!! lost three yards.. punt… #DENvsKC

— Lionel Bienvenu (@lionelbienvenu) December 26, 2016
Chiefs read the fake field goal perfectly … and a long way to go on fourth-and-10. McManus 4 yards short.

— Andrew Mason (@MaseDenver) December 26, 2016
I don't like that call AT ALL. You have a guy who's already kicked a 52-yd. FG. This one is 53 and it gets you to within one score. #broncos

— Les Shapiro (@LesShapiro) December 26, 2016