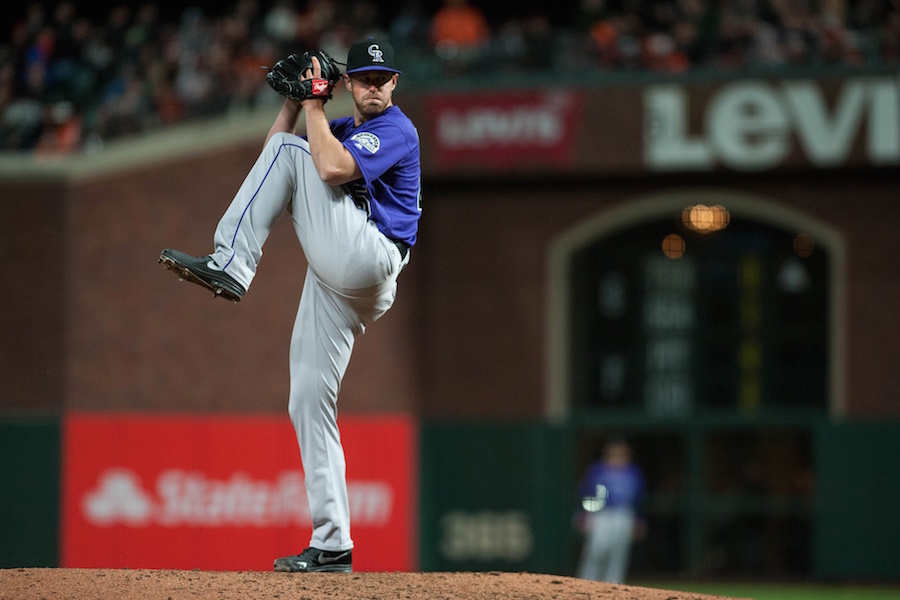 Temper your enthusiasm. Pump the brakes. It's April 17.
Yes, the Colorado Rockies are an impressive 9-5, and a full game ahead of the Dodgers for the top spot in the NL West Division.
But we've seen this before, haven't we? The Colorado Rockies jumping out of the gate and looking down on the rest of the NL West. Last season, the Rox were in first place on April 19, then again on May 1 and May 5. In 2015, Colorado grabbed the lead on Opening Day and didn't give it up until April 18 (and then never saw it again). In 2014, Walt Weiss' ballclub navigated its way to first place in the division on May 7; they were there for one day and one day only. They were first place on May 25, 2013, and got within a half game of the lead on June 17, but slowly – and surely – even those Rox found their way back down the slide, landing at the very bottom when the season came to an end.
We – us Coloradans – know how this story goes.
Don't we?
Perhaps not.
Don't discount what the Bud-Black-led Colorado Rockies have been up to of late. Not just yet. Despite all the aforementioned warnings, can we consider, for a moment, that this time around might be different? The Rockies annual trend says we shouldn't get too excited. But if one looks at the "how" and not the "how many," there's reason for pause. These Rox are winning differently.
A record of 9-5 is impressive. But the numbers "5 and 0" are even better. When it comes to games won or lost by a single run, the Rockies are 5-0 this season. It's a small sample size, but that record indicates a few key things: The bullpen is performing at a considerably better clip (instead of Rockies relief losing close games, they're actually delivering); Bud Black is winning a game or two here and there simply by managing his ball club correctly; and maybe, just maybe, this group of players is collectively and mentally tougher than Rockies teams of the past. Again, it's early, but 5-0 in one-run games is a number worth noting. Consider that the last Rockies team we "thought" might be really good – that 2013 bunch that was within a half game of first place in late June – was 12-13 in one-run games by the time July rolled around.
Here's another number to feel good about: Four. What's so special about the number four? That's the average number of runs the Rockies have scored in their nine wins. The most runs they've scored in a win (or on the season in general) is seven (that happened on Opening Day in Milwaukee). For a team that's supposed to have one of the most dangerous lineups in baseball, four runs isn't much. The Blake Street version of Murderer's Row hasn't quite found its groove yet this season. Last season, when the Rockies reached nine wins, they were averaging 6.8 runs in those wins. Conversely, in those victories, they were giving up 3.33; they weren't necessarily having to seal the deal in close games. Not hitting would normally be a concern, but in 2017, the early lackluster performance from the plate almost serves as a silver lining. No runs? No problem. The Rockies are winning with defense – namely, great pitching.
Rockies starting pitchers are averaging 5.5 innings per start (if you remove Jon Gray's recent three-inning outing, which was shortened by injury, that number jumps to 5.7). That's a number that Bud Black can work with. He's not taxing his bullpen, and return the bullpen has repaid the favor. Entering Sunday's game in San Francisco, Colorado's bullpen ranked in eighth in all the majors in ERA, with an impressive 2.8 earned runs per game. That dropped to 2.68 thanks to a pair of scoreless frames in the series finale against San Fran. The Rockies also lead the majors in saves (with eight).
New acquisitions Mike Dunn and Greg Holland have more than panned out thus far. Combined, they've given the Rockies 13 innings, in which they have allowed no runs and just three hits. The pair has also struck out a whopping 19 batters. Holland, a true closer, is a perfect seven-for-seven in save opportunities.
Add in the handiwork of Scott Oberg (7 innings, 1.29 ERA), Adam Ottavino (6, 1.50), and Chris Rusin (5.1, 1.69), and it's pretty obvious why the Rockies are winning games.
The best teams in baseball win with pitching; year in and year out, that's generally the case. America's pastime is not immune to the adage we love to apply to football: Defense wins championships.
The Blake Street Bombers were a lot of fun. But the Bullpen on Blake might make this season different.
I know. It's early. But at this point the "how" is far more telling than the "how many."