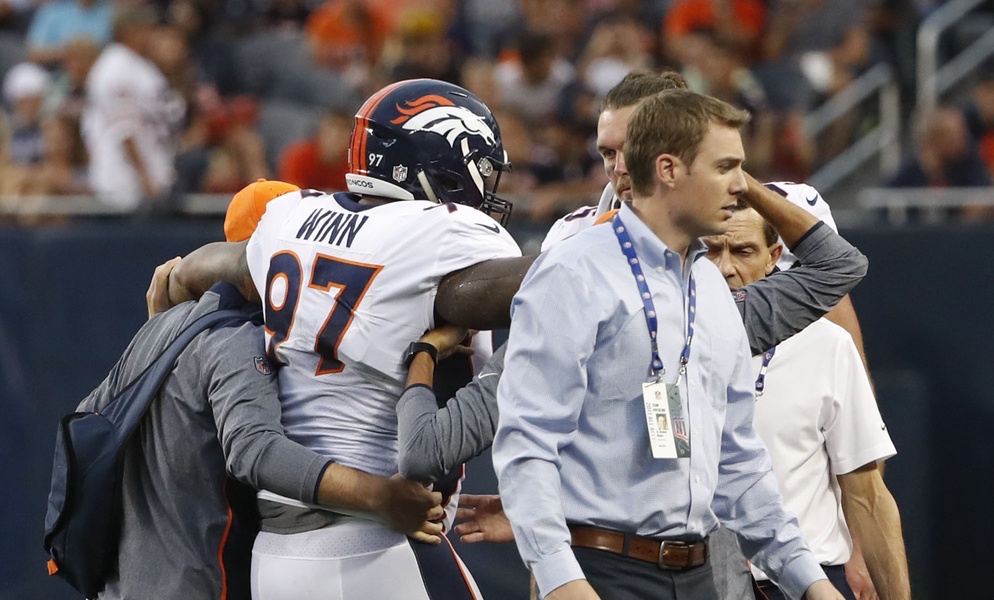 The Broncos entered their preseason opener thin at outside linebacker with the losses of Shaquil Barrett and Shane Ray, and thus chose to rest All-Pro Von Miller against the Bears to avoid any unnecessary risk.
Having also lost running back Devontae Booker to a wrist injury in the early part of training camp, they were especially careful with C.J. Anderson, who is still recovering from a meniscus injury suffered last season. Anderson played just one series and was done for the night. Meanwhile, veteran offseason acquisition Jamaal Charles, coming off back-to-back seasons with knee injuries, did not dress at all. Nor did inside linebacker Todd Davis.
For the most part, the Broncos escaped their 24-17 victory without injuries to frontline players. However, there is reason for concern on a key depth player on the defensive line.
On the second-to-last play of the opening quarter, a pile up of players appeared to get the worst of Winn's right knee. He was taken from the field on a cart and ruled out for the remainder of the game. He will receive an MRI on Friday, Head Coach Vance Joseph announced postgame.
Three other concerns for possible injury occurred during the game. Guard Max Garcia spent some time with the trainers early in the game with a possible shoulder issue. Rookie safety Orion Stewart levied a big hit and was later ruled questionable for return with a neck injury. Lorenzo Doss appeared at one point to be undergoing concussion protocol, according to reporters at the game.
Note: Only Winn and Stewart received official injury status updates from the team during the game.
Aside from Winn, a leader in the locker room and No. 2 nose tackle, Denver escaped the first preseason game relatively unscathed. Newly signed free agent Zach Kerr, who can play both NT and DE, filled in behind Domata Peko in Winn's absence.
Here's a rundown of how the injury news came across Twitter as the game played out.
Broncos at Bears – Injuries
Trainers tending to #Broncos Max Garcia on bench. Was testing out his right shoulder. @DenverChannel

— Troy Renck (@TroyRenck) August 11, 2017
#Broncos Max Garcia is in on this drive.. So checked out OK it appears

— Troy Renck (@TroyRenck) August 11, 2017
Billy Winn injured on the play for the Broncos. Trainers attending to his right knee. #4Broncos

— Michael Spencer (@MichaelCBS4) August 11, 2017
The cart is out for Billy Winn. Looks like a knee. Lot of guys around him. He's well-liked and animated at practices.

— Nick Kosmider (@NickKosmider) August 11, 2017
Injury update for the Broncos: DE Billy Winn (knee) is OUT for the game.

— Patrick Smyth (@psmyth12) August 11, 2017
Vance Joseph said Billy Winn will have an MRI tomorrow

— Nicki Jhabvala (@NickiJhabvala) August 11, 2017
Check out how hard Orion Stewart hits Josh Bellamy if you ever see that last completion again.

— MileHighReport (@MileHighReport) August 11, 2017
Injury update for the Broncos: S Orion Stewart (neck) is questionable to return.

— Patrick Smyth (@psmyth12) August 11, 2017
#Broncos Doss appears to be undergoing testing for possible concussion. @DenverChannel

— Troy Renck (@TroyRenck) August 11, 2017