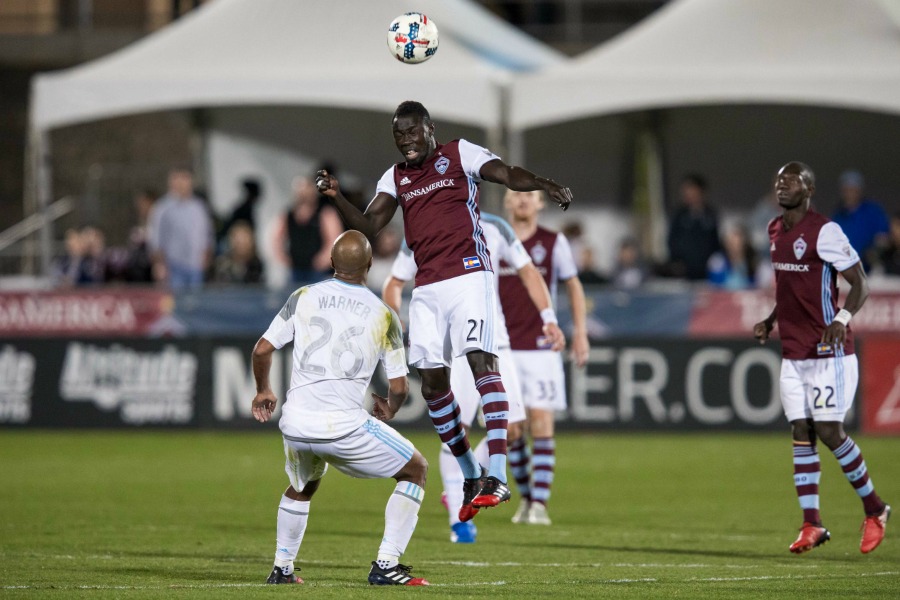 There's a lot of mystery surrounding Colorado Rapids midfielder Bismark "Nana" Adjei-Boateng. He was signed in the offseason from European juggernaut Manchester City, but he never played a game for them. Instead, he was loaned out for five years to the Norwegian Tippeligaen team Stromsgodset where he made 85 appearances and scored 16 goals.
So, some of the best scouts in the world saw a lot of potential in the young man from Ghana, but not enough to warrant playing time with Manchester City. The Rapids front office saw enough potential and skill in the 22-year-old to use one of their international roster spots on him, and Rapids fans got their first opportunity to see him in action this past Saturday night against Minnesota United FC.
Adjei-Boateng entered the game in the 82nd minute and got about 13 minutes of game action. Coaches were hoping that he'd be a spark off the bench.
"Before I came in, they told me to just get the ball and play it forward as quick as possible," Adjei-Boateng said.
Not due to any fault of Adjei-Boateng, the Rapids were unable to score any more goals after he came on the field. The game ended in a 2-2 tie, a result that the team is probably disappointed in, as Minnesota had been beaten 5-1 and 6-1 in their first two games as an MLS franchise. Adjei-Boateng was excited about the support he received from fans, but disappointed in the fact that the Rapids couldn't get the win.
"It felt great because the fans were so nice," he said. "[I] also feel very frustrated because we didn't win the game. Overall, it was great for me to work hard on the field because the fans were great. Even though we tied the game, there were some good points to get out of that and we'll go back to training and work on it."
Rapids fans will have to wait nearly three weeks to see Adjei-Boateng on the pitch again, as the Rapids don't have another game until April 9 against Sporting Kansas City, which is an away game. The Rapids' next home game is April 15 and is against Real Salt Lake. It is the first match of the Rocky Mountain Cup.