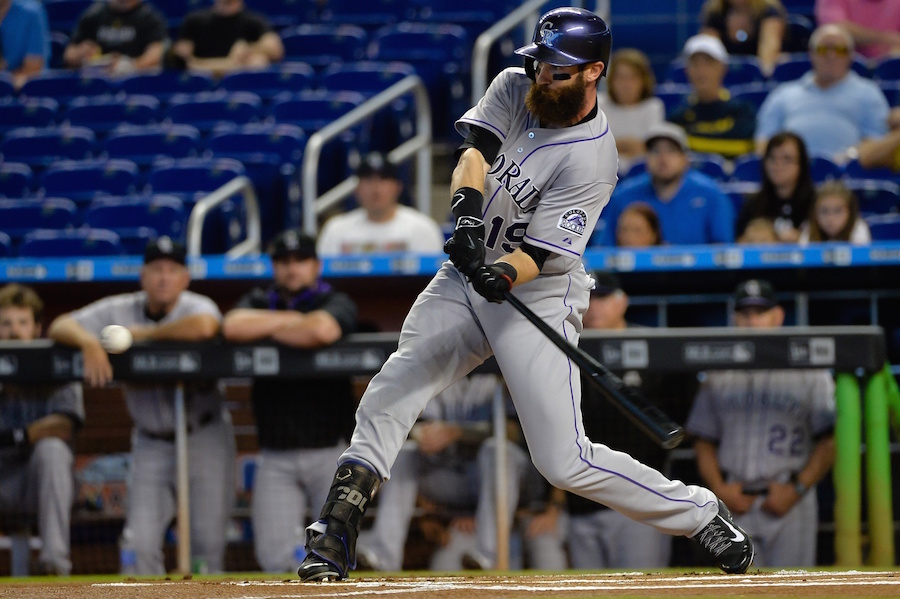 Rockies centerfielder and NL All-Star starter Charlie Blackmon will square off against his division rival, Cody Bellinger of the Los Angeles Dodgers, in the first round of the 2017 Home Run Derby.
Defending Home Run Derby Champion Giancarlo Stanton of the host Miami Marlins will be the number one seed, Major League Baseball announced Wednesday.  The 2017 T-Mobile Home Run Derby will be held on Monday, July 10 at Marlins Park in Miami, and broadcast live by ESPN and MLB.com beginning at 6 p.m. MDT.
Following Stanton, seeding was determined by each participant's home run total through Tuesday's games. Ties were broken by awarding the higher seed to the player who reached his current home run total first.
In the opening round, Stanton will square off against the eight seed Gary Sánchez (13 home runs) of the New York Yankees.
Rookie slugger Aaron Judge of the Yankees, who leads the Majors with 29 home runs, will be the two seed and face the seventh-seeded Justin Bour (18 home runs) of the Marlins.
Bellinger (24 home runs), the number three seed, matches up against number six seed, Blackmon (18 home runs).
Finally, the fourth-seeded Mike Moustakas (24 home runs) of the Kansas City Royals will square off with Minnesota Twins slugger Miguel Sanó (20 home runs), the event's number five seed.
For the second consecutive year, the T-Mobile Home Run Derby Bracket Challenge gives fans a chance to predict the results of the Derby at Marlins Park. Beginning on July 6, fans can enter at www.MLB.com/bracketchallenge.  Fans can submit their picks through July 10. One perfect bracket will receive four tickets to Game One of the 2017 World Series and a $500 Mastercard gift card.
Rockies fans, no doubt, are hoping the winner will be watching Blackmon, not Bellinger, come October.