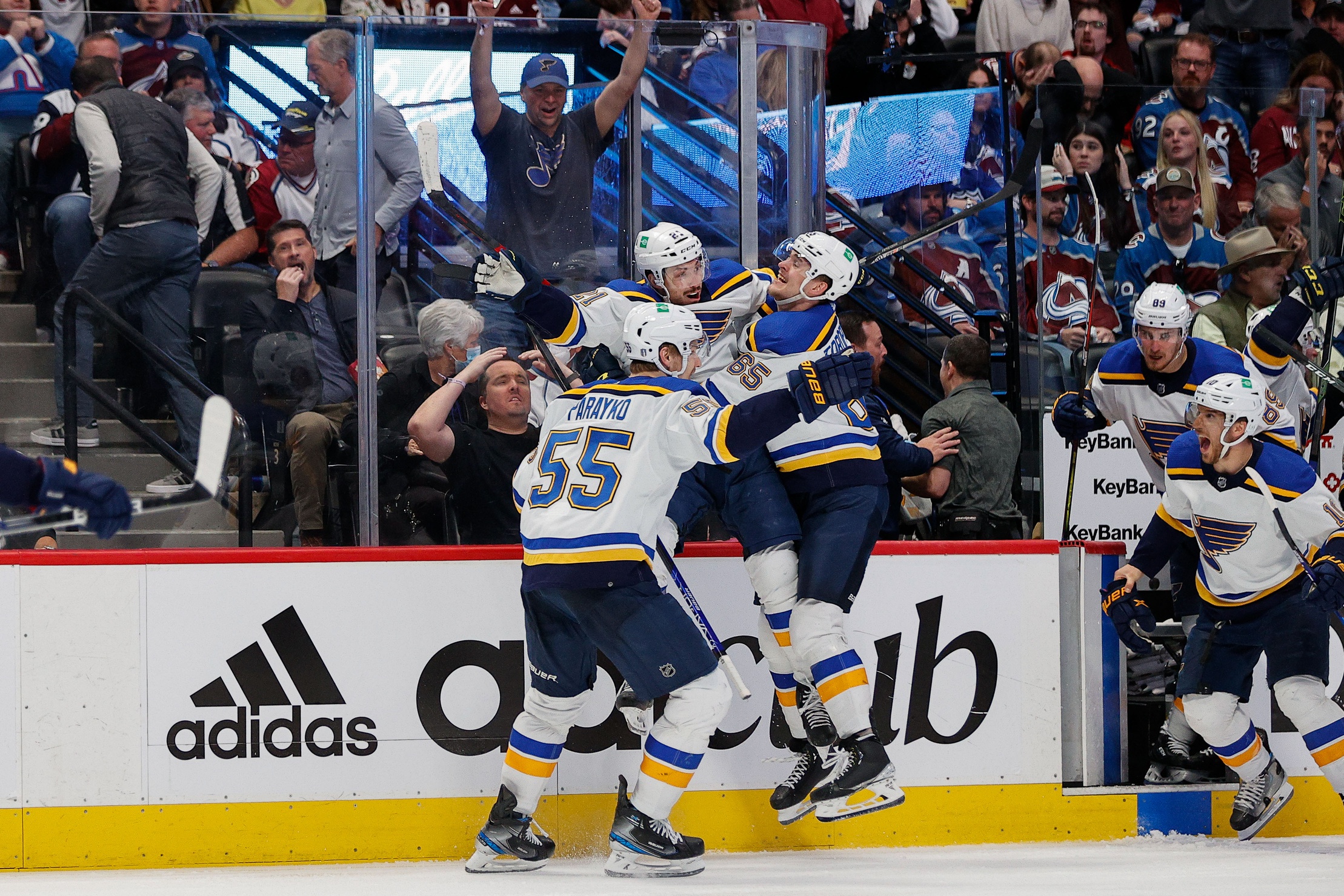 The Stanley Cup Playoffs are meant for memorable moments like this. Unfortunately for the Avalanche, that moment was celebrated by the St. Louis Blues on Wednesday at Ball Arena.
the Avs gave up the game-tying goal to Blues forward Robert Thomas with just 56 seconds left before losing to a Tyler Bozak tally in overtime. Colorado led 3-0 and 4-3 but had both leads erased thanks to a late charge from the Blues.
"You sulk for three minutes and you move on. It's as simple as that," captain Gabriel Landeskog said. "It's playoff hockey it's not supposed to be easy."
It took five games for Nathan MacKinnon to make his mark on the series. And he did it in perhaps the most spectacular way of his young career. But his incredible performance was wasted. MacKinnon recorded a hat trick and added an assist in the losing effort. He scored the first two of the evening before adding a spectacular goal to put the Avs ahead 4-3 on an incredible individual effort with just 2:46 remaining.
Everything seemed to be going right. Until it wasn't.
"It doesn't matter," MacKinnon said of his performance. "Looking to get the win. I was happier after Game 4."
Listen to "Avalanche Blow Game 5 in 5-4 Overtime Loss" on Spreaker.

Colorado's 3-0 lead began to dissipate late in the second period when Vladimir Tarasenko got St. Louis on the board. The Blues then added two more goals later in the third. It felt like every time St. Louis had pressure, it led to a goal. The Avs struggled to clear the puck, had a number of turnovers and were losing most of the battles late.
"They played with more desperation than us in the second half of the game," head coach Jared Bednar said. "Looking back at it now and looking at some of the play in the D-zone, we got poor habits in there."
Colorado jumped out to a 3-0 lead early in the second period while also dominating the game in shots at that point (22-11). From there, the Blues began to fight back into the game holding the Avs to just 11 shots for the remainder of regulation. Colorado also outshot the opposition 5-2 in the overtime period.
The series continues at Enterprise Center on Friday at 6 p.m.
__
Aarif Deen is our Colorado Avalanche beat reporter. He covers Avs games live from Ball Arena and attends practices, media availabilities and other events pertaining to the Avs on the daily beat. He is also a co-host of Hockey Mountain High: Your go-to Avalanche Podcast. Deen joined Mile High Sports upon completion of his bachelor's degree in journalism and master's in business administration from the University of Michigan – Dearborn. Before Mile High Sports, Deen worked for the Michigan Wolverines Athletics Department as the assistant sports information director.
Listen to "Avalanche Blow Game 5 in 5-4 Overtime Loss" on Spreaker.